Safest Vehicles for Your Kids Going off to School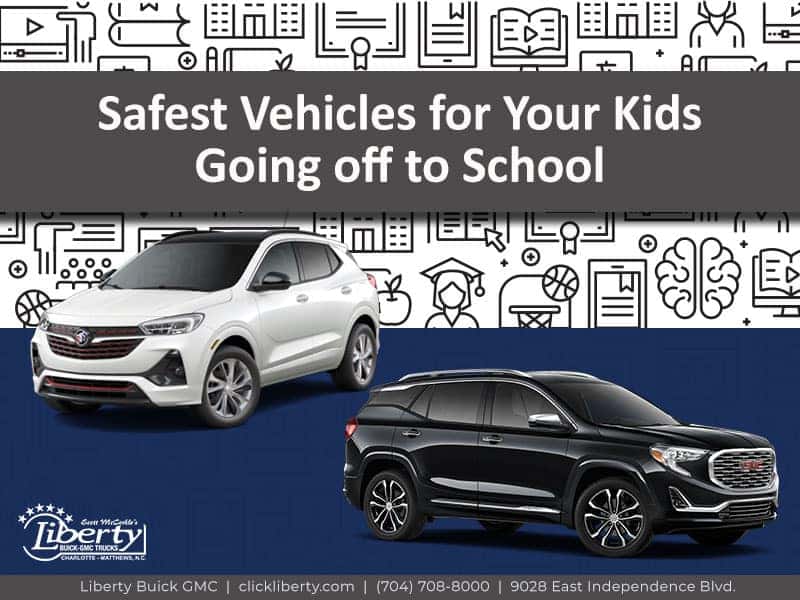 Looking for the best back-to-school car means trying to find safety, endurance, and reliability all wrapped up in one vehicle. You want your kiddo rolling out of the driveway in a car that puts everyone at ease and both Buick and GMC have exactly what you need.
There are a few worthy cars for your child who's off to school. It has to have great gas mileage, it needs to be roomy enough—but not too big; and, most importantly, it needs to be safe. Let's look into each of these further:
Fuel Efficiency
Sending your graduate off to college means they will be traveling a lot. More than likely they will come home for Winter break, Summer, and whenever homesick. To lower the cost of driving back and forth, consider a hybrid. Within the past five years alone, hybrids and all-electric vehicles have soared in popularity and production. The advancements that have been made with these vehicles—and the fact that more and more car companies are producing electric/hybrid versions of our favorite vehicles—is plenty cause to go this route, not to mention the tax breaks!
Car Size
Remember having to choose between a large vehicle or one with good gas mileage? Not the case any longer. As mentioned above, the increase in e-vehicles has helped lower the amount of fuel used on sedans, but also trucks, SUVs, crossovers. When it comes to the size of the vehicle, what you need to consider is the driver. You know your young adult, you have watched (in panic at times) him drive, and you know what she can handle. Go with that knowledge. If you have a kid who is able to park and handle a larger SUV or truck, go for it. If a sedan or smaller crossover is more his or her speed, go with that.
Cargo Space
No matter the size of the car you end up with, make sure there is enough room in the back. College students move so many times it's hard to keep track of where they are: from dorm to dorm, apartment then back home for the Summer. Instead of paying for a moving service or vehicle, the amount of cargo space in your recent graduate's vehicle can save time and money. When looking for a car for your soon-to-be college student, cargo space is everything.
Safety
One of the biggest concerns parents have with sending their recent grad off to college is safety. Thankfully, modern vehicles are safer than they have ever been with the use of 360-degree radar and camera views; smart technology that senses possible collisions before they even happen and can even help correct steering—or wake up the driver! There is an exhaustive list of new safety features and more features to come, all of which can be tailored to your young driver's liking.
Buick Encore GX
The sleek new Encore GX has quickly become all the rage. An already successful crossover vehicle, the 2021 Encore GX arrives with a brand new look, feel, and size. The all-new Encore GX fits itself perfectly between the subcompact Encore and the compact Envision, in terms of size, and it makes big moves by way of upgrades, all of which are great for your soon-to-be long-distance driver. Buick brings excitement to the crossover market, which your son or daughter will like.
Crossover vehicles (a modern morphing of a sedan and an SUV) have now become such a part of our lives, it seems that's mostly what we see out on the roads. It's no surprise car manufacturers have taken notice of this, and we are seeing the crossover market grow at an incredible rate—in particular, smaller crossovers. Vehicles like the Jeep Compass, Mitsubishi Eclipse Cross, the Subaru Crosstreck, and the soon-to-arrive Mazda CX-30 are all creating their own habitat within the crossover family. The 2021 Buick Encore is a perfect addition to this lineup; only it's not just another pretty face. The new Encore GX takes the lead by adding extra style, luxury, and technology to the standard Encore, making it a perfect fit for a young driver.
GMC Terrain
The new GMC Terrain is being praised for its seamless transitions between gears and its smooth, quiet ride, which is why we suggest this for those venturing out a ways from home. The Terrain is particularly regaled for its roomy interior structure, showcasing a truly luxurious cabin. After taking a test drive, one of the first things you will notice is its uncanny way of keeping outside noise out and inside noise in. Another aspect that helps with long road trips is the wonderfully comfortable seats—five in all (two bucket and a bench behind), and they are able to keep the rider comfortable for extended periods of time, as well as anyone else along for the ride. Additionally, there is more than enough leg, head, and cargo space, proving itself more than capable of making any trip easy and relaxing.
The new Terrain comes standard with Bluetooth, a rearview camera, and a large display screen with USB port access. It also comes with the option for a Pioneer audio system, leather upholstery, GMC's IntelliLink infotainment system, and rear parking sensors, allowing for access to nearly anything one could need while driving. And there are more features (safety and others) for you and yours to choose from.
Our Service Department
Don't forget about our service department either. If your child already has a dependable vehicle, you will want to have it serviced—give it a good once-over at the very least—before he or she heads off to school.
During the hot summer months extreme temperatures, especially here in the South, can wreak havoc on your car in all sorts of ways. This is why the service department at Liberty Buick GMC is running summer specials to make sure your college-bound child doesn't get stranded on the way to campus.
When temperatures reach the 90s or above, it's inevitable, your vehicle will be affected. Everything from tires, down to windshield wipers, the heat does its damage. The summer sun can warp, loosen, even melt those softer materials. And it can fade or crack the harder pieces of the vehicle.
Some of these things you can check on your own. Engine coolant, oil, windshield wiper fluid, and tire pressure are all pretty easy and quick to check. And you should every few weeks. Especially the engine coolant and oil. Low levels of either one of these can cause major damage to your car.
But what about the more technical parts of your vehicle? Things like tire rotation, tire alignment, battery testing, and a complete vehicle inspection. These tend to be the things that go wrong during the summer, mostly because they are not easy to check. And you don't want any family member driving without knowing everything is in its right place and operating properly. Our service professionals will complete a thorough search of your car to make sure the youngsters are in good hands.
Here are just a few of the specials running this summer at Liberty's service department:
• 5-quart oil change, 4-tire rotation, and multipoint vehicle inspection for $39.95
• ACDELCO professional brake pads installed for $99.95 per axle
• Free battery test and inspection
• Free multipoint inspection
• Tire rotation for only $14.95
• Four-wheel alignment for $59.95
And these are not all. It's just not worth taking the risk this summer, especially when Liberty Buick GMC's service department is running specials with prices this good. Be sure and schedule your appointment soon, and stay safe on the road to success!