How Your GMC Can Save Your Life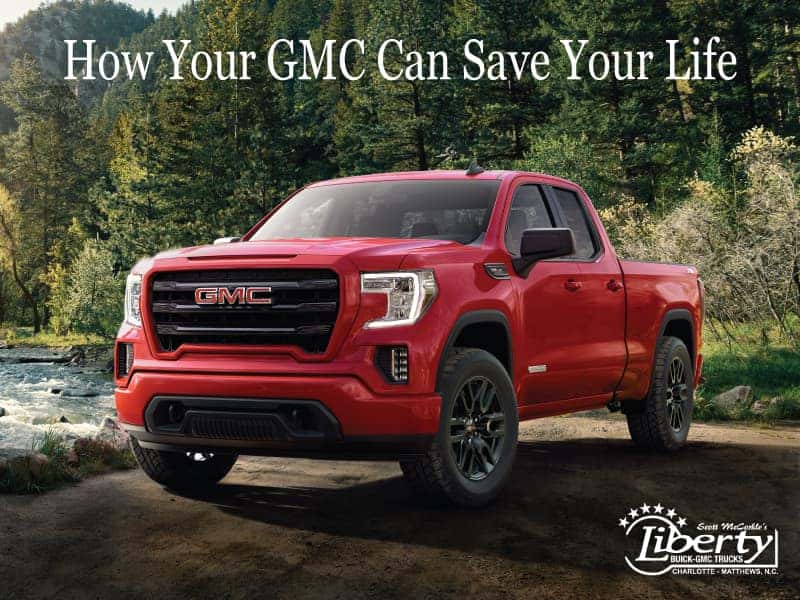 Choosing the right vehicle is not only about taste, it's also about safety. Luckily, with car companies like GMC, you can have both! Style, safety, and performance are three very important foundational factors to every vehicle produced by GMC. At Liberty Buick GMC, we are excited to share the GMC brand's three levels of safety so you can see for yourself just how dedicated this car company is to produce the toughest and safest vehicles on the road today.
It's one thing to produce a myriad of safety features for a product, but it takes a bit more foresight to cull those features into categories—levels, even—of effectiveness so that the customer can see exactly how these methods piece together to keep those riding inside the vehicle safe. Categorizing safety features is also a great way for customers to choose the ones that are best suited for them.
To make things easy, GMC has broken down its approach to driver (and passenger) safety into three levels: See It, Sense It, and Help Prevent It.
GMC's Three Levels of Safety
See It.
Basic safety begins with what you can see, and luckily GMC has grouped together various monitoring systems so you can see way more than only what's in front of you. Here is what GMC has to offer:
· High Definition Rear Vision Camera
Remember how excited we all were when the first rear vision camera came out—that grainy, black and white video feed? Now, not only is the digital video in color, but it's also in high definition. This camera gives a wide view of the happenings behind you, all right there to see on the Infotainment display screen.
· High Definition Surround Vision
This digital bird's-eye view comes at high definition and gives a crystal clear image of the area around your vehicle—when driving at low speeds. The image of your area pops up on the Infotainment display, helping you to avoid objects and perfectly park in just about any spot.
· Hitch Guidance with Hitch View
Using the Rear Vision Camera, this special feature enables you to align your GMC with a trailer by using a zoom camera that can pan and tilt. Not only that, once the trailer is connected and you are driving down the road, you can view the trailer while driving.
· Rear Camera Mirror
What we like about this camera is that you can use it inside the mirror or you can use the camera mirror display, which gives a clear, wide image and you can zoom and tilt vertically.
Sense It.
Now that we have your visuals covered (by allowing you to see all around your vehicle in real-time), what about those sticky situations where you can't see? GMC thought of that too and has provided some amazing sensory safety technology.
· Following Distance Indicator
This clever tool is set to keep you at a particular distance behind the vehicle in front of you (you can readjust the setting to be closer or farther if you'd like). If your car creeps up too close, the Following Distance Indicator will alert you immediately so you can quickly apply the brake.
· Forward Collision Alert
Similar to the previous feature, Forward Collision Alert uses sensors to indicate the space between you and the vehicle ahead, only this detects and alerts when a front-end collision is imminent—for instance, if the vehicle ahead is at a complete stop as you come upon it, the FCA will give you more time to apply the brake. This is one feature you hope to never have to use, but it's one that can definitely save lives.
· Front and Rear Park Assist
Park assist detects objects or people around you when you are driving at low speeds—typically, used when parking or navigating through congested areas. We have found this feature to improve even the worst of parallel parkers.
· Lane Change Alert with Side Blind Zone Alert
Have you ever noticed a little light that appears on the side mirrors of other, newer, vehicles as you pass by them? That's what this is. Anytime a car pulls up next to you whether you are moving at high or low speeds, a light will appear on your side mirror to let you know that, even if you can't see it, there is a vehicle beside you.
· Lane Departure Warning
This warning feature can be turned on or off by the driver, and it's perfect for long drives, as it helps to keep you from drifting out of your lane. When you are driving, and you begin to veer, the steering wheel will tighten up (not completely, just enough to get your attention) so you know to correct. If you are changing lanes, simply put the blinker on to disengage the Lane Departure Warning.
· Safety Alert Seat
This specialized seat vibrates and pulses at the bottom for various warnings—this is an option instead of having auditory or visual warnings. This is a great option to keep you safe when you have a car full of talkative kids, or you feel like blasting your favorite song.
Help Prevent It.
The most advanced safety technology is that which can presuppose possible accidents. Check out what GMC has to offer in this high-tech area:
· Adaptive Cruise Control—Advanced
This is one of our favorite safety features, as it enhances the regular cruise control by incorporating specialized sensors and radar technology so that your car can adapt to the driving conditions around it. For example, once you have set the preferred distance between your car and those ahead of it, Adaptive Cruise Control—Advanced, will speed your car up or slow it down in order to maintain that distance.
· Enhanced Automatic Emergency Braking
When driving below 50 miles per hour, this feature will alert you if there is the potential for a front-end collision, and it will also automatically apply emergency braking if the driver does not respond quickly enough.
This feature works for pedestrians as well. If the Enhanced Automatic Emergency Braking system detects a person, or people—even animals—it will alert and begin braking.
The Importance of Basic Safety
With more drivers on the road than ever before, knowing you are safe while traveling is of increasing importance. Modern, advanced safety features are doing wonders to keep us safe, but it's also important not to forget two basic safety steps:
1. Buckle Up—and Stay Buckled. It's such a simple thing to do and it can save your life, yet 11.5 percent of Americans do not buckle up. Once you do hear that click, make sure you stay buckled while the vehicle is moving. It can be tempting once a child starts crying, or a pet gets loose, to unbuckle and quickly help out. But it's always best to simply pull over, stop the car, and remedy the situation safely.
2. Have the Car Right Seats for Children. If you have small children, you know not all car seats are the same in terms of quality, and it may take a little research to find the best one for your child—Consumer Reports has reviews on all the top brands. Once you do find the right one for your kiddo, have it installed professionally to learn the correct procedure (currently, over 40 percent of car seats are installed incorrectly!).
At Liberty Buick GMC, we are all about safety. If you have any questions about the features mentioned, and/or if you want to know which safety features will best benefit you and your family, come see us or visit us online! Stay safe!