Winter Is Coming: Get Your Vehicle Ready!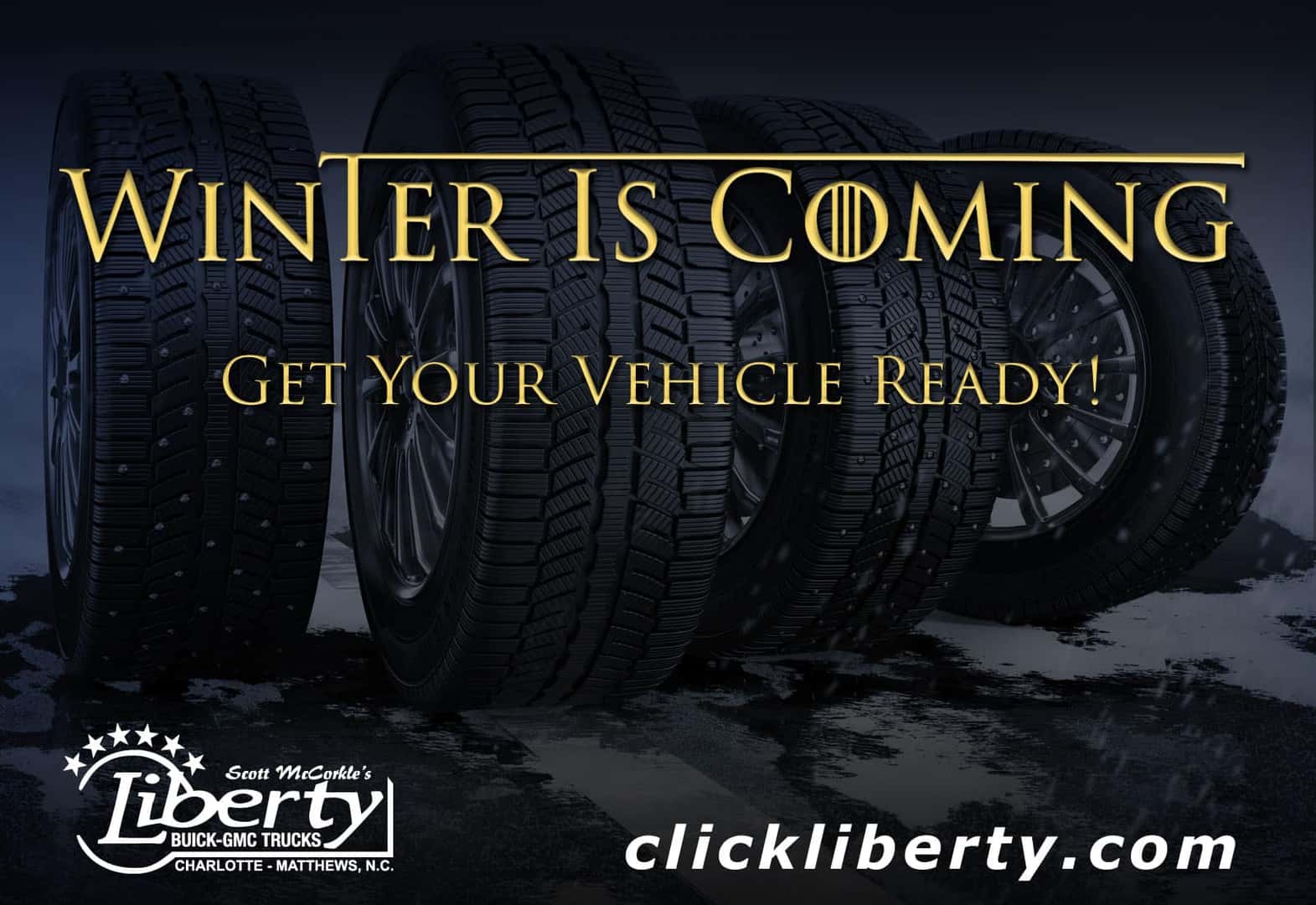 The weather is starting to get a little cooler and colder days are coming, Liberty Buick GMC wants to be sure you are prepared for frigid mornings and snow days. Getting ready for winter means getting your vehicle should be geared up for the cold. Everything from new tires to snow packages and heated seats. Whether you are looking for a brand new vehicle to help you make it through the cold or just looking to prep your current ride, Liberty Buick GMC is here to help. Here is your winter servicing checklist:
Tire Prep
Before winter rolls in, it is a good idea to get your tires checked. If anything needs to be fixed, repaired, or replaced this is the time of year to get everything checked out and ready for the winter weather. Liberty Buick GMC has the best Certified Service Technicians to handle all of your tire needs. You can also browse through the Tire Finder Tool online to start your tire search. Maintaining your tires to keep them in quality shape can be challenging with wheel alignment and balance, tire pressure, tire rotation, and wear and tear. Tires require a lot of work and care to keep them it top condition.
Wheel Alignment and Balance
To help prolong your tire's lifespan it is essential to keep your wheels aligned. When wheels become unaligned it can cause uneven wear to your tire and even cause bearing, shock, and suspension problems. If your vehicle is pulling to one side or your tires are showing uneven wear, then it is a good idea to have your tires realigned.
Tire pressure is constantly changing as the weather changes. For every temperature change of 10 degrees Fahrenheit, tire pressure changes about 1 psi. In the summer the pressure is higher and in the winter pressure is lower. To ensure your tires are at the correct PSI, it is a good idea to check the pressure at least once a month.
To extend the life of your tires and improve performance it is always important to rotate your tires. Tire rotations are done to help make wear and tear even on all tires. Each tire works differently causing them to wear at a different pace. To help prevent uneven wear and increase the lifespan of your tires, tires should be rotated every 7,500 miles.
Vehicle Inspection
Car inspections are always a good idea to be sure you abide by the law, ensure your safety, and compile with registration regulations in North Carolina. For your safety, it is important that all the bolts and screws on your vehicle are secure. Liberty Buick GMC is a Certified Inspection Station and a great place to take your vehicle for Vehicle Safety Inspections and Emissions Inspections. We take the extra step when it comes to vehicle inspections to ensure your safety. A vehicle inspection at Liberty Buick GMC checks:
Tires
Foot and Parking Brakes
Directional Lights
Engine Lights
Steering
Suspension Components
Wiper Blades
Oil Change
Before winter rolls in, it is important to check your oil. The first step is checking your oil to make sure the correct amount is in your vehicle for proper use. An oil leak or low oil can cause your vehicle to run differently and often causes issues in your car. It is also important to have your oil changed every so often, depending on your vehicle and the type of oil your vehicle requires. Most cars require an oil change every 7,500 to 10,000 miles to adapt to the normal service schedule but some older vehicles may need oil changes as often as every 3,000 miles. On the other hand, newer vehicles may allow you to go for 15,000 miles before needing an oil change. Liberty Buick GMC has Certified Technicians that preform oil changes. Buick's newer vehicles have a special Oil Life System that senses your car's speed, engine temperature, and monitors operating conditions to help determine the best time for an oil change.
Check the Antifreeze
Antifreeze is one of the top vehicle concerns during the winter months. To prepare for winter it is a good idea to check the antifreeze level in your vehicle. To properly keep your vehicle from freezing, your engine cooling system should be filled with 50/50 mixture of antifreeze and distilled water. To keep your vehicle operating properly and most effectively it is recommended that you follow the manufacturer's guide for changing the antifreeze. Liberty Buick GMC has the best technicians around that are pros at changing and checking the pressure of your cooling system.
Properly Functioning Windshield Wipers
Windshield wipers are super important for your safety. Rain, hail, snow, any type of precipitation makes the visibility outside change. When you are driving down the highway it can be difficult to see clearly, so you want to have the best possible view of the road. Properly functioning windshield wipers can make driving in messy weather a little more manageable. Your windshield wiper blades need to be changed if they are:
Streaking- the surface will be unclear and the wipers will leave long streaks behind. This often occurs when the blades are dry or dirty
Skipping- you will hear a loud, dry skipping sound that indicates that the rubber of the blade is wrapped
Worn down-the edge of the rubber will start to round and even peel
Split- when the wiper blades are exposed to, too much sun the rubber of the blade will split or crack
Bent- damage can cause your wiper blades to become bent. Thing like car washes and scraping ice off of your vehicle can cause damage
Brake Check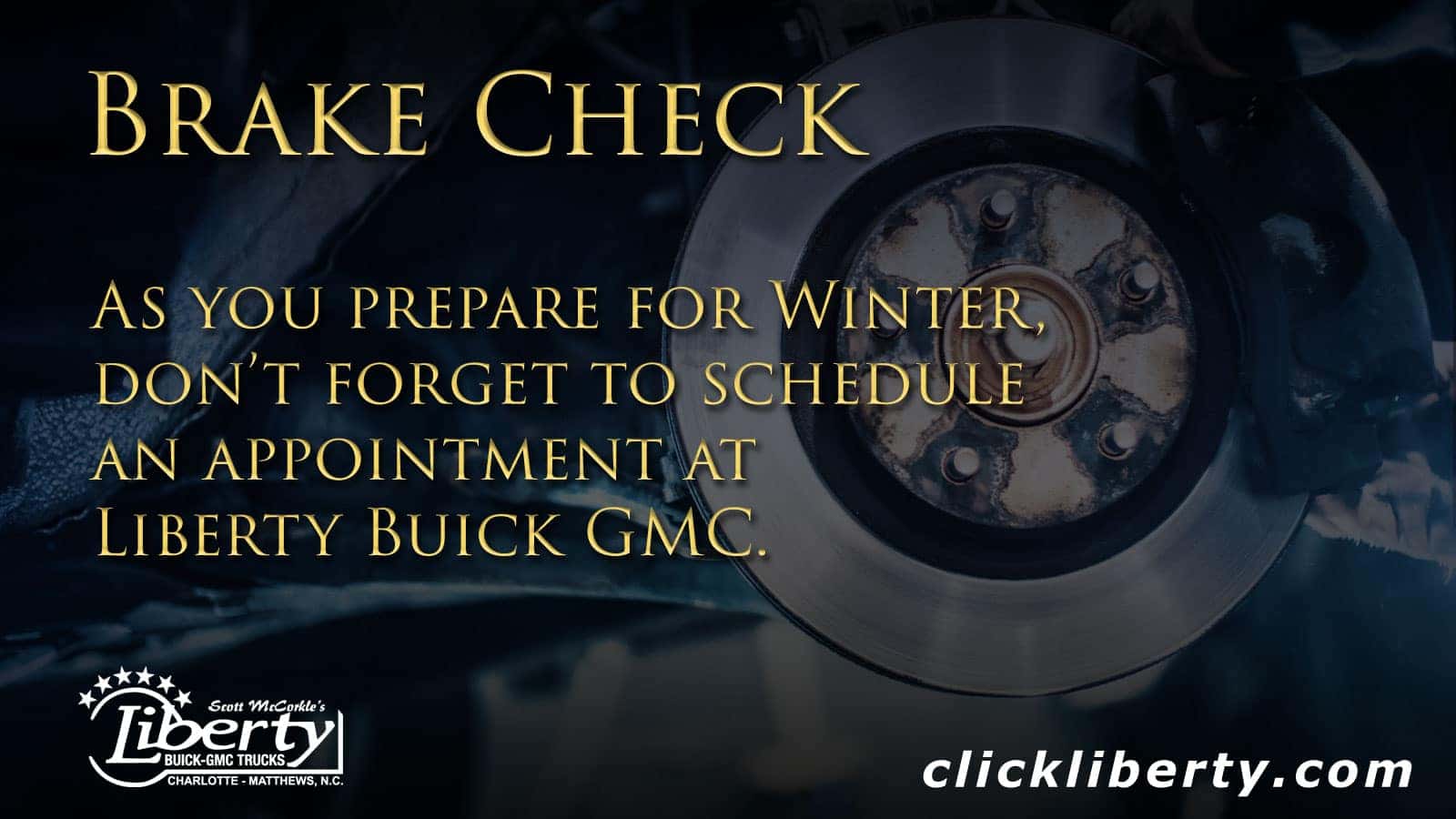 Finally, the brakes. Yep, that one is a no brainer. Brakes are an important part of your safety no matter the season. Winter time means slippery and ice roads so it is important that your brakes are prepared. So how do your breaks actually work?
When your foot hits the brake, fluid signals the brakes of all four wheels to stop
The force of your foot is multiplied
The brake system exerts up to 1,000 pounds of hydraulic pressure to each brake
When it comes to your brakes there are two parts the brake rotors and brake pads. When you schedule an appointment with one of our highly trained certified technicians they will inspect both parts of the brakes to ensure your safety.
Inspection of the brake hoses for brittleness or cracking
Inspection of brake lining and pads for wear or contamination by brake fluid or grease
Inspection of wheel bearings and grease seals
Adjust parking brake as needed
Check brake fluid level at every oil change. Replace fluid according to the Owner's Manual recommendations
Calipers and wheel cylinders should be checked every brake inspection and serviced or replaced as required
Inspect the brake lines for rust or punctures
As you prepare for winter, don't forget to schedule an appointment at Liberty Buick GMC to make sure your vehicle is ready to keep you safe during the cold season and through any messy weather.