Why You Should Trade Your Car In Now and How to Prepare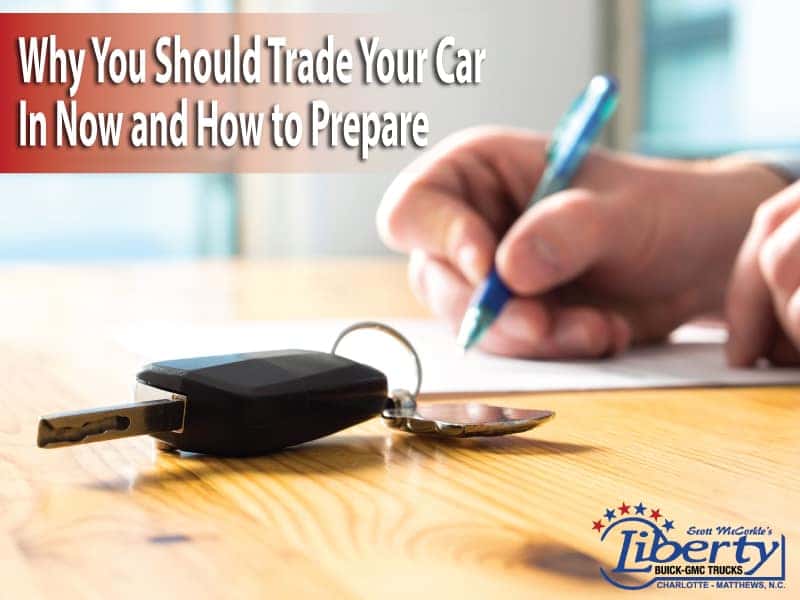 If you're ready to part ways with your current vehicle and purchase a new one, trading it in at a dealership is the easiest way to go. And with inventory lower than normal right now, it's a seller's market, which means it's the perfect time to trade-in.
In the simplest terms, trading in your car means that you sell your current car to a dealer for a reduced purchase price of a new car. The amount your dealer provides for the trade-in is taken off the value of your new vehicle.
Liberty Buick GMC works with car buyers from a variety of financial situations and backgrounds. If you're in the market for a new vehicle, here are some of the main benefits of trading in your car, as well as tips for how you can prepare for a smooth process:
Reasons to Trade Your Car In
Trading in your vehicle is much easier than trying to sell it by yourself. It can save you a great deal of time and can even prove to be the most cost-effective route of parting ways with your current car in the long run. Here are a few of the many details of why a trade-in could make sense for you:
It all happens in one place.
You can drive your old vehicle into the dealership and drive away in your new vehicle within hours. Liberty Buick GMC will go to great lengths to make it as easy and fast as possible for you!
It means less paperwork for you.
If you sell your car privately, you will have a lot of paperwork to deal with, especially if you're living or selling out of state. Trade your car in, and the dealer will handle most of it for you.
You pay less on sales tax.
Many states allow dealers to deduct the trade-in value of your car from the purchase price of the new car, resulting in some serious savings on sales tax. For example, if the dealer offers you $12,000 for your trade-in and you want to buy a new car for $30,000, you would pay sales tax on the net value of $18,000 instead of the full purchase price of $30,000.
Your existing loan will be taken care of.
If you still owe money on your current car, it might be challenging to find a buyer who is willing to take on that loan. You don't have to worry about that at a dealership. The dealer will pay off the remaining balance of your loan and get the title directly from the lender.
Getting Your Car Ready
To make your trade-in as quick and simple as possible, here are a few ways you can prepare your vehicle before coming into the dealership:
Bring the Essential Documents
You'll probably get more for your current vehicle if you provide service records and receipts that prove you've consistently taken it in for preventative maintenance. It's also a good idea to come prepared with paperwork that shows any repairs that were made due to accidents. If you own the car outright, you'll want to bring along the car's title.
Give Your Car a Quick Clean
The dealership will clean and recondition your car after you trade it in, so there's no reason for you to do a deep clean beforehand. That said, making a good first impression never hurts. Consider spending just a few minutes cleaning up your vehicle by taking it through a car wash, throwing away trash, and vacuuming the cabin.
Don't Worry About Repairs
Along with detailing and reconditioning services, the dealer will factor in the costs of any repair and maintenance needed on your trade-in. Dealers typically get discounts on these services from repair shops, so you'll end up paying less by allowing them to take care of any damages than you would if you paid for it through a third party.
Getting Yourself Ready
Beginning the trade-in process is as easy as walking into a dealership and telling a staff member that you want to trade in your vehicle. Or, you can even spend 15 minutes filling out a value estimation form on the dealership's website.
When you arrive at the dealership, a staff member will inspect your vehicle and provide an appraisal value. Their offered value will primarily hinge on the following factors:
· How many people have owned the vehicle (single-owner is best)
· The overall condition of the vehicle (appearance and mechanics)
· The condition of the tires and whether they match
· The car's exterior paint color (neutral colors typically bring more value than vibrant colors)
Finally, if your vehicle has a lot of factory upgrades, it will fare better than the base model. But be careful with aftermarket add-ons. Some dealers might add a little value for certain upgrades that you've done yourself, while others will frown upon them. The safest bet is to replace your aftermarket upgrades with the factory parts if you still have access to them.
Conclusion
It doesn't get much more exciting than buying a new car. And when parting ways with your current vehicle is as easy as bringing it to a dealership and driving home in your new vehicle, it makes the experience all the sweeter. If you're ready to start the next chapter in your automotive journey, come by Liberty Buick GMC or visit our website today!