Why Buicks Are Great For City Drives And Back Roads
Whether you're driving around Charlotte's city roads or looping through the back roads of Weddington, a Buick is the perfect vehicle for any type of drive. Buick's are stylish and luxurious but also get you where you need to go. Liberty Buick GMC has many different Buick vehicles on our lot ready for you to take out on the road. Cruising through the city or commuting from outside the city: Liberty Buick GMC has the vehicle that suites everyone's needs.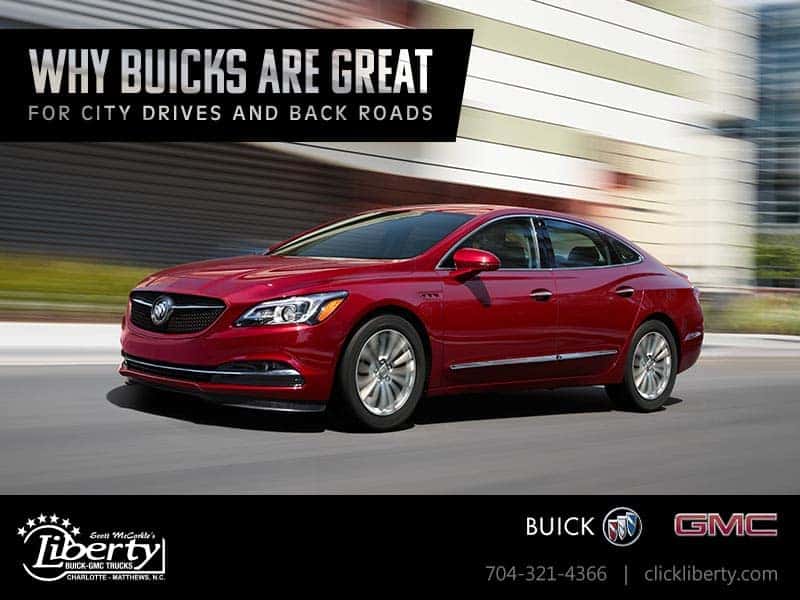 There are several reasons that a Buick is perfect for city driving or the back roads:
Fuel Economy – One of the most important features to think about why buying a new vehicle is the gas mileage. Vehicles use different amounts of gas depending on if you're driving in a city or a less populated area. Don't worry; Buick vehicles have great gas mileage in the city and on back roads. So you can drive anywhere without breaking the bank.
Safety Features – Buicks are equipped with the latest safety technologies that will keep you safe in the hustle and bustle of the city or on the twists and turns of suburban roads. With features such as Lane Departure Assist, Front Pedestrian Braking, and Forward Collision Alert, Buick vehicles will help you drive safely wherever you need to go.
Battery Life – One thing to also consider when buying a car is the battery life. When you buy a Buick, you also get a car with a battery life of up to five years. With regularly scheduled maintenance, a Buick vehicle will last you a long time.
At Liberty Buick GMC, our goal is to help you find the perfect vehicle for you. Ready to test drive a Buick? Give us a call at 704-321-4366.