WHICH SIERRA IS RIGHT FOR YOUR WORK CREW?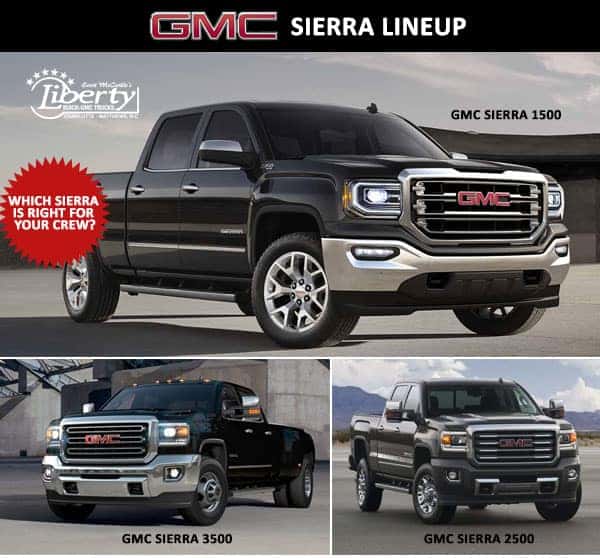 Your crew deserves a truck that can handle anything thrown at it. A truck designed to thrive in those inevitably sticky situations on a job site that call for heavy duty pulling or towing. Your crew deserves a GMC Sierra.
THE TYPE OF TRUCK YOU AND YOUR CREW USE SAYS SOMETHING ABOUT THE QUALITY OF WORK YOU PERFORM. Walk on any job site and see what they drive: a mix-matched bunch of old clunker trucks with rust spots and different colored panels. Or maybe shiny new trucks, but ones that are puny and cheaply made.
But what about a job site with sleek, durable trucks, which look to be made for hauling heavy loads and pulling large machinery. Trucks with sleek designs and bold features. Would you feel differently about this crew? Most likely, you would.
Your truck tells how organized you are. It tells what type of work you can handle and how serious you are about what you are doing.
Choosing a make and model of truck for your crew is integral to the success of your business. So why choose anything other than the best?
CHOOSE A SIERRA TRUCK
Since 1902, GMC has been making other truck companies envious with the Sierra. Through the years, the venerated Sierra truck has won countless awards, including this year's naming of the Sierra 1500 as the Texas Truck Showdown Towing Champion. This award is given after a grueling compatibility test is performed on various high-end trucks by editors from Cars.com, PickupTrucks.com, and MrTruck.com.

GMC SIERRA 1500 NAMED THE TEXAS TRUCK SHOWDOWN TOWING CHAMPION
But you don't have to take other people's word for it (as qualified though they may be). Come in to LIBERTY BUICK GMC TRUCKS today and open the hood of an all-new Sierra and see for yourself just how impressive the mechanics to this machine are.

Examples:
When it comes to performance, you will not find a better truck.
On the lowest end, the Sierra comes with:

a 4.3-liter, V-6 engine
that can go from 0 mph to 60 mph in just under 8 seconds.
If the work you do requires a bit more power:

3-liter, V-8 engine that
has 355 horsepower and 383 pound-feet of torque.
And, this bigger engine can tow up to 11,100 pounds!
If you need even more power, there is another:

2-liter, V-8 engine
12,500 pound towing capacity
420 horsepower and 460 pound-feet of torque. Now that is a lot of power.
IF THE SIERRA'S PERFORMANCE LEVELS IMPRESS YOU, WAIT UNTIL YOU EXPERIENCE THE COMFORT AND QUALITY OF ITS CABIN.
The interior of the GMC Sierra is large. There is plenty of room to stretch and move around. The seats themselves are plush and easy to nestle into. The driver's seat allows you to position yourself perfectly thanks to the power-adjustable pedals and steering wheel that tilts and telescopes.
There are plenty of soft-touch materials covering the interior, and chrome accents border sections of the dash's control panel and steering wheel to make the cabin pop. Ambient lighting sets a comforting, cool mood.

Drivers also get up to five USB ports with both 12- and 110-volt compatibility points so that you are able to charge just about anything from your phone to a laptop. There is more than enough storage room in the middle section of the front seat, and even more can be found in the door panels and below the seats. And, to isolate the interior from the exterior, triple door seals are used to block outside noise from polluting the quite and smooth ride within.
This leads us to the drive itself. All Sierra trucks operate with a front strut and rear leaf-spring suspension. This provides extra cushion and makes the impact of bumps and potholes virtually nonexistent. And if you are worried about drive quality when hauling extra big loads, you can opt for the Magnetic Ride Control, which helps reduce intense up-and-down motions. And, the steering and control to the Sierra, no matter what you are hauling or pulling, are responsive and fluid.
WHICH SIERRA IS THE BEST FIT FOR YOU?
So you have narrowed your search to the Sierra. It drives, looks, and feels the best. Now the question is which Sierra, the 1500, 2500, or 3500? Let's start by looking at some specific specs and features to each of the three.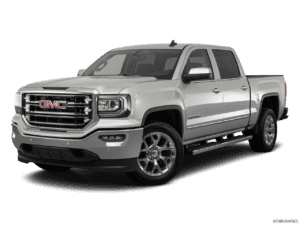 Sierra 1500
The base line 1500 is available in a 5.3- or 6.2-liter EcoTech3 V-8 engine. In certain trim levels the 1500 comes with the Z71 off-road suspension system. And, GMC LED daytime running lights, Stabilitrak, a corner step rear bumper, hydraulic body mounts, and triple door seals come standard with all Sierra 1500 trim levels. As far as towing, the 1500 can handle up to 9,400 pounds with ease. This truck is good for hauling and pulling, and truly excels in drive quality.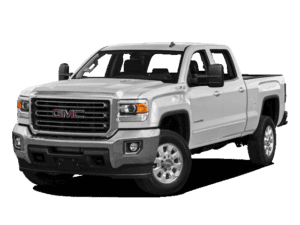 Sierra 2500
Stepping it up a notch, the 2500 offers everything the 1500 does and more. It comes with a 5.3-liter, V-8 or a 6.6-liter, V-8 Duramax diesel engine. The 2500 also has an Allison Series 1000 transmission, an available spray-on bed liner, and digital steering assist. And, it has a whopping 14,500 pounds towing capacity. If you need something that can handle those heavier loads and pull some bigger equipment, the Sierra 2500 is for you and your crew.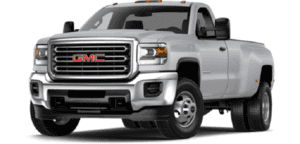 Sierra 3500
At the top level, the 3500 exceeds expectations. This truck was built especially for trailering and hauling, and can handle as much as 23,200 pounds (using fifth-wheel trailering). The 3500 comes with Digital Steering Assist to help keep control of those heavy payloads, and there is what's called Hill Start Assist, which momentarily holds the breaks while you switch your foot from the brake pad to the gas. This is especially useful on inclines or unstable surface areas. The 3500 offers everything the other two models do, plus a few extras like an EZ-Lift and Lower tailgate, chrome trailering mirrors, an automatic locking rear differential, and comes in a 6.2-liter engine or a 6.6-liter, V-8 Duramax diesel.
But the best part of choosing a GMC Sierra is that you can basically build your own. There are numerous Sierra packages to choose from and even more trim level features to sift through and add on. So if there are aspects you like of all three models of the Sierra, you can actually piece together a version that works perfectly for what you need. This is helpful because you don't end up getting your crew trucks that have unneeded features or capabilities. This way, your trucks are customized to your company's needs.
WHAT WE HAVE TO OFFER
At Liberty Buick GMC Trucks, we have a great selection and extra low prices on both our 2016 and 2017 model Sierras.

2017 Sierra 1500 ­ – Only $40,420
That's over $3,000 less than you will find anywhere else!
Double-cab, standard box, 2-wheel drive with a 5.3-liter V-8 engine.
2016 Sierra 2500HD – Only $38,339
This is a savings of over $5,000!
Crew cab, standard box, 4-wheel drive, 6.0-liter V-8 engine.
2016 Sierra 3500HD – Only $60,454
This truck anywhere else will cost you at least $8,000 more.
Crew cab, long box, 4-wheel drive Denali with a 6.6-liter, V-8 engine.