What to Expect from the Upcoming GMC Hummer EV SUV (and How to Reserve Yours)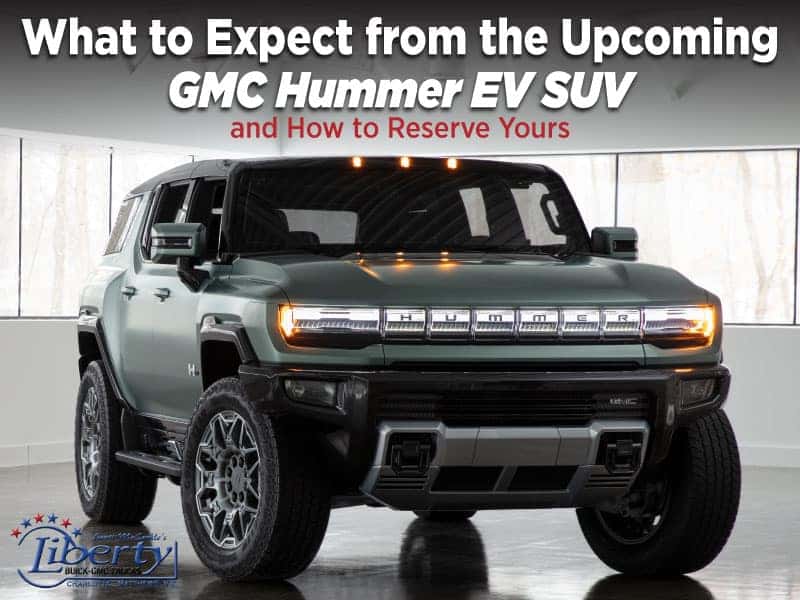 In 2020, it's almost as if automakers banded together to provide some hope to fans of classic off-road vehicles—something positive in a year that would prove difficult for so many people for a variety of reasons. Surely, that's why we've seen the reemergence of several legendary 4×4 nameplates, right?
Or, it could simply be that automakers are not going to let their competitors one-up them (admittedly, this is the most likely reason). Whatever the case, here we are in 2021, and we've learned that one of the most anticipated vehicles in recent memory is set to hit dealerships in early 2023: the GMC Hummer EV SUV. If you thought the Humvees of old were tough, well, it's safe to say that this new era will not disappoint. 
GMC is accepting reservations for its new creation, and there are no strings attached. All you have to do is register for your preferred trim and pay a fully refundable $100 deposit. That's right—registering puts you under no obligation to actually buy the vehicle, but it will hold your spot in line. Whether you're dead-set on purchasing the GMC Hummer EV SUV or are just a spectator, there's really no downside to making a reservation. 
Liberty Buick GMC is here with the skinny on what consumers can look forward to from the 2024 Hummer EV SUV, as well as some details about the registration process:
GMC Hummer EV SUV Trims
As with the pickup version, the GMC Hummer EV SUV is set to offer four trims over the first several years of its release, all varying in features and price: the Edition 1, 3X, 2X, and 2. Here's the gist of what we know about each model:
Hummer EV Edition 1
The first trim of Hummer EV SUVs is called the "Edition 1." It is set to roll into dealerships in early 2023 as a 2024 model, and it will be the fully-loaded version of the SUV. 
While this run of special editions is limited, GMC has not articulated exactly how many will be available. We do know that reservations for the Edition 1 are full, but consumers can still get on the waitlist, which could come in handy if a considerable number of reserved consumers back out or if the automaker decides to raise the ceiling on production. 
For the initial launch, the GMC Hummer EV SUV Edition 1 will come in Moonshot Green Matte exterior paint with black above the beltline. The grille consists of a crystal light that displays "HUMMER," and there are several "H" graphics sprinkled around the SUV. As far as power goes, you can expect up to 830 horsepower and a 0-60 mph of 3.0 seconds. The first available model will be an on-road edition that includes 22-inch premium wheels, assist steps, special badging, and floor liners. The price is $105,595, which is $7,000 less than the Edition 1 of its pickup truck sibling. 
Buyers who want the off-road package will need to spare $5,000 more, and in return, will get 18-inch wheels with 35-inch tires, underbody armor, heavy-duty half shafts, rock sliders, and a front eLocker and virtual rear lockers. Even bigger tires (37-inch) will be an option from dealers. 
Other Trims
The Hummer EV SUV 3X and 2X models are expected to arrive at dealerships in Spring 2023. The former still offers three electric motors and starts at $99,995. The latter is equipped with two motors, is estimated at 625 hp and a 0-60 mph of 4.0 seconds, and comes with a starting price of $89,995. The base two-motor Hummer EV SUV (the EV2) is anticipated for a release in spring 2024 at $79,995. It provides the same power as the 2X, though the range on a single charge falls from 300 to 250 miles. This model uses 400-volt fast charging, but you can opt for 800 volts, which is what all other Hummer EV SUV models come with. 
How to Reserve Your Hummer EV SUV
If you're sold on getting a 2024 GMC Hummer EV SUV, or even if you're still, on the fence, it's easy to reserve your spot. Simply log on to the GMC Hummer EV microsite and follow these four steps: 
1. Pick a Trim 
2. Select a Dealer 
3. Fill Out Your Information
4. Sign a Registration Agreement
Keep in mind the release dates when choosing a trim, as there will be more models and colors released over time. Any participating GMC dealer is viable for selection, and Liberty Buick GMC is here for you! Once you complete the registration online and receive a confirmation email, we will contact you to complete your purchase order. 
Remember—all reservations are refundable. As long as you reach out to your dealer and request a refund before your purchase order is submitted, you will get your $100 back. 
Conclusion
The upcoming Hummer EV SUV is primed to meet—if not exceed—all expectations. If you can budget for the price and wait time, then you can get your hands on the reborn legend in a couple of years. Don't forget to make your reservation now, and give us a call at Liberty Buick GMC to finish your order!