We Support Our Educators—and it Shows!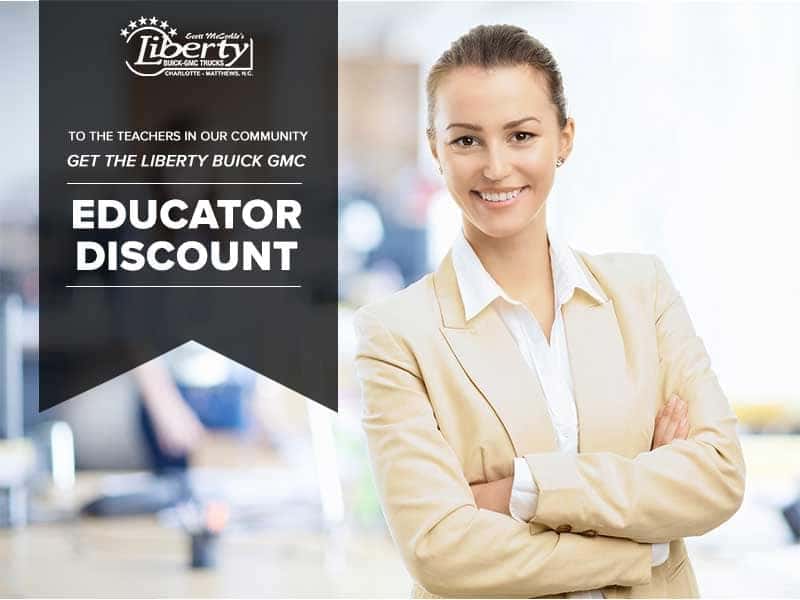 At Liberty Buick-GMC Trucks we believe in our local educators. Actually, we think they deserve more credit for all the hard work they do day-in and day-out. This is why we offer an Educator Discount for all educators! That's right, show us your teacher ID and we will provide some of the most impressive discounts around.
Did you know the average teacher salary in North Carolina is roughly $51,000? This is close to $10,000 below the national average, according to a recent report coming out of Raleigh.* The painful realization that our state ranks 37th in the nation in terms of teacher pay is something we at Liberty are not proud of, but we have found a way to help our educators out. By alleviating the high-cost of cars, we hope to enable our teachers to better focus on what's important in life: family, friends, and career. And it just so happens that the job of a teacher is one that affects us all.
Not only do we offer discounts on some of our favorite, most reliable vehicles for our local educators, we can also walk through the process of picking out the best vehicle for you. Your weekends are your time to relax, and that is something we do not want to take away from you. Instead of spending endless hours on the lot, we want to make your shopping experience as easy as possible. We know it can be a bit stressful and intimidating walking around, looking for that perfect car. And we know you don't need any added stress, on top of the grading and planning and meetings, which is why we want to make your experience at Liberty Buick-GMC Trucks a positive one.
Before we get into the specifics of what we are currently offing our esteemed educators, here are a few tips to help you find your next vehicle:
Don't think about price. At least not at first. Having that number sign over your head the entire time you are searching for your next car can keep you from getting what you really want and need. For now, keep the price tag out of it. What do you really want in a car? Maybe it's time to go for the bells and whistles you usually opt-out of. Regardless of what you may need, we have plenty to offer on our lot.
Take it for a spin. Once you find the vehicle—or vehicles—you are interested in, stop in to Liberty and go for a test drive. Walk around and look at it. Kick the tires a few times—whatever you want. What matters most to us is that you drive away in your perfect car.
Enhance your discount. An added feature to the GM Educator Discount is you can use it in conjunction with other eligible lease offers, which means you get even more off that car of your dreams!
Now that you have a plan, here are some of our current discounts for educators:
This celebrated SUV is normally priced at $ 47,290. We have it at $ 45,352!
2019 CHEVY SILVERADO 1500 LD
Normally $ 45,600, we have it at only $ 43,083. That's a savings of over $3,000!
The cool, sleek Cruze has an MSRP of $ 27,475—but we are offering it at $26,604!
You won't find this zippy little car anywhere under $ 31,990. Well, anywhere besides Liberty Buick-GMC Trucks. We are offering the Buick Encore at $ 31,030—and up to $2,000 savings in Consumer Purchase Cash.
Whether it's time for a minivan to help haul those kids and groceries and books and supplies, or a brand-new truck to help get started with some much-needed home renovations, we have you covered. Liberty Buick-GMC Trucks has the best selection of today's most trusted vehicle brands.
We are aware of the financial hardships our educators face, and we believe it is of the utmost importance to help in any way we can. Teachers, when you walk on our lot, you are celebrities. Because you are doing the most to help build a brighter future, offering incredible discounts on some of our favorite, most reliable vehicles, is the least we can do. Stop in and see us today and drive away with a great deal on a new car.
*Source: https://www.newsobserver.com/news/local/education/article209604084.html