Want to Kick Your GMC Sierra Up a Notch? Try These Upgrades and Accessories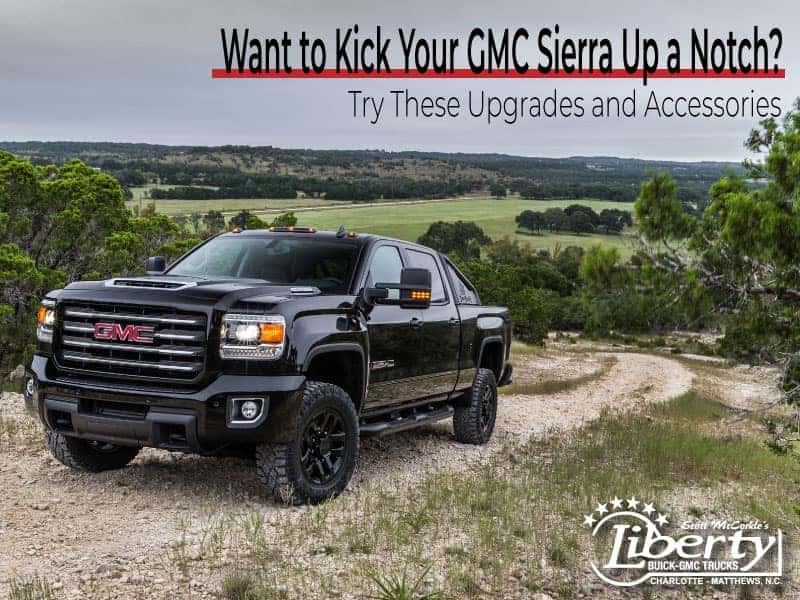 Whether you've just purchased a 2021 GMC Sierra or have been driving an older model for years, you likely know what your truck is capable of. You understand that a GMC not only looks the part but that it packs a lot of power too. In fact, the Sierra consistently ranks among the best pickups for towing and hauling.
However, that's not to say that you can't make a few upgrades here and there that can give you a boost in performance. There are many available upgrades that can take your Sierra to the next level when it comes to horsepower, torque, and fuel efficiency. And there are also tons of accessories that can help you increase comfort and keep your truck in pristine condition for years to come. Below, we've provided some ideas for how you can upgrade your already-stellar GMC Sierra.
PERFORMANCE UPGRADES
From replacing your high-flow air intake filters to beefing up your throttle body, here are some ideas for how you can maximize the power and efficiency of your Sierra:
Air Intake
A high-flow air intake system is essential if you want top-notch performance from your pickup. Simply put, such a system boosts the amount of clean air going to your motor. The result is better horsepower, torque, throttle response, and fuel efficiency. Brands like K&N, Airaid, and Spectre produce air intake systems that provide higher air velocity, smoother airflow, and cotton-gauze filter mediums that are washable and reusable.
Exhaust
When many people think about performance upgrades on a pickup truck, the exhaust system is the first thing to come to mind. Though the GMC Sierra has a well-established reputation for being a backcountry beast, you can up the power even more—and improve the sound of your truck in the process—by investing in a cat-back exhaust kit. High-functioning systems by Borla, Magnaflow, and Flowmaster come ready with all the components you need (e.g., mufflers, tubes, tips, etc.). And you can choose between single-, dual-, rear-, and side-exit configurations.
Another way to improve the power and sound of your Sierra is to upgrade the gas headers or diesel downpipes. Kooks, BBK, and Banks are a few brands worth considering for your header/downpipe replacements, as their products are mandrel-bent for an easy fit. GMC also offers exhaust upgrades for the Sierra, including a short wheelbase cat-back single/double exhaust system and a dual-wall angle-cut exhaust tip.
Throttle Parts
The throttle in your truck regulates the air and fuel that enters the engine, which plays a major role in the engine's power. While your GMC Sierra is not short on power, you can pile on even more by upgrading to a larger throttle body. Components by BBK and Jet, for example, will fit seamlessly into your Sierra and enhance the air velocity of your engine. Plus, they are made of long-lasting, CNC-machined aluminum. You can expect a better throttle response to go with significant gains in horsepower and torque.
Adding a throttle body spacer can also improve your truck's performance. Consider investing in a spacer from Jet, EconoAid, or Airaid to boost turbulence and enhance the air and fuel mixture in your combustion chamber. Along with creating a bigger one-two punch, a throttle body spacer can minimize whistling and engine noise while improving mileage.
Tuner
You may love pickup trucks. But that doesn't mean you fit the stereotype of the rugged truck enthusiast who couldn't care less about technology. By investing in an aftermarket tuner, you can bring your older GMC Sierra up to date (or get the most out of your newer Sierra). All-in-one tuners by Hypertech, Bully Dog, and DiabloSport make it easy to boost horsepower and torque; all you have to do is press a button or touch a screen!
Tuners can control many different functions by connecting to and modifying your truck's computer, including the tire size, rev limit, and speed limiter. Most products will come with a connector, USB cables, software installation instructions, and anything else you need for easy installation. And you can keep the software up to speed with free online updates.
SEAT COVERS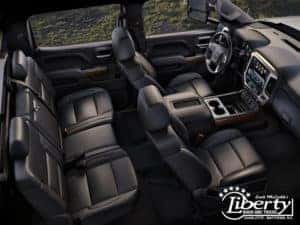 Boosting performance isn't the only way you can upgrade your GMC Sierra. There are plenty of accessories on the market that can customize your pickup to stand out from the crowd. Seat covers are one such type of accessory, and they not only can change the aesthetics of your cabin, but they can also help protect those nice, beautiful seats.
Carhartt PrecisionFit
If you're a fan of Carhartt, look into the brand's PrecisionFit custom seat covers. Coming in either Carhartt Brown or Carhartt Gravel colors, these seat covers will fit snugly to your Sierra's front and rear seats. The covers feature classic Carhartt logos and styling, including the durable duck-weave fabric. They're water-resistant and include foam in the seatbacks for added comfort.
Along with the seat bottoms and backs, the Carhartt PrecisionFit covers will cover the headrest, armrests, and middle console. Sure, they look as rugged and tough as you would expect from a Carhartt product, but their ability to protect your interior (and resale value) is where these seat covers shine. Whether you're taking your pickup to the job site, going on outdoor adventures, or toting around children or pets, the Carhartt PrecisionFit covers will protect your seats from all kinds of water, mud, oil, grease, food, and more. And they're really easy to clean!
Coverking Neosupreme
If you prefer more of a sporty seat cover for your Sierra, then the Coverking Neosupreme custom-tailored seat covers may be your best bet. Coverking goes through a lengthy and stringent process to design and engineer covers that fit each make and model perfectly. Through 3D imaging and testing, each set of covers are made to fit snugly while also being easy to install.
These seat covers feature an alternative material to neoprene that is lighter and more affordable. You can expect superb protection from all everyday substances, extra comfort from foam cushions, high-quality hardware, and nifty pockets. The Coverking Neosupreme covers are also more breathable and flexible than many of the competitors, and they're available in eight vibrant colors. If you lead an active life, these seat covers are perfect for your GMC Sierra.
FLOOR LINERS/MATS
Another way to add protection to the interior of your Sierra is to put in custom floor liners or mats. Two top brands to consider are WeatherTech and Husky Liners.
WeatherTech DigitalFit Floor Liners
It's difficult to argue with the popularity of the WeatherTech DigitalFit floor liners. Through innovative design and the use of the highest quality materials, these floor liners offer a precise fit for your pickup's dimensions and the ultimate protection from water, mud, and other elements. WeatherTech's High-Density Tri-Extruded (HDTE) semi-flexible material is as tough as it comes, and the high-friction outer surfaces of the liners provide excellent traction for your feet (and the liners won't slip on the carpet). The liners also feature a multi-level design that pushes water into a reservoir trap, which helps to keep your feet dry. When the reservoir fills up, all you have to do is pour it over the door sill.
Every year, WeatherTech takes precise laser measurements of each make and model. Then, the floor liners are designed for a flawless fit, resulting in top-notch looks, coverage, and protection of your pickup's floorboards—no matter how extreme the conditions.
Husky Liners WeatherBeater Floor Liners
A slightly more affordable option is the Husky Liners WeatherBeater floor liners. But don't let the cheaper price fool you; Husky Liners makes some world-class products.
The WeatherBeater is the brand's most innovative floor liner, and the craftsmanship is second to none. One thing that sets this product apart from others is the sidewalls, which are taller than the sidewalls on your typical floor liner. There are also grooves strategically placed to trap and contain liquids, grime, and other substances.
The thermo-plastic material of the Husky Liners WeatherBeater floor liners is strong enough to protect your truck's floors from water, spilled drinks, mud, gasoline, battery acid, and much more. And they're custom-molded to fit the contours of your exact vehicle, which means they will fit seamlessly into your GMC Sierra!
WeatherTech Floor Mats
So, floor liners are not the only way to keep your truck's floors ready for the showroom. If you want to go with a more budget-friendly alternative, try the WeatherTech floor mats. The thick rubber of these mats will help protect your floors through all seasons. They have a ridged underside (not found on most other mats) that keeps the mats secure on the floorboards, and a soft upper tread that provides just the right amount of grip and comfort. There's also a tall outer ridge that prevents liquids and debris from leaking onto the surrounding carpets.
WeatherTech floor mats are semi-custom designed. This means you may need to trim your mats with a knife or scissors to fit them tightly to your floors—then again, you may not. Like their floor liner counterparts, these floor mats are as easy as it gets to clean.
TRUCK BED ACCESSORIES
Moving to the exterior of your GMC Sierra, you need to keep that truck bed clean and shiny! That's where truck bed accessories come in.
TonnoPro Tri-Fold Soft Tonneau Cover
There are quite a few tonneau covers on the market, but the TonnoPro Tri-Fold perhaps gives you the most bang for your buck. It's economical, versatile, and durable. The tri-fold design makes it fast and easy to access the truck bed. The epoxy-coated aluminum frame is lightweight yet tough. You can have the TonnoPro TriFold out of the box and installed in no time, and the top-notch compression seal will protect your cargo from whatever elements may come. Simply put, it's a great buy for any pickup truck.
BakFlip G2 Tonneau Cover
The BakFlip G2 is one of the most innovative tonneau covers on the market. While it's quite a bit more expensive than some other covers, you get what you pay for. It has a low-profile design that will fit seamlessly onto your GMC Sierra, and it allows you to access your entire truck bed simply by flipping the cover against the rear cab. It's lightweight and easy to install and remove.
The BakFlip G2 also provides superior protection from the elements via an EPDM rubber seal. And unlike many competitors, this tonneau cover is treated to look new for years to come; fading, corrosion, cracking, warping, and other consequences of UV rays won't be a problem.
GMC Truck Bed Upgrades
It's also worth mentioning that GMC offers several truck bed upgrades that can go a long way in keeping your Sierra in top condition. For example, you can opt for a rubberized mat that is nylon-reinforced, ribbed, and skid-resistant. You can also get a full truck bed liner in rubber or carpet; the carpet liner is even resistant to water and stains! Other upgrades include a cargo net, a tailgate step light, a side-mounted bed storage box, and extra tie-down rings.
Conclusion
If you have a GMC Sierra, you have one of the nicest pickup trucks in the world. Fortunately, there are many upgrades and accessories available to take your truck's performance to an even higher level, as well as keep it in pristine condition for years to come. Along with looking into some of the products mentioned above, keep researching how you can take care of your beloved pickup and make the most of its capabilities.