Tips to Help You Sell Your Used Car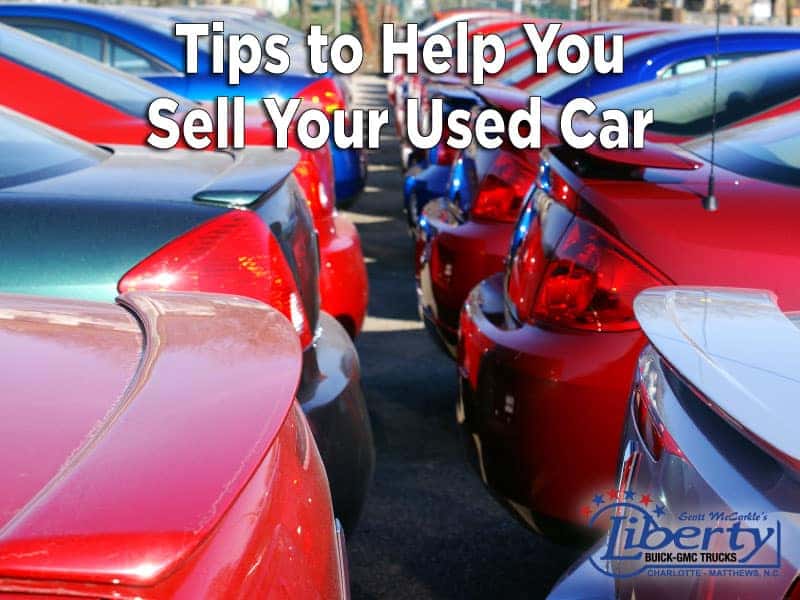 Selling a used car on your own is all about knowing who is looking for what you have. With a little research and effort, your vehicle's new owner shouldn't be difficult to find. At Liberty Buick GMC, we have been successfully selling new and used vehicles for years and we have learned a few important tips along the way.
Our first piece of advice is to solidify exactly what it is you have: does it need a little work here and there or is it in prime shape? Our second piece of advice: always take an honest look and be honest with your potential customers. 
According to Autoweek.com, a used car—on average—takes roughly 33 days to sell. This does not mean it will take that long for you to sell yours, as selling is dependent on a few things. For one, it's important to know what models are best sellers at the moment. Classic vehicles tend to sell according to the season (Wranglers and others with tops that come down do well in the spring and fall) and/economy. High gas prices can slow the sales of older, gas-guzzling, cars so if you are selling a classic be sure to keep these things in mind. 
For newer used vehicles, there are those that consistently make the list of the fastest, most-sold used vehicles:
• Buick Encore
• GMC Yukon
• Dodge Grand Caravan
• Buick Enclave
• Dodge Challenger 
• Dodge Charger
• GMC Sierra
• GMC Terrain
• Dodge Journey
• Dodge RAM
And it's for good reason we see these models on the list year after year. They consistently perform at high levels and they maintain a modern look and feel, which keeps them popular.
No matter what the vehicle is you are hoping to sell, even if it isn't in high demand, there are specific things you can do to help your chances of getting a great price for your car. Here are four tips for a successful sale:
1. The first thing to consider is the method of sale: trade-in your car at a dealership, sell it yourself, or get an instant cash offer. The value of your vehicle will vary, depending on the type of sale you want. All three have their own set of benefits as well. 
Trading in your car is fast and convenient since you have no costs for listing or selling.
You also don't have to worry about dealing with texts and emails and phone calls from potential buyers. The downside is that you won't get as much cash as you would by selling privately, but your used car will work as a nice down payment, or a complete trade, for a different vehicle. 
2. Gathering the necessary documentation prior to attempting to sell is a good idea. What documents do you need?
Vehicle Title: have this handy if you have the car paid incomplete; if you are still making payments, alert the financial institution you are using that you plan to sell the vehicle—you will have to get the title transferred once the car is sold. 
Service Records: culling all your service records may take a little time but this is a great way to prove you have kept up with oil changes, brake changes, etc.
Vehicle History: obtaining the historical report on your car is a good way to show any potential buyer the detailed history of your car, as well as intimate you are an honest seller. This report is not free, but it's well worth the cost.
3. Preparing your car for selling is important and can range from major repairs to a mild cleanup. Bringing it to Liberty Buick GMC is a great way to have a professional give it a once over in order to find out what your car needs.
In the case there is a major issue—transmission is slipping, oil leak, etc.—and you don't want to fork out the cash to get it fixed, make sure you include this information when selling. You will most likely need to reduce the price as well, but hopefully your car is not in need of a major overhaul (and, chances are that if your car is in need of major repairs, you are already aware of this). 
4. The actual condition of your car is what determines its cash value. The best, quickest, way to find the value is to visit a website like Kelly Blue Book (kbb.com). Here you can enter your car's specifications (or the vehicle history report number if you have it) to get a good idea of what kind of money it can sell for, whether it's a private party, a trade-in, or instant cash. 
You can also peruse selling sites like the Facebook Marketplace to see at what price similar vehicles to yours are selling.
Bring your used car into Liberty Buick GMC today and let our trained technicians give you a detailed assessment. We might even share a few more key tips for selling your used car!