The Upcoming Hummer EV SUT and SUV: Get Ready for a Lot of "Firsts"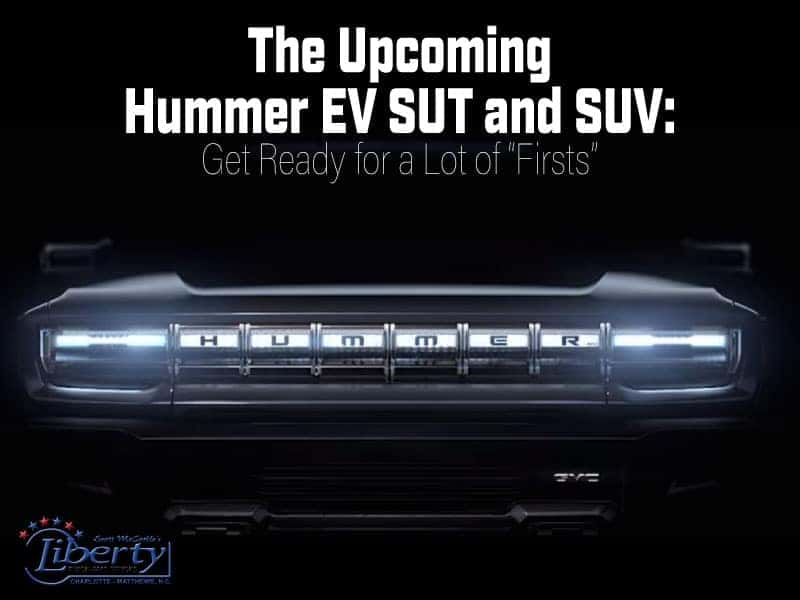 Technically, it would be correct to say that the Hummer brand is being resurrected before our very eyes. But that statement may not do justice to the highly-anticipated pair of EV vehicles set to hit the market in the 2022 and '23 model years, respectively. 
Yes, that's right. The new Hummers, which will carry the GMC nameplate, will be all-electric vehicles. In a market where several manufacturers are throwing around concepts and reveals for electric trucks, General Motors has been advertising the emergence of the Hummer EV SUT and SUV since January 2020. 
Relatively little is known about the Hummer EVs as far as specs and features go, but we do have some media and images released by GM to speculate what the vehicles will offer. So, if you're interested in trading in the gas-guzzling for something more efficient and even more powerful than its predecessor, read on to learn what we do know about the 2022 GMC Hummer EV SUT and SUV models!
Just How Powerful Will They Be? 
The Hummer EVs will supposedly come available with one, two, or three electric motors. More than likely, this means that the single-motor model will be rear-wheel-drive, while the two- and three-motor models will each get their own all-wheel-drive setup. 
GM has claimed that the new Hummer EVs will be able to reach 60 mph in three seconds. That's simply absurd for a pickup truck or SUV. Also, GM says that top-of-the-line Hummer EVs will produce 1,000 horses and 11,500 lb-ft of torque. Again—absurd. Moreover, we can expect that the towing capacity will be somewhere between 7,500 and 11,000 pounds in order to compete with the Tesla Cybertruck and Rivian R1T and R1S. 
How Long Will They Hold a Charge?
The Hummer EVs will be built on GM's BT1 platform, which is an EV variant of the T1 platform that underpins all of GM's full-size trucks and SUVs. Most likely, drivers will enjoy a range of 400 miles on a charge, thanks to an 800-volt architecture. Expect the Hummer EVs to charge quickly and come with several battery options. 
What Will the Cabins Look Like? 
The interior of the Hummer EV SUT and SUV is perhaps the aspect we know least about. However, we do know that the battery pack will be mounted underneath a flat floorboard of each model, which suggests that the cabins will offer generous headroom, legroom, and cargo space. Also, expect there to be versatile cubby storage like in the Silverado, Tahoe, Sierra 1500, and Yukon. 
As far as cab configurations go, we know that the Hummer EV SUT will come in a four-door crew cab, and we don't expect regular- or extended-cab to be an option. And since the Hummer EV SUV will be sharing a platform with the SUT, chances are quite good that it will provide a large backseat and a third row. Furthermore, leather seats, heated and ventilated front seats, a head-up display, and an all-digital instrument cluster are a few of the many likely luxuries in both models.
What Kind of Tech Will They Have? 
It's safe to say that technology will abound in the Hummer EV SUT and SUV. After all, we're talking about an all-electric "supertruck"—as GMC has branded it—and an SUV that is poised to be groundbreaking in its own right. 
Our guess is that a touchscreen of around 15 inches will control a wide range of infotainment features. If other GMC trucks and SUVs are anything to go by, the Hummer EVs will come standard with Apple CarPlay, Android Auto, and a WiFi hotspot, with an OnStar telematics system optional. Likely upgrades include a state-of-the-art Bose audio system, wireless charging, and an infotainment system in the rear seat. 
The Hummer EVs will also feature the new "Crab Mode," which allows the vehicles to move sideways, and they will surely come with a suite of safety techs such as lane-keeping assist, adaptive cruise control, and blindspot monitoring. And expect them to offer the option of GM's hands-free Super Cruise system.
When Can We Get One?
With a reveal date originally set for May 20, 2020, it was pushed to Oct. 20, 2020, because of the COVID-19 pandemic. GM has stated that production for the 2022 GMC Hummer EV SUT will begin in summer 2021 at the GM Detroit-Hamtramck Assembly plant in Michigan. Fall 2021 is when dealerships expect to get their first shipments of the truck. As of now, it appears the SUV will arrive around a year later. Upon the reveal, consumers can reserve their 2022 Hummer EV SUT for $100.
Electric trucks are set to take over the pickup market in the coming years, and GMC is positioned to lead this market with the release of the 2022 Hummer EV SUT. Both the SUT and SUV models can be expected to provide unbridled power and efficiency, among other never-before-seen qualities and features. And on Oct. 20, you can see the reveal of the SUT for yourself and reserve your supertruck on gmc.com!