The Ultimate Tailgate Giveaway Sweepstakes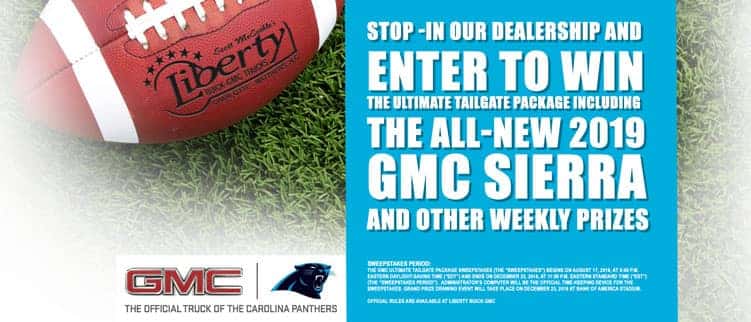 The Carolina Panthers have named Buick/GMC the team's official cars and trucks, and Liberty Buick GMC is participating in the Ultimate Tailgate Giveaway Sweepstakes.
During the regular football season, nine weekly winners will be selected – one after each of the Carolina Panthers' home games. The Ultimate Tailgate Giveaway Sweepstakes package includes a Big Green Egg "Mini EGG" tailgate grill; a YETI Tundra 110 cooler; and two tickets to the last regular season home game where one previous winner will be awarded a brand new 2019 Sierra 1500!
To register to win, you must visit one of the participating dealerships across North Carolina or go to a Carolina Panthers' home game at Bank of America Stadium. The Panthers' home game schedule is as follows:
Pre-Season
Aug. 17 vs. Miami Dolphins – Win
Aug. 24 vs. New England Patriots – Win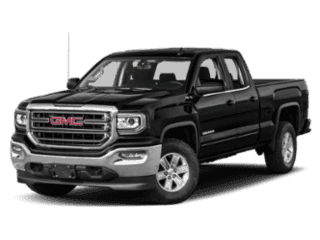 Regular Season Home Games
Sept. 9 vs. Dallas Cowboys – Win
Sept. 23 vs. Cincinnati Bengals
Oct. 7 vs. New York Giants
Oct. 28 vs. Baltimore Ravens
Nov. 4 vs. Tampa Bay Buccaneers
Nov. 25 vs Seattle Seahawks
Dec. 17 vs New Orleans Saints
Dec. 23 Atlanta Falcons
Liberty Buick GMC would love to have a winner from our dealership! You can enter to win each week. Come visit our sales team and a member will walk you through the registration process. Weekly winners are awarded on Mondays after a Panthers home game.
We have the 2019 Sierra on the lot now, but we also have 2018 Sierra's on clearance with markdowns on some models saving you more than $13,000.
Our sales department is open from 9 a.m. to 9 p.m. Monday through Friday and noon to 6 p.m. on Sunday and we are located at 9028 East Independence Boulevard just outside Charlotte. Visit us online at clickliberty.com or call 704.708.8000.