The New GMC 2023 Sierra 1500 AT4X AEV Edition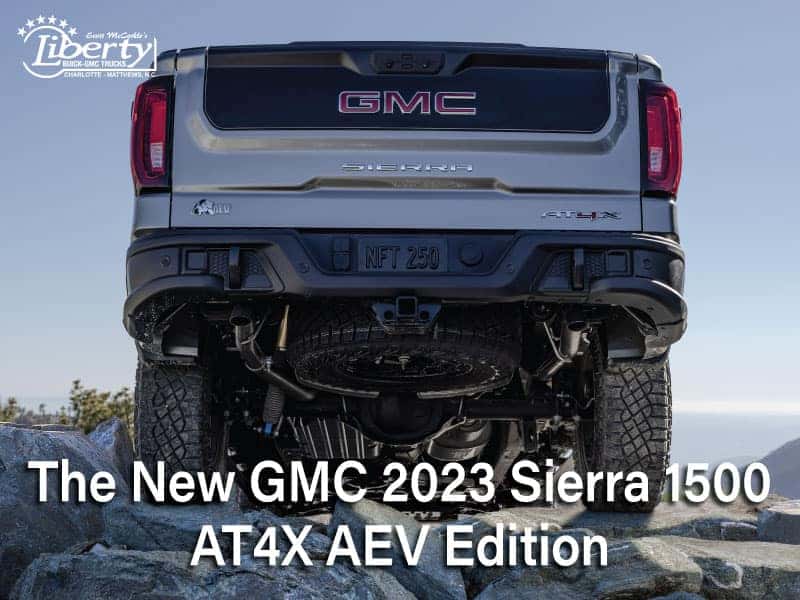 On July 8th, GMC revealed the new 2023 Sierra 1500 AT4X AEV Edition, which received praise and surprise worldwide. The GMC Sierra already inhabited the top space among vehicles built focused on off-roading capabilities and the new AEV trim continues that legacy of peak performance. 
Through partnering with AEV (American Expedition Vehicles) GMC has now been able to produce a trim with off-roading in its DNA. AEV has long been a provider of nearly everything when it comes to equipping an off-road vehicle. Now, through building on an already powerful off-roading base, like the GMC Sierra, the two companies have unleashed a vehicle ready to push premium off-roading to amazing new places. 
It's a truck that can do everything, capable of off-roading and providing a suite of technology that makes any driving experience one from the future. Those that are familiar with the 2023 models of the Sierra, likely know of the technology we're alluding. And for those long-time Sierra lovers, you may be curious how the AEV trim updates an already top-of-the-line off-road and luxury truck like the GMC Sierra. 
Major Updates
Here are just a few ways that the GMC Sierra AT4X AEV improves on an already iconic design:
Steel front and rear bumpers with recovery points designed for reliable, flexible, and powerful towing, alongside winch capability at the front. This means towing and pulling have never been easier, even when on tough recovery jobs. 
Design unique to the AEV, like 18-inch AEV Salta wheels in gloss black, adorned with a race-inspired, laser engraved design. You'll have to see the design for yourself to see just how impressive the new trim is!
33-inch Goodyear Wrangler Territory tires, which offer unrivaled traction, in mud, snow, and rough roads.
New front grille and dash to fit the new design of bumpers, and tires, and increase in gloss black design elements in the tires and door handles.
Exclusive AEV branding across the entire vehicle, not limited to the bumpers but also on the headrests and floor liners.
Underbody plating that protects your Sierra on any type of road, which is perfect for testing your new truck out on any imaginable terrain.
Two-speed transfer case with selectable modes for different off-road conditions, including terrain mode, which allows for one-pedal driving.
One thing is for sure, the unique product of two companies dedicated to an off-roading experience doesn't come every day. So, if you're looking to have a GMC Sierra that's the pinnacle of off-roading performance, the time to act is now. 
If you're looking to stay up to date on the GMC's 2023 Sierra 1500 AT4X AEV release, coming later in the 2023 model year, try touching base with the folks at Liberty Buick GMC. 
A dealership that you can trust — they're ready to get you the newest GMC has to offer at the most competitive prices.