The GMC Sierra & GMC Canyon: Two of 2020's Most Reliable Trucks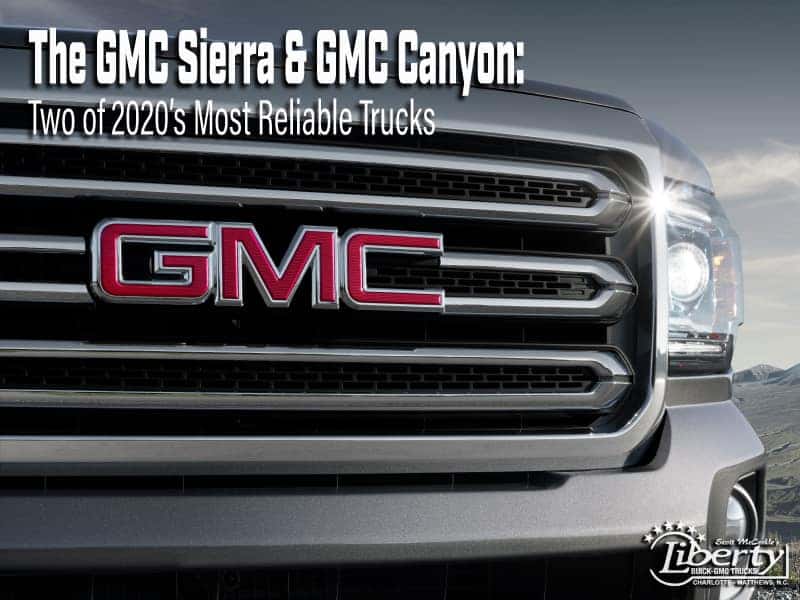 U.S. News and World Report recently included two of GMC's most lauded trucks, the Serra and the Canyon, to its "Most Reliable Trucks of 2020" list. This accolade comes at no surprise to truck enthusiasts across the country, as the 2020 make of both models comes with impressive features and power (like class-leading hauling and towing capabilities). But what's even more impressive, is you can have your new GMC Sierra or Canyon delivered to your driveway. It's simple: shop, click, drive—and deliver.
Both the Sierra and Canyon have been top-sellers for the GMC for years, and this year they both pack even more of a punch. With new features, more power, and luxurious design and comfort, it's easy to see why both of these trucks are being talked about so much already this year.
2020 Canyon
So what exactly has caused the all-new Canyon to be added to such a prestigious list? This year's truck comes with three powertrain options, a luxurious (with high-quality materials) interior, and a 7-inch touch screen that connects to your smartphone, and it comes standard.
It can tow up to 7,700 pounds, and it gets 30 miles-per-gallon on the highway. Plus, it has an available 4G LTE Wi-Fi Hotspot, providing you with connectivity at all times—without using your own service data.
2020 Sierra
There are quite a few reasons the new Sierra made U.S. News and National Report's recent best of the best list. Here are a few "best-in-class" features to the 2020 GMC Sierra:
A three-year/36,000-mile limited warranty, and a five-year/60,000-mile powertrain warranty.
Incredible horsepower and torque from Sierra's V-8 engine.
Impressive horsepower from the Sierra's diesel engine.
A luxurious interior with tons of head and legroom.
Speaking of roominess, the 2020 Sierra also has more cargo bed space than its competitors.
There's also the six-function Multipro Tailgate that opens and configures to help you get work done. This multi-function gate works by touchpad rather than a mechanical handle. Once engaged, the tailgate operates in six different ways to provide easy access to loaded materials, a work-station (with an outlet for charging!), stairs for easy climbing, and more. There has never been a tailgate this functional, which is just one more example of the complexity in thought that went into the new Sierra.
Shop. Click. Drive.
At Liberty Buick-GMC Trucks, we make car shopping and buying an easy process with no hidden fees or services or small print. And we have recently made the car-buying process even easier with online shopping and delivery.
Simply head over to our online retailing site and begin shopping. This easy-to-use site can help you find the perfect vehicle, pick your trim and accessories, select extended limited warranties, and schedule a delivery.
Another nice aspect to using this method to buying is you can estimate your trade-in value and monthly payments, find the latest incentives, and apply for credit directly from the website. Once you are ready, your vehicle will be prepped and delivered to your home at your convenience.
It really is this simple:
Select Your Vehicle—
Select Desired Model from Inventory
Look for the Start Buying Process button Next to a Model of Your Choice
Create Your Deal—
Estimate Trade-In
Choose Finance or Lease Options
Schedule a Delivery—
Take Delivery at Home with Participating Dealers or Schedule a Pickup at the Show Room
It's Time to Shop
Before you go to buy a new GMC truck, it's important to think about how you will use it. Both the 2020 Canyon and the 2020 Sierra have unique components, which make them a perfect match for different types of truck drivers.
GMC's commitment to excellence is apparent in both of these top-of-the-line trucks. And once you find the model that fits best, let us take you for a test drive and answer any questions you might have. Plus, you won't find a better price on a GMC Sierra truck anywhere other than Liberty Buick GMC-Trucks. Come see us (virtually or in-person) today.
*Source: https://thenewswheel.com/gmc-sierra-1500-and-gmc-canyon-earn-spots-on-us-news-list-of-2020-reliable-trucks/