The Buick Line-Up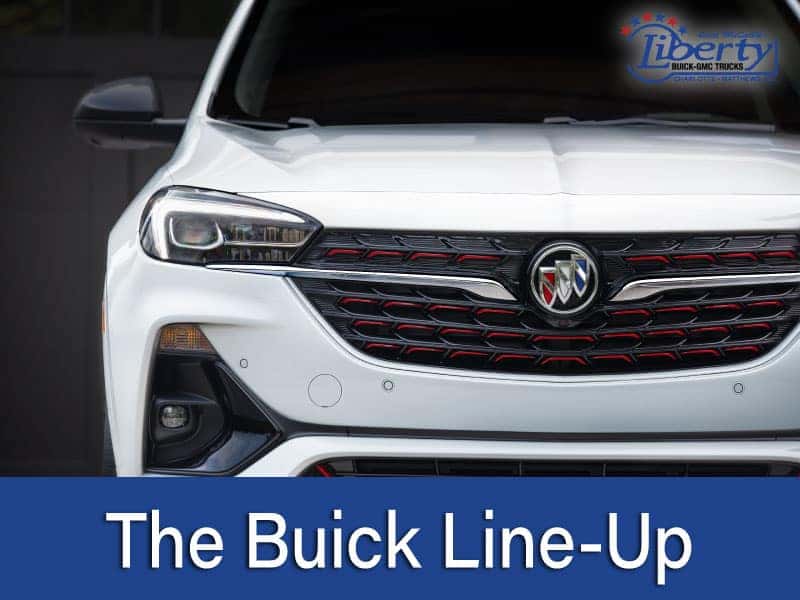 Like many car manufacturers, Buick has been working hard to provide a product fitting for 2022. This innovation sometimes necessitates growing pains, evident with Buick's decision to discontinue the base Buick Encore model after 2022. 
The Buick Encore may be finished, but true to its name, it's not the end of the show. It will continue with the Encore GX, an improved iteration of the model. While this is just one example of Buick's shift and adaptation to an ever-advancing car market, it's not the only one. The Buick lineup is perfect for anyone seeking a new car and the folks at Liberty Buick GMC have the expertise to provide you with the support and sales experience necessary if you're looking for an upgrade.
A Look At The Models Sold At Liberty
To best understand just how much Liberty Buick GMC offers with their current selection, it's important you know what new Buick models are for sale in 2022.
Buick Encore
Even though the 2022 Buick Encore is scheduled to be the last version of the plain Encore for the foreseeable future, its 2022 edition has a lot to offer. It's a smaller size SUV perfect for your average family. While it leans on the smaller side it provides the space perfect for whatever you may be hauling, from groceries to bigger objects from the hardware store.
Buick Encore GX
The Buick Encore GX is the successor to the base Encore. Because of this connection, the GX shares some of the best features of the regular Encore, with other additions going beyond what those familiar with the regular Encore are familiar with. 
The Encore GX expands on the flexible seating that made the Encore a fan favorite for toting cargo. With seating options that expand cargo space, you're ready for any possibility, like road trips, farmers market runs, days at the beach, and even some bigger home moves.
Its size also provides performance with a tight turn radius, competitive fuel efficiency, and drive options suited for any type of weather.
These are just some of the highlights that show why the Encore GX is prepared to not only be a top-of-the-line SUV in 2022 but also to serve as a successor for the much loved Encore.  
Buick Envision
For those not totally sold on the sleek small SUV design of the Encores, the Buick Envision is perfect for you. Featuring a wider, more imposing stance, it displays what a bold design can be in an SUV.
This design isn't just for appearance. It creates an aerodynamic vehicle capable of traveling and maximizing fuel efficiency. 
The increase in size also creates more cargo space and gives the interior room to experiment. A driver-focused cockpit makes the driver feel totally in control, alongside the help of displays fit for a modern era.
The Envision also has multiple drive modes and other trims to choose from, pleasing a variety of drivers seeking a somewhat traditional, but still ever-innovative SUV.
Buick Enclave
Buick Enclave models are marketed as a "refinement in technology" and they often live up to that title. Seating seven, the car's interior is its main focus, trying to provide the comforts of home while you're hitting the road.
While most vehicles equipped with that much seating sacrifice natural light, the Enclave has a moonroof that provides all the natural light you could want. A smart slide second-row opens up seating options and makes accessibility much easier. Those looking to splurge can opt for massaging seats, making every rider want to stay in the car as long as possible. Like the previous SUVs, those seats are also foldable, providing storage space fit for a vehicle of this size.
The Enclave also has towing capabilities, able to pull up to 5,000 lbs. That towing capability alongside intelligent all-wheel drive and five-link rear suspension shows why the Enclave is always able to ride smoothly, with power that can handle any condition.
Buick Enclave Avenir
The Buick Enclave Avenir represents the very best Buick offers in luxury. Building on everything the base Enclave can offer, it pushes the capability of what a modern vehicle can include and pull off, and does so excellently.
Infotainment systems allow everyone in the family to connect devices and optimize your traveling to please everyone in the family. Its interior offers the same unrivaled comfort that the base Enclave does.
The Enclave Avenir hosts more customization than its predecessor, with wheel and drive options that will please everyone.
Technologies New Buicks Share
Each vehicle listed has unique aspects that set it apart. While those differences are great, being a part of the Buick family provides some universal perks too. Here are just a few of the features you can find in all of the new vehicles on the lineup.
Hands-Free Power Liftgate
Storage and travel were a similar theme shared in much of the new vehicle packages. Storage and space are only as good as they are accessible. That's why Buick makes use of the FOB technology, allowing you to put your foot under the trunk hitch to open your trunk.
Perfect for packing when you've got a handful.
Keyless Open and Start
The FOB technology that makes the hands-free power liftgate possible also allows for a keyless open and start on new Buick models. Using the Buick app you can start your car from a distance, lock or unlock, etc. All to make your experience easier. 
QuietTuningTM Technlogy 
Countless hours of engineering and research went to develop the QuietTuning technology included in every new Buick.
The intention behind the design is simple, taking every step necessary to create a quiet, calm space in your car cabin, no matter what's happening outside of it. 
This innovation has paid off. Folks who invest in new Buicks can drive with little interruption of wind, clatter, or road sounds that make road trips and driving more of a headache than anything else. 
While some of these steps are known to other manufacturers, Buick has gone above and beyond, taking measures that no other manufacturer gets close to, creating the patented QuietTuningTM technology you can rely on.
Buick Driver Confidence Plus
Safety is among the biggest things to consider when buying a new car. That's why Buick has worked to include Buick Driver Confidence Plus in every new vehicle. Safety and driver assistance technologies give you the confidence you need when heading onto the road.
Features include:
● Automatic Emergency Braking
● Following Distance Indicator       
● Forward Collision Alert
● Front Pedestrian Braking
● IntelliBeam auto high beams
● Lane Change Alert with Side Blind Zone Alert
● Lane Keep Assist with Lane Departure Warning
● Rear Park Assist
● Rear Cross-Traffic Alert
Buying Your Buick
If you made it to the end of this article, you've likely seen something in Buick's new lineup that's suited to your needs. So if you're in the market for a new vehicle, it's important to know just where to go to get one.
Liberty Buick GMC has been serving the Mathews area for years. With every new model on the lot at their dealership, you have the chance to see what Buick's innovation looks like for yourself. Professionals will be there to help with any questions you may have during the car buying process.
While purchasing a new vehicle is intimidating, the financial center offered by Liberty Buick GMC has a record of flexibility and excellent customer service, giving you the tools you need to make the jump and purchase a new Buick.
Whatever the case, if you're ready for a modern vehicle that can do it all, call Liberty Buick GMC to find out more!