The Buick LaCrosse
Luxury is here in Charlotte, North Carolina in the All-New Buick LaCrosse. This classy vehicle is a one of a kind and can be found on Liberty Buick GMC's lot! The 2017 Buick LaCrosse is on special this month. With an elegant exterior, a comfortable interior, and excellent performance, this vehicle is the perfect full-size sedan!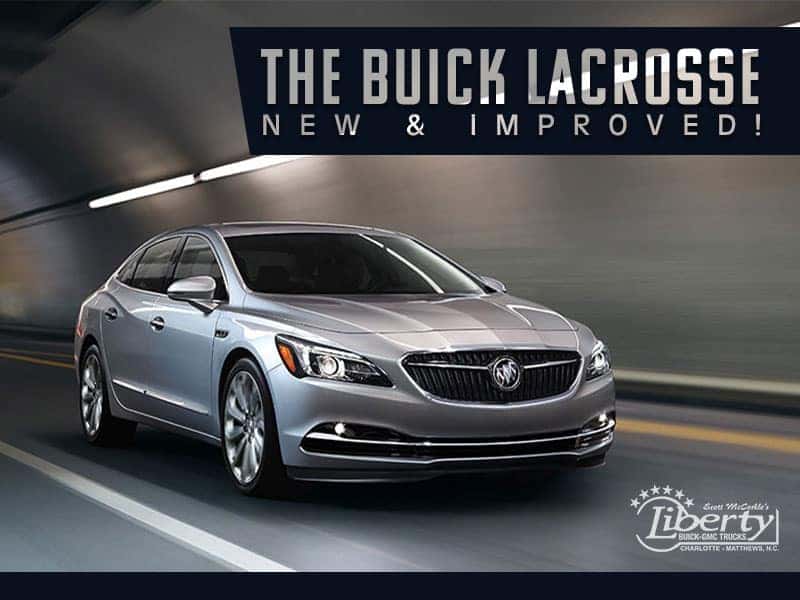 Exterior
The Buick LaCrosse has a sleek and elegant exterior that demands respect. The vehicle is shaped in a slick aerodynamic sedan style and has bold features that set it apart.
The Buick Lacrosse is an example of Buick's timeless luxury.  This lavish exterior features: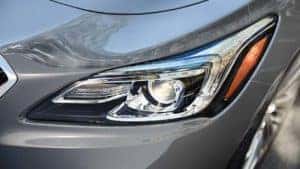 An All-New Front Grille – the 2017 Buick LaCrosse puts a modern spin on this classic vehicle with the re-designed front grille. The grille is winged has a new tri-colored crest.
HID Headlamps and LED-Accented Taillamps- The new LaCrosse has high-intensity-discharge xenon headlamps and LED-signature lighting along with LED-accent taillamps. The new lighting gives the vehicle a bolder look while increasing visibility at night.
Panoramic Moonroof- Enjoy nice weather and pretty skies with the touch of a button. The panoramic moonroof allows you to feel the fresh air with a view of the sky.
Interior
The updated interior of the Buick LaCrosse has a modern-day lavish feel that is comfortable and graceful. The interior is designed to make each ride smooth and enjoyable. From the wood accent on the door and front, to the luxurious leather, this vehicle is top-notch. Other prominent aspects include: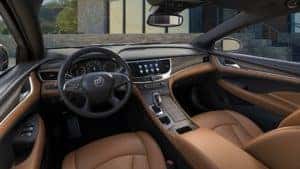 Active Noise Cancellation- People use their travel time in the car to recompose, enjoy quiet time, have pleasant conversations, and so on. To do these things it is essential to have a quiet space. With the Active Noise Cancellation, it detects unwanted sounds and helps cancel them out. The acoustic material also helps absorb traffic noises so you and your passengers can relax.
New Designed Center Console- The redesigned center console allows for a larger storage place while opening up space in the front. The console is sleek and out of the way, giving the interior a larger feel.
Heated Steering Wheel- The optional heated steering wheel makes chilly mornings a bit easier. Drive comfortably in the cold weather.
Heated and Ventilated Front Seats- In the heat or the cold of the year, find your perfect contentment with the heated and ventilated seats. The seats help keep your body at your desired temperature.
Safety
Everyone needs a little peace of mind when driving on the roads. Everyday we hear about car accidents, so the need for a safe and secure vehicle is essential to protect you and the ones you love. The 2017 Buick LaCrosse puts safety first and holds a 5-star safety rating. The Buick LaCrosse has standard and optional packages to make sure you are safe in case of a crash, along with helping you prevent one. Key safety features include: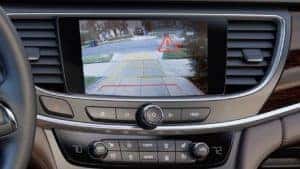 Side Blind Zone Alert with Lane Change Alert- Cars have blind spots that make it hard to see other vehicles when changing lanes. The Side Blind Zone Alert lets you know there is a vehicle in your blind spot by alerting you with a visual display at the corner of the mirror.
Rear Cross Traffic Alert- The LaCrosse has a rear camera that helps you see what is behind you, but there are often things that you can still miss, like approaching vehicles. That's why the 2017 Buick LaCrosse uses Rear Cross Traffic Alerts to detect approaching cars.
Forward Collision Alert- This technology senses when you are approaching a vehicle in front too quickly and alerts you with a visual and audio warning. This technology helps prevent rear-end collisions.
Front Automatic Braking- This feature helps prevent collisions by automatically braking when a potential forward crash is detected.
OnStar- The 2017 Buick LaCrosse comes with 5 years of the OnStar Basic Plan and 3-months of the premium plan. OnStar takes safety to the next level with Automatic Crash Response, Emergency Services and Roadside Assistance, Turn-by-Turn Navigation, Hands-Free Calling, and more.
Performance
The 2017 Buick LaCrosse in North Carolina has all new performance that delivers a whole new experience. With a 3.6-liter engine and 8-speed automatic transmission, feel in control of your vehicles power.  The LaCrosse features: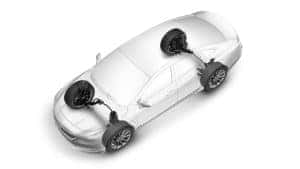 Sport Mode Option- Connect with the road and feel the thrill with available Sport Mode. Sport Mode intensifications allow for a crazy ride by increasing suspension, steering feel, and throttle response.
All-Wheel Drive with Active Twin-Clutch- The all-new LaCrosse is equipped to handle all terrains, whether slippery roads or dry gravel. The All-Wheel Drive system is prepared. The system works by monitoring the traction of all four wheels and activates when needed. The Twin-Clutch system provides torque that helps drivers feel confident and in control.
5-Link Suspension- The 2017 Buick LaCrosse has an impressive ride and handling with a suspension that allows security from behind the wheel and powerful acceleration. This system also includes noise-isolation and redesigned handling to provide the best ride.
The 2017 Buick LaCrosse is a one-of-a-kind car that combines elegance and performance to create a professional vehicle with maximum luxury. Liberty Buick GMC in Charlotte, North Carolina has this classy vehicle on the lot! Call (844) 591-8037 for more information on the All-New Buick LaCrosse and to schedule your test drive.