The Buick Envision: Truly a Vehicle You Can Envision You and Your Family in This Year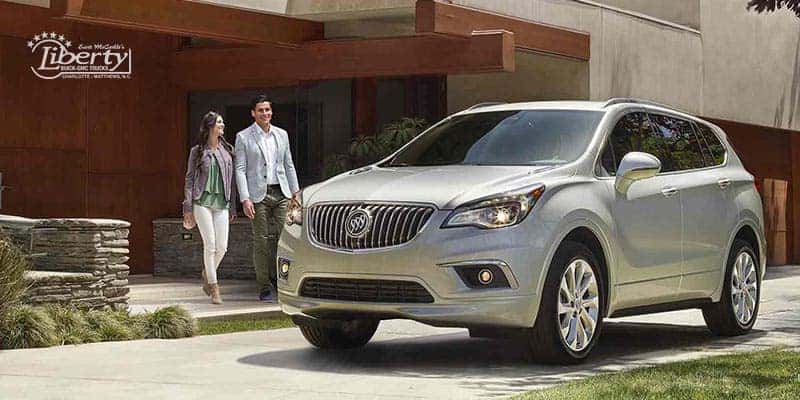 This compact SUV combines comfort, safety, and good value for your money. Whether you're cruising through uptown, teaching your teenager to drive, or taking that sleepy toddler on a ride in a whisper-quiet cabin, the 2017 Buick Envision in Charlotte is the perfect compact SUV-crossover to fit all of your family's needs.
At a glance:
Just at a glance, the Envision packs numerous luxuries into the vehicle, aiming for the safety and comfort of its passengers. With higher trims of the Envision, consumers will see even more of Buick's latest technology for its conscientious drivers and satisfied passengers.
5 seats
Keyless vehicle
252 HP
MPG:22 CITY
New base engine
Bluetooth, Apple CarPlay and Android Auto
8-inch touch screen
Rearview backing camera
4-G Wi-Fi hotspot capability
New Teen Driver active safety feature
Exterior:
As beautiful as it is reliable, the Envision will fit perfectly into the urban atmosphere, combining sleek design with functionality. The Envision offers 7 exterior colors:
Ebony Twilight Metallic
Bronze Alloy Metallic
Chili Red Metallic
Bronze Alloy Metallic
Galaxy Silver Metallic
Summit White
Midnight Amethyst Metallic
It's worth noting that paint colors in exception to Summit White are premium extra-charge colors.
The Envision's wheels are 18", 10-spoke polished aluminum, with P225/60R18 all-season blackwall tires. You'll appreciate the hands free open and close liftgate, luggage rack, and roof-rails for packing extra cargo.
An ideal crossover SUV, the 2017 Buick Envision is a compact vehicle perfect for a growing family in the city.
Interior:
There's no argument that the Envision is a comfortable ride, but the interior is also stylish and functional. The Envision is spacious for all five seats, including passengers in the backseat seats with plenty of legroom and headspace. The front seats are well equipped with excellent materials in the upholstery, heated seats, and a clear view of the road ahead. The passenger compartment has a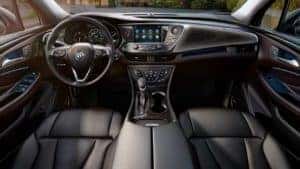 small glove box, but a tray in the dashboard and a generous center console bin. Ventilated front seats and heated back seats are available in the higher-end trims of the Envision.
The contemporary and glossy wood trim is clean and appealing, and exhibits a high-quality feel. The dual touch-sensing climate system panels on the dashboard enable you quick access to seat heating and ventilation. Buick's IntelliLink infotainment system works from an 8-inch touch screen, with navigation, radio display, smart-phone capability (i.e., Apple CarPlay and Android Auto), and a number of other features.
In particular: Apple CarPlay and Android Auto enable you to sync smartphone features and functions with the IntelliLink infotainment system. This is an important feature for those who desire easier access to your phone's apps and information, navigation, as well as hands-free messaging and decreased off-road distractions. Drivers can use Siri or Google to make calls, send/receive messages in the Envision, and control music (via the touchscreen as well). These features complement the OnStar 4g LTE connectivity Wi-Fi hotspot, which provides for up to 7 personal devices to ensure that its passengers are safe and connected on the go.
The back seats and cargo are just as impressive; unlike many similar compact SUVS, the rear-seat space provides an equally pleasant amount of room and storage. With comfort for all passengers in mind, even the middle rear-seat has a flat floor space for the passenger's legs.
Taking a closer look: The back seat also includes rear-climate control, a 3-prong power outlet, and dual USB ports to keep your passengers content and charged.
The Envision did not leave out their smaller passengers either. This vehicle keeps younger passengers in mind with lower child-seat anchors on the back of the rear seats. This keyless vehicle alerts you when keys are left on the seat or in the car, and child safety locks are included as well. This kid-friendly vehicle is overall a very safe and comfortable choice for families.
Need more room for cargo? For an SUV, the cargo area is rather small. However, Buick's maximizes the accommodation of people or cargo with the ability to slide the rear seat forward and back. The hands-free lift gate and low lift-over height is ideal for loading and unloading heavy stuff.
Performance:
Heavy for it's size at a minimum of about 4,000 pounds, the Envision is equipped with a 2.5-liter 4-cylinder engine. The Premium and Premium II trim levels deliver a turbocharged 2.0 liter 4-cylinder engine with higher horsepower and torque, as well as all-wheel drive. This engine provides smoother and quicker acceleration and gear changes when you need more power on the road.
Furthermore, the turbocharged engine option has an idle-stop system that will shut off the engine when at rest in traffics or intersections to conserve fuel. In Charlotte's prime time traffic, this is a wonderful feature to have.
The handling of the Envision on the road is far from a chore; the steering is level, the brakes respond accurately, and the suspension keeps the ride quiet and smooth. For those needing a quick-reaction time in the urban uptown of Charlotte, the Envision delivers and at a decent gas mileage too, hitting 23 MPG in the city and 29 MPG on the highway.
If you're looking for a more powerful turbocharged engine, the Envision's top two trim levels deliver, but they also come along with a price jump from a mid-ranged $30,000 to upper $40,000.
Safety:
Large side mirror and front windows provide notable visibility to both the driver and passengers in the Envision. While the rearview mirror does not offer a consistent clear view through the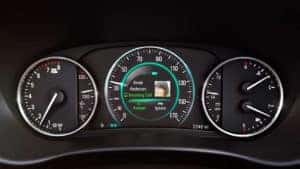 smaller back window, the rear-backing camera and park-assist sensors make their use known with thoughtful, efficient technology to the driver's aid.
New to the Buick Envision, Teen Driver active safety technology provides programmable settings for parents, and allows them to receive driving reports of their teenage drivers. For parents lending out their Envision for a teenager's first independent spin, this safety feature provides parents with the supervision and perhaps even a bit of peace-of-mind as their new driver hits the road alone.
Beyond teens, Buick offers the opt-in Smart Driver Program that monitors driving habits and collects data that can be used to obtain car insurance discounts.
The Envision received a 5-star overall crash-test rating from the National Highway Traffic Safety Administration (NHTSA), ensuring the protection of all of its occupants. Among other excellent safety ratings,
Choices:
There are four different trim options for the Buick Envision that encompass preferences and price ranges. Four-wheel drive is standard and all-wheel drive is optional. The Preferred trim is a superb SUV choice that won't break the bank, where you will not feel like the basic trim is basic at all; it's as value-packed as it is luxury-packed.
But, if you're looking for more, then Buick delivers. Each trim includes the luxuries of the previous ones, and you'll find in the Premium and Premium II trims (starting at $42,430) that upgraded turbocharged engine makes a great difference in the vehicle's power and efficiency.
Preferred trim: $35,780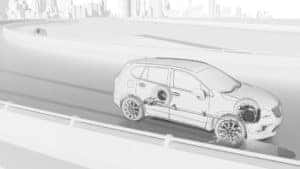 180-inch alloy wheels
Daytime running lights
Premium cloth seats
Hands-free liftgate
Essence trim: $37,720
Leather upholstery
Heated rear seats
Chrome roof rails
Perforated leather seating
Blind spot monitoring
Premium trim: $44,960
A more powerful engine
Navigation
Safety features, like following-distance warnings
Premium II trim: $44,960+
Navigation
Automatic park assist
360-degree camera
Power sunroof
Automatic emergency braking
If you're looking for a luxury compact SUV crossover with a sleek exterior and interior design, responsive and efficient driving dynamics, and visibility and safety as its top priorities, then the Buick Envision is truly a vehicle you can envision you and your family in this year. Learn more about the 2017 Buick Envision's pricing details by clicking here, call 704.708.8000, or visit Liberty Buick GMC in Charlotte, North Carolina. There is no doubt that the economical, stylish, and efficient 2017 Buick Envision will win you over, so schedule your test drive today.