Stealing the Market with Steel: New 2019 Sierra Sheds Weight, Improves MPG, Maintains Safety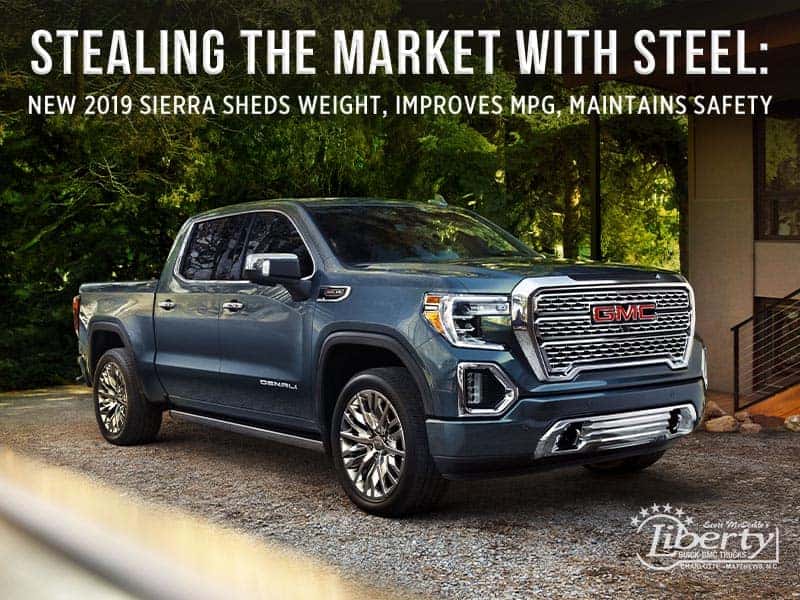 The 2019 Sierra has been remade to challenge the dominant Ford F-series of trucks. What's GM's trick to achieve more of the market share? Steel and aluminum body construction, paired with a light carbon fiber bed.
The Structure
While steel long has withstood strength tests, the metal's weight has been a fuel-economy killer for many a car. In the old days, cars were built big and bumpers were designed to do exactly that — bump things, if not crush them. Changing safety standards brought on bumpers designed to crumple, and what once may have been the proverbial fender bender became a plastic replacement process. Being rear ended didn't produce a ding. It put holes in things.
GM, however, was late to the track when it came to removing steel from autobodies. It's taken until the new 2019 line of trucks which are, on average, 450 pounds lighter than their predecessors. The weight shed comes from three swing areas — the hood, tailgate, and doors — now manufactured in aluminum. Aluminum is more malleable and elastic than steel and can create shapes that steel typically cannot. Aluminum is about one-third the weight of steel.
With the weight loss, the 2019 Sierra has the fuel-efficiency of a Ford F-series but a steel platform provides the safety you've come to expect from GM trucks.
A few years back, Ford shifted from steel to aluminum body construction which, of course, increased fuel-efficiency. However, the large, light-bodied trucks lost points on safety.
With heavy duty capability and steel undergirding, the 2019 GM trucks stand up to the worksite and celebrate solid Americana.
A Step Further
The Sierra Denali will take one step further into the future beyond Ford. A carbon fiber bed strips weight while adding strength. The Denali's CarbonPro Box (what GM is calling it) is just the start of what's to come for truck beds. Mark Voss, GM's engineering group manager, led the efforts to find ways to make a carbon fiber composite bed that is more sustainable, durable, versatile and, ultimately, affordable. Until Voss and team found a way to pioneer applications of carbon fiber for vehicle use, carbon fiber seemed out of reach due to cost. No longer.
The CarbonPro box will be 62 pounds lighter than a steel box and will eliminate the need for a bed liner. Why? Because the CarbonPro box has, according to GM, "best-in-class dent, scratch, and corrosion resistance."
The composite material of carbon fiber also makes for easier reuse. If scrapped, carbon fiber can be shredded and melted then repurposed. It doesn't become part of the garbage pile.
Another bed feature actually is found on the Sierra bumper. The CornerStep was introduced on the Sierra 1500 in 2014 before making its way on to the GMC Canyon. The cut-out groove is exactly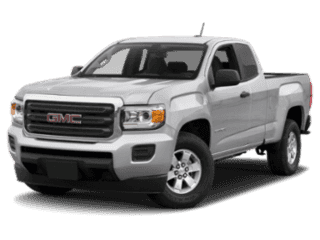 what its name implies — a step in the corner. It's lower to the ground than full bumper height, providing easier access to the truck bed. Now that step has increased in size to accommodate steel-toed boots and comes standard.
The Sierra Denali will have 17/23 MPG and can tow up to 9,600 pounds with its max horsepower of 420hp. Its tailgate will be more innovative, with six different and distinct functions, so that loading and unloading, as well as accessing the cargo box, happens with greater ease. Its powerful 6.2L v-8 engine will offer an all-new 10-speed automatic transmission.
The interior will have sleek lines, jazzed-up technology with smart features, and offer a multicolor head-up display. That new display is first in its class, and the feature lets drivers view important information displayed directly on the windshield. So now, no need to look away from the road to get the important info you need, even on the dash or console. The windshield will offer you the key data you need so your eyes can stay on the road where they belong.
The Sierra Denali starts at $52,900. The Denali also comes as a Denali HD, which increases the tow load up to 23,100 pounds and starts at $56,345. It takes the horsepower up to 445 and comes in two styles: the 2500 and the 3500. The 2500 has a max payload of 3,233 pounds and a towing load of 15,400 pounds; the 3500 delivers towing power at 23,100 pounds and has a max payload of 6,112 pounds. Both the 2500 and 3500 will offer a hood scoop, bringing in cooler induction air temperatures so that the Denali can maximize its horsepower.
There are two more Sierras to explore, rounding out the next generation of GM's line: the 2019 Sierra 1500 and the Sierra Limited. First, the Sierra 1500 with its SLT crew cab will start at $46,700. It bears similar bells and whistles, 420 horsepower, and towing power of 12,100 lbs. The Limited gives you the hauling and towing power you need in a light-duty truck, with the modern technology you've come to expect for today's vehicles. It will be offered in two trims, Sierra and SLE, and either two- or four-wheel drive. Sleek lines and cool tech cut the shape of its interior — brawn and brains.
Word on the street is that a new 3.0-liter diesel Sierra also is in the works. The in-line six is rumored at 282 horsepower and 450 pound-feet of torque, which would make it the class leader in the half-ton diesel market.
Also running through the rumor mill? First tests on the 2020 Yukon. Styling is said to take from the 2019 Sierra both in styling and platform. Reduced weight by way of aluminum swing panels
(doors, hood, liftgate) and an independent rear suspension are expected. What's unknown is whether the Yukon will offer the new Duramax LM2 turbo-diesel, which would put out the same horsepower and torque numbers as for the 2019 Sierra.
GM's Sierra will put Ford on alert. Despite Ford's dominance in the truck class, GM's innovative approach to the body (steel-aluminum) and its carbon fiber box will transform the future of trucks. America can only benefit from this rivalry, as each competes for leadership in a field where innovation matters. And what's more, with the rising scare of tariff wars, GM's innovative approach of steel, aluminum, and carbon fiber can only help to protect their consumers from the expenses of an all-steel or all-aluminum body.
The 2019 Sierra is on our lot at Liberty Buick GMC now in addition to the 2018s, which are priced to move in our year-end model closeout. You can save more than $10,000 on some 2018 models! It's a great time to buy.
Visit us at 9028 E. Independence Blvd., Charlotte, N.C., online at clickliberty.com, or give us a call at 704.708.8000. Our sales department is open seven days a week.