Spend this Hunting Season in the Right Truck, a 2017 GMC Sierra 1500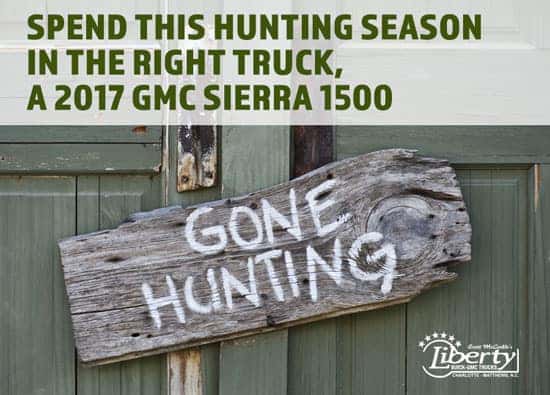 Hunting without a truck is nothing short of sacrilege, especially here in the South where you can find some of the best hunting in the country. Not just any truck will do, either. You have to have one with the newest updates in technology, performance, and comfort. The avid hunter knows that the truck taken on the hunt often times serves as a bed, and a meal-stop. At Liberty Buick GMC we believe in working with nothing but the best, and this hunting season the best you can do is a new GMC truck.
Before venturing out to your favorite spot to hunt, there are three things to consider: what you are going hunt, where you are going to hunt, and what you are going to drive to get the job done. Before we look into what's in season and where the best places are to find them, let's start with the transportation. You need something that can serve just as much as a resting place as a mode of transportation. Something that can quietly keep you warm and comfy, yet maintain that certain strength only found in top-of-the-line trucks, which have the capability to move through just about anything and you never have to worry about them letting you down.
Maybe it's these same reasons that the all-new, 2017 GMC Sierra 1500 is already a top-seller. It's known as one of the best all-around trucks on the market, especially for those who like a bumpy trail over the smooth road. The 2017 GMC Sierra's expert performance, rugged toughness, and abundance of comfort and space make it the perfect hunting vehicle. The 6.0-liter, V-8 engine with 360 horsepower is incredibly powerful (380 lb-ft of max torque is nothing to laugh at), and more than capable handling any terrain, even with a bed full of the day's plunder.
The interior is nice as well. All the materials and textures are of higher quality than ever before, and there is a surplus of storage space, cup holders, and room to move around. This means whether you are hunting with a bow or a gun, rifle or pistol, the Sierra has plenty of room. It also has five USB ports and a 300 watt inverter for 120 volt plug-ins, so if you need to charge your flashlight, phone, or anything else the Sierra operates as a power hub so that you can be ready for that world class buck, bear, or turkey.
Now that you have the perfect truck for hunting, it's time to decide on the what, where, and when. Here is a detailed list we have compiled of what is in season and where, based on recommendations from the North Carolina Wildlife Resources Commission:
Eastern Deer Season: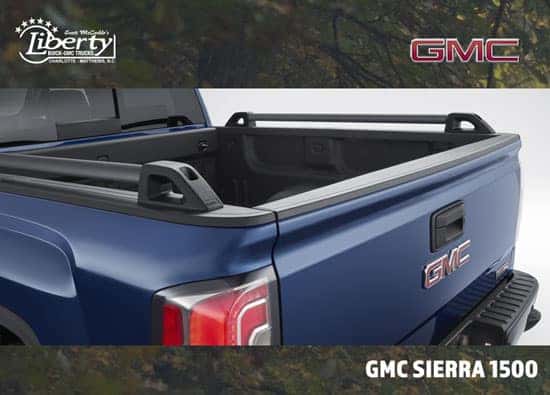 Archery is from September 9 through September 29, 2017.
Blackpowder is from September 30 through October 13, 2017.
Gun is from October 14, 2017 through January 1, 2018.
Central Deer Season:
Archery is from September 9 through October 27, 2017.
Blackpowder is from October 28 through November 10, 2017.
Gun is from November 11, 2017 through January 1, 2018.
Northwestern Deer Season:
Archery is from September 9 through November 3, 2017.
Blackpowder is from November 4 through November 10, 2017.
Gun is from November 18, 2017 through January 1, 2018.
Western Deer Season:
Archery is from September 9 through October 1, 2017; October 15 through November 19, 2017; December 10, 2017 through January 1, 2018 (this is only for antlered deer).
Blackpowder is from October 2 through October 14, 2017.
Gun is from November 20 through December 9, 2017.
Gun Season for Either Sex:
Introductory is open the last day of the applicable gun season.
Conservative is the last six open days of the applicable gun season.
Moderate is open every day of the applicable gun season.
Wild Turkey Spring Season:
This is for bearded or male turkey only and is open April 14 through May 12, 2018.
Wild Turkey (Youth Only) Season:
This is for bearded or male turkey only and is open April 7 through April 13, 2018.
Urban Archery Season:
Archery only is open January 13 through February 17, 2018.
Youth Deer Hunting Day:
With any legal weapon, this is open only on September 23, 2017.
Now that you know what you can hunt and when, it's time to decide where you and your new GMC Sierra 1500 should go for the fun. Luckily, North and South Carolina have plenty of spots to try, but here are what we think to be some of the best places in Charlotte, Matthews, and surrounding areas to hunt:
Central Carolina Outdoor Club is a unique spot with plenty of land (over 4,000 acres) and fellow hunters to pall around with and learn from. There is hunting, fishing, and beautiful spots for camping and enjoying the outdoors. Central Carolina Outdoor Club owns land contained within three of the four deer and game zones in North Carolina, plus four out of five zones in South Carolina! Located within 100 miles of Charlotte, this spot is perfect when you get the urge to hop in your Sierra and head out for a hunt. This is a club, so membership is important, but honestly, what a convenience to have a plot this large and full of game to be hunted.
Goldmine Hunting Preserve is a highly successful organization providing quality hunting, trapping, and fishing. Located in Midland, Goldmine Hunting Preserve is been operating for over 37 years and has proven to have prized hunting grounds and game. There are beautiful bodies of water, picturesque views, and a wide-open sky. This is a great spot for weekend trips with friends, or even one for a fun teaching experience with the young ones. Either way, you are sure to have something nice in that Sierra bed on the way home.
Allen Brothers Hunting Preserve is a great place to practice the old English tradition of driven pheasant hunts, something you definitely will not find at most other hunting preserves. Driven pheasant hunts involve launching birds from a tower while hunters, poised and ready, take aim at the darting targets. It takes special skill, but is highly satisfactory come the end of the hunt. Allen Brothers also allow for other birds to be hunted on special occasion, but pheasants are the game of choice around these parts.
Beaver Pond Sporting Club is perfectly set among the historic Piedmont hills in Snow Camp, North Carolina. Come and enjoy a simply beautiful setting of hills and trees and bodies of water for either a half-day or a full day of fun. Beaver Pond specializes in wing and clay target shooting.
No matter what you end up hunting this season, and no matter where you go, be sure and keep safety as priority number one. The best hunters are cautious and smart. Liberty Buick GMC knows that those who plan well, do well and that's why we suggest the 2017 GMC Sierra 1500 as your next truck. Hunting, fishing, pleasure-drives, these are all done better and more efficiently in a GMC. You will not find a better selection or price range anywhere else than here. Come see us today, and happy hunting!
-Andrae Bergeron