Ready For Adventure? Take a Spin in Liberty Buick GMC's 2017 GMC Yukon!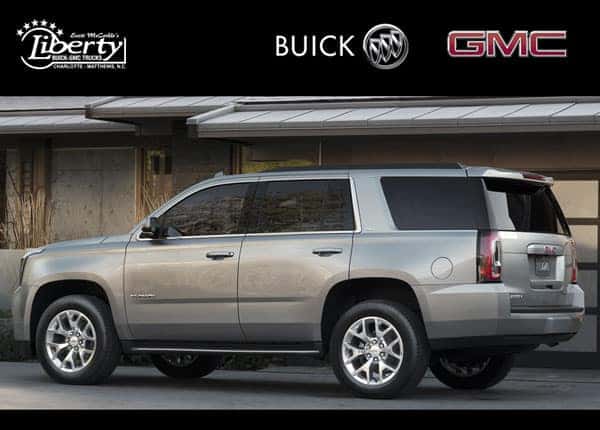 There is a standard for what makes a vehicle good for adventure. Whether you plan on thrashing through unpaved trails or winding your way through the mountainside, you are sure to want a vehicle with a high level of performance, comfort, features, safety, and fuel economy. At Liberty Buick GMC, we believe that we have the perfect car for your next adventure – and at an unbeatable price! Come check out the all-new 2017 GMC Yukon.
We love the 2017 GMC Yukon! It adds a bit of luxury but at the same time a rugged toughness to every morning commute into Charlotte and every vacation experience. You can drive it anywhere – no matter how many passengers or how of long of a trip you take, you are guaranteed a pleasant experience behind the wheel. Just wait until you see how well it handles. There's nothing like its roomy interior, the seemingly endless array of features, the high safety levels, and excellent fuel economy. Here is a breakdown of each:
Performance
Under the hood of both the Standard and XL models of the 2017 GMC Yukon is a 5.3-liter, V-8 engine that offers 355 horsepower and 383 pounds-feet of torque. This is a ton of power to have in a base model. In fact, power of this level is usually reserved for the higher-end models of many other SUVs. To take it a step further, the Yukon Denali model provides even more power: 6.2-liter, V-8 engine with 420 horsepower and 460 pounds-feet of torque!
In the 2017 GMC Yukon, there are two impressive pieces of technology that make this a high performing SUV. First is the direct injection. This allows fuel to be injected without hindrance, which makes for a seamlessly smooth ride. You will notice that when you hit the gas in the GMC Yukon, that there is no hesitation or stutter. It doesn't jerk you around or take a minute to get moving. The reaction is immediate and smooth. The second piece of technology that aids in performance is what's called cylinder deactivation. This saves fuel and creates a better driving experience. Whenever you find yourself in low-load situations, or if you are driving at low speeds, this advancement will actually shut down half of the cylinders so you are not incorporating power you don't really need. The transition to shutting down these cylinders is seamless (you won't even notice it happening), and it makes your drive quieter and softer because your RPMs won't be running out of control. The best way to put it is that the GMC Yukon's performance is made to handle a variety of different driving situations, making it fit for any adventure you can dream up.
Comfort  
Due to the slick performance technologies, as well as specialized exterior door seals, the interior of the 2017 GMC Yukon is incredibly quiet. So quiet, in fact, that you can hold conversations at normal volume and never have to worry about mechanical vibrations or outside disturbances interfering.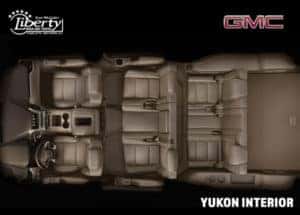 Inside there are soft-touch materials placed throughout its rather large dash and armrests. The seats themselves are wide and cushioned to the max. There is plenty of room to stretch and relax from any seat within, which does well to keep passengers from fighting over the "good" spot. Unlike other SUVs, even previous Yukon models, the second and third rows feel just as impressive as the front seats. To make things convenient, the new GMC Yukon's second and third rows easily fold down at the press of a button – so you don't have to stress about the laborious task of reconfiguring the interior so you can haul a large piece of furniture. Even without folding seats down, there is plenty of storage space. These factors do well to make your journeys, not only memorable, but relaxing and peaceful as well.
Features
The 2017 GMC Yukon is a true family SUV. That being said, it is fit and ready for more rugged adventures as well. What's great about the new Yukon is that you can decide which model is best for you.
There is a more family-friendly model in the SLE. This comes with 18-inch alloy wheels, a backup camera, an 8-inch infotainment system equipped with Apple CarPlay, a Bose audio system,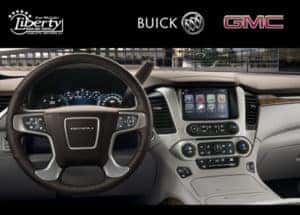 automatic climate control with separate rear controls, and tinted windows. It also comes standard with cloth seats, but you can always upgrade if leather is preferred. If you need more features for you and your family to choose from, there are plenty more add-ons to consider. You can always opt for a power liftgate, automatic dimming mirrors, and navigation, just to name a few.
If you desire something a bit more advanced with a little more luxury, there is the SLT model. This comes standard with everything in the SLE, plus heated seats in the two front rows, ventilated front seats in the very front, and leather upholstery. Also included are power-folding second and third rows, a proximity key, and a heated steering wheel. You can also add a rear-seat entertainment system, navigation, and a sunroof for little cost.
There are many more upgrades and add-ons to consider, but it's best to try them out in person. When you come to test drive the new Yukon at Liberty Buick GMC, not only will you be able to see everything in action, you will also find each Yukon model at an incredibly low price!
Safety
Federal regulators report that the 2017 GMC Yukon earns the top score of five stars for frontal and side impacts. It also scores a three out of five for its rollover rating, which is a great score for such a tall vehicle. Combined, the new GMC Yukon earns a four-star rating, something the GMC family is very proud to boast.
Here is just a quick list of a few of the issued safety features: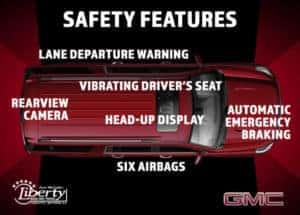 Rearview Camera.
Six Airbags. Plus a front center airbag for models with front bucket seats.
Head-Up Display. This feature relays important information to the driver by displaying messages in direct line of sight so the driver does not have to turn and look away from the road.
Vibrating Driver's Seat. This makes the driver aware of potential safety hazards happening around the vehicle.
Lane Departure Warning.
Automatic Emergency Braking.
Adaptive Cruise Control.
Depending on the model of Yukon you choose, some of these safety features come standard and others can be added on, which adds to the new Yukon's sense of adaptability.
Fuel Economy
Even though it operates from a powerful V-8 engine, and despite the fact that just a few years ago the Yukon was rated poor in terms of fuel economy, the 2017 GMC Yukon is surprisingly fuel-efficient.
Both the direct injection and cylinder deactivation help to save on gas, and if you opt for rear-wheel drive you can get up to 16mpg city and 23mpg highway (19mpg combined). For such a large and powerful machine, 19 combined is not bad at all. If you go all-in, the Denali offers 15 in the city and 22 highway, which is hardly different than the standard model. Sure, a big engine in a big SUV will use extra in gas, but the 2017 GMC Yukon proves it doesn't have to drain your wallet. Little shortcuts, such as the type of injection used and the utilization of deactivation of unused cylinders helps greatly in GMC's endeavor to keep trips to the gas station as infrequent as possible.
No matter what your idea of adventure is, the 2017 GMC Yukon has you covered. Its smooth and quiet ride, paired with expert comfort, performance, and safety set you and your passengers up for great fun. Come to Liberty Buick GMC today and find your Yukon at the best possible price!