Not Just Spring Luck that Buicks are the Safest on the Highway!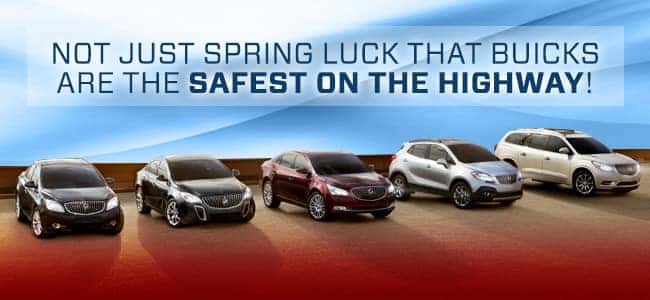 Your safety means a lot to us at Liberty Buick GMC. That's why we believe you have more than luck on your side when you decide to drive a Buick. With celebrated, state-of-the-art safety features, the entire 2017 Buick lineup keeps you and your passengers the safest. Add Buick's expert performance, its luxurious style and comfort, and you might just have the perfect automobile. 
Buick receives praise every year for its high safety ratings, but this year the venerable car company has gone above and beyond. And it's already being noticed. U.S. News & World Report gave the 2017 Buick LaCrosse a 10 out of 10 safety score and ranked it as one of the top three safest in large cars on the road. (Photo of the 2017 Buick LaCrosse.)
And that's not all. The National Highway Traffic Safety Administration (NHTSA) has given all six 2017 Buick models a 5-star overall rating in safety for the third year in a row. That's right, every single 2017 Buick model comes with 5-star safety. How about that for peace of mind when purchasing a new vehicle!
A Closer Look at Buick Sedans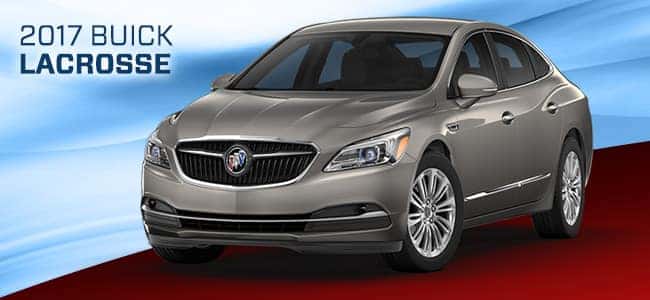 So, what is it that makes Buick sedans so safe? Turns out it's a lot of things, actually. A lot of things working well. Take, for instance, the 2017 Buick Verano. (Photo of car.) It comes standard with ten airbags and OnStar Automatic Crash Response. And for extra safety, drivers can add rear cross traffic alerts, lane departure warnings, rear park assist, forward collision warnings, and blind-spot monitors.
There's also the always-classic Buick Regal. (Photo of car.) This year it comes standard with front and rear parking sensors and a rearview camera. Plus, you can add all sorts of other features to make your Regal even safer.
And let's not forget the 2017 Buick LaCrosse with its 10 out of 10 safety rating. (Photo of car.) Blind-spot monitors, rear cross-traffic alert, automatic park assist, ten airbags (including knee airbags in the front seats), these are just a few of the safety features for the LaCrosse. There is even a rearview camera that displays crystal clear images on the 8.0-inch display screen.
SUVs
If you need something a little bigger, a bit higher off the ground than the sedan, Buick offers the same high level of safety in its SUVs. The fashionable 2017 Buick Encore comes standard with a rearview camera. (Photo of SUV.) It also has Bluetooth connectivity, which connects you to GM's OnStar telematics system. This intelligent technology provides Directions and Connections service so you can remote start your Encore, program destinations, and many other options to get you safely where you need to be. You can also add all-wheel drive, blind-spot monitors, rear park assist, lane-departure warnings, cross-traffic alerts, and forward collision warning.
The 2017 Buick Envision is incredibly safe as well. (Photo of SUV.) It comes with what Buick calls the Driver Confidence Package, which includes adaptive cruise control and automatic braking. It includes air bags a plenty with knee airbags for the driver and front passenger, side-mounted airbags throughout, plus the standard dual front and rear bags. And, of course, you can add-on features such as lane departure warning (a system that actually keeps you on the road by guiding the Encore in place), blind-spot monitors, and forward collision alert system, which warns you with lights and sounds if it senses a possible collision.
Driver Responsibility
Rather than rely on basic safety features and luck to keep passengers safe, Buick relies on state-of-the-art technology and skillful driving. And it's important to note that no matter how advanced the safety features included in the vehicle, there is no alternative for the driver's responsibility to be attentive and alert at all times. These developed devices are merely to aid the driver by making things easier through the use of warnings and driving assistance. A comfortable and informed driver is a safe driver. And safety is the most important aspect of travel. That being said, what are some of the most helpful safety features included in Buick's 2017 lineup? Let's have a look: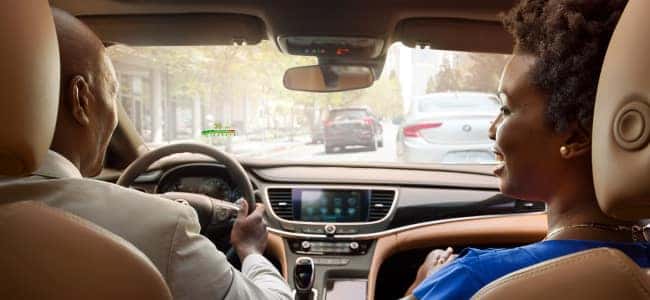 Blindside Alert. This smart system works by waiting for a vehicle to enter your blind spot and alerting you of its presence through lights or sounds. May not seem to be that big of a deal, but actually it is. This system keeps you from having to turn your head to try and see if anyone is in your blind spot before you change lanes. How many times have you gone to switch over on a highway only to realize there is a small sedan or motorcycle in your blind spot? Wouldn't it be nice to never have to look behind you, to never accidentally merge into someone else's lane again?
Lane Departure Warning. This works from a camera mounted beside your rearview mirror that continuously watches the lines on the side of the road. Day or night, this camera can perfectly make outlines on either side of your vehicle. And once you cross one of those lines it sets off a warning. But that's not all. Buick's version of lane departure warning actually guides you back into place. The key word here is "guide." It doesn't take complete control over anything, it simply eases you back while you take control of the wheel and merge back in-between the lines. And it's this little guidance that can save lives. It only takes seconds to accidentally veer into someone else's lane, and this system reacts faster than the driver, giving you time to see what's happening and continue to correct your vehicle's position.
Rear Cross Traffic Alert. You know that tense feeling you get when you begin to back out of a tight parking space? It's difficult to see behind you. Cars whiz by as you slam on your brakes. What if you didn't have to worry about anymore? Well, with rear cross traffic alert you don't. What this system does is uses a set of sensors around the rear of the car that can detect if anything is approaching from the left or the right. If it detects someone coming, it lets you know before you have to slam on the brakes. Of course, you still have to pay close attention when backing out of a space, but RCTA keeps you from worry.
Safety Alert Seat. One of the most advanced safety features on Buick vehicles is the safety alert seat. Created by GM, this seat vibrates at the seat's bottom to warn the driver of a possible collision. This is a wonderful alternative to typical flashing lights and sounds as a warning system. With this system, all is quiet and calm. The vibration is activated by cameras in the front of the car, which are designed to measure distance and let you know when there is a crash risk ahead.
There are plenty of other safety features that are equally as impressive and could be mentioned here. And all of Buick's safety systems work well together to aid in a safe driving experience every time you travel.
Where To Get the Safest Vehicles on the Highway
No matter where you drive, you need assurance that you are as safe as you can possibly be. And Buick gives you that assurance. Right now at Liberty Buick GMC we have a big selection of our favorite Buicks. Come in today and test drive and brand-new 2017 Buick sedan or SUV and see just how safe these vehicles are for yourself. And prepare to be amazed. At Liberty Buick GMC your safety is most important to us. That's why we only sell the safest cars on the road.
-Andrae Bergeron