No More Suit and Tie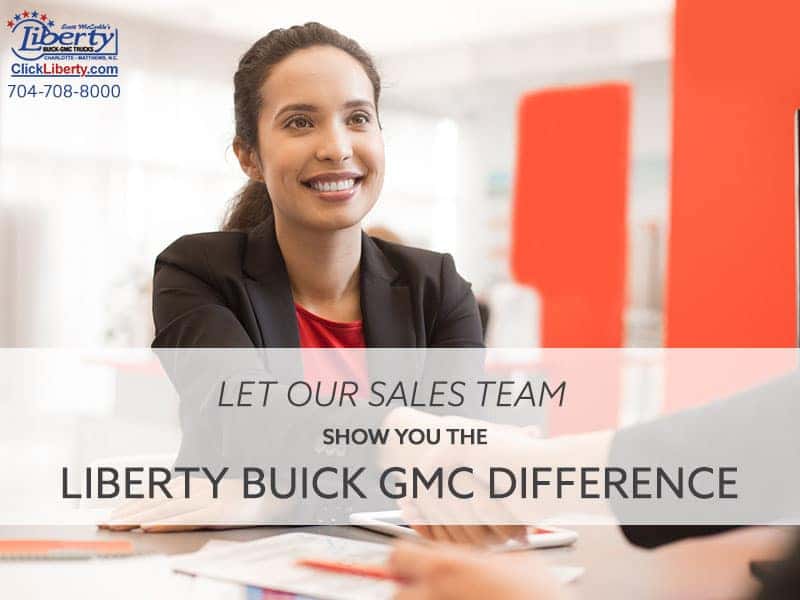 Car dealers today are helpful consultants, not pushy salesmen.
Close your eyes. Picture a typical car salesman. Everyone probably has similar visions: plaid jacket and pants, running up to you as soon as you get out of your vehicle, only concerned with how much commission he can make that month.
Now open your eyes, because those pushy salesmen are a thing of the past.
When shopping for a car, buyers are often left in the hands of salespeople who do not know or care about the cars they are selling. Whether you are purchasing a new or used vehicle, these salespeople only want you to sign on a dotted line and walk away with a new set of keys so they can make commission off the sale.
At Mount Airy Liberty Buick GMC, that could not be further from the truth; our sales representatives genuinely care about finding you the right vehicle. You will not feel pestered or pressured to make a purchase as soon as you walk onto our lot. For us, sales are not all about making commission; they are about building an honest and trustworthy relationship with everyone who visits our dealership.
Our sales team wants to help you find the right vehicle at the right price, no matter what condition, make, model, color, or interior catches your eye. Our team is knowledgeable about all of the vehicles we offer, whether it is a Buick or GMC model, so all of your questions will be given a straightforward answer; no more issues with salespeople dancing around the question. If we still are not able to find a vehicle you like, that is alright, too! Our no-pressure sales team aims to leave you feeling relaxed rather than hassled from the beginning-to-end-of-sale process.
Our sales team also understands that men are not the only ones buying rugged vehicles. In today's world, women want more than a compact sedan; both men and women want to drive spacious trucks and SUVs. Our dealership offers a wide variety of vehicles in countless shapes and sizes to help accommodate even the pickiest of shoppers.
Want to see yourself in a truck? We have new 2019 GMC Sierra models starting at $45,103 with a 285-horsepower engine. It can tow up to 7,600 pounds and reach a speed of 60 miles an hour in around eight seconds.
See yourself in a compact sedan? We have the Buick Cascada starting at $29,321 that will let you feel the wind in your hair. These convertible sedans will let you experience luxury and top of the line performance features.
Maybe your style is something a bit more spacious. We have the Buick Enclave and the GMC Yukon, each offering third row seating in a lush vehicle that fits all of your family's needs.
Another great quality about our dealership is that we are large enough to have the inventory you need, but small enough to understand your needs personally. Our sales team wants to know every detail about what you are looking for so that we can fill all of those desires. We know that buying a car is a big purchase, so if we do not have the model, color, or interior you want, we can order it for you! You should not have to settle for a vehicle just because it is already on the lot; we want you to walk away with the keys to your dream car.
At Mount Airy Liberty Buick GMC, we value the relationships built throughout the sales process and want to continue those relationships, even after a sale is complete. We do this by maintaining contact to make sure you are still in love with your vehicle, and if you are not, we have opportunities for you to trade in for a newer or different model.
At Mount Airy Liberty Buick GMC, we also have a service department on site to ensure your vehicle stays in excellent condition for however long you choose to keep it. We understand that your decision to purchase a vehicle was a big choice and want to help you maintain that purchase. Our service team upholds the same high standard of customer service as our sales team, and that is to help you every step of the way. Whether you need new tires or an oil change, our service department can help no matter how old your vehicle is!
Relationships matter to us. At Mount Airy Liberty Buick GMC, you will not feel like just another prospect to a salesperson, you will know how valuable your business is to us.