New Year, New Ride: Best Vehicles for Your Family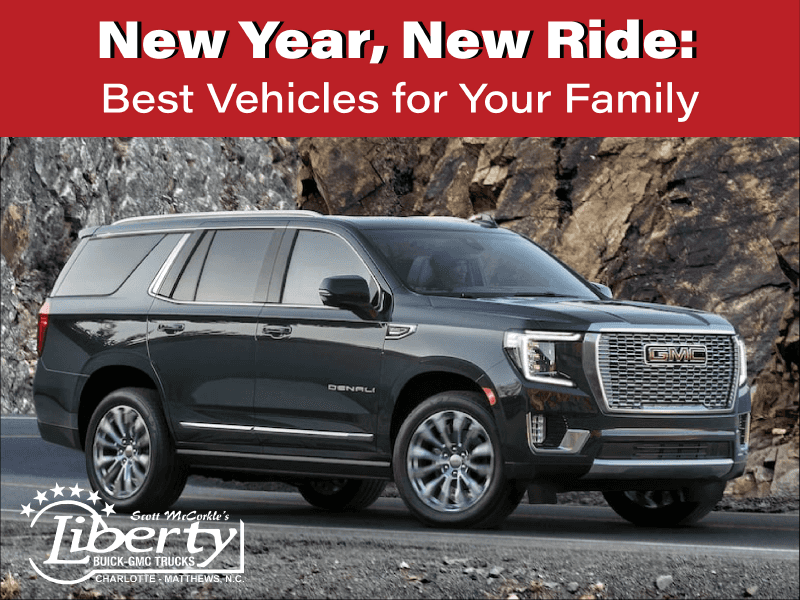 New year, new you and what better way to show it than with a new ride. It's the year of new things, so do yourself a favor and dream big, find that vehicle you've always wanted and get it!
It's safe to say there has been a shift in recent years for car dealerships to shake off the sales vibe and gravitate towards a more personal feel to the buying process.
What has helped create this pivot in the procedure is the prevalence of desperately needed vehicles: family cars that don't look, you know—like family cars; trucks that operate just as easily as an office and luxury ride as they do mudslinging rock climbers.
There are more vehicle options than ever before and the demand for them is real. This has instilled even more confidence in car companies like GMC and Buick, as they both have a clear vision for the future of driving, and that vision includes anyone looking for innovation, safety, and high levels of performance in their vehicles.
GMC has every right to be confident, the accolades the company has received over the years—for more than just the Sierra truck series—could stand up against any other car company out there. They simply build tough, reliable vehicles. And they've been doing it for as long as the company has been around. That's quite a long time.
Buick, on the other hand, is a little different. Because they needed to completely change their brand, this could be looked at as a sign of weakness. Obviously, something was not right if they had to change things up on such a major scale. Moreover, before the big overhaul, Buick was known more as the old person's car. They just weren't popular with the wider, younger market. But despite all of this, Buick has come out boldly with new products that appeal to the older crowd, as well as the younger. The company's incredible sales and continued commitment to excellence provide nothing but confidence for this company, as it has positioned itself right between high-end workingman's vehicles and luxury drivers.
If you are embracing the idea of "new things" this new year, start with Buick and GMC.
Getting What You Want
Buying at the beginning of the year is a sure way to find the biggest variety of both new and used vehicles. Room has been made on the lot for all of next year's models and they are all shiny and new, and we are already itching to get them off the lot. Come vehicle shopping in January and February and you will find yourself with more options than you could ever imagine.
So how do you decide which vehicle is best for you?
As with any significant purchase, research and patience are necessary. In a perfect vehicle-buying situation, you the customer, as well as the salesperson, are both benefiting during the buying process. Waiting until the end of the workday is good, holding out until the end of the month is better, but if you can withstand the temptation to buy the first thing that sticks out, and you put the time and research into it, you will most likely end up driving home in something you truly want.
It takes time to find the right vehicle. You want something tough, something you see on the road a lot—not the side of the road. For example, how many Buick or GMC models do you see broken down, shamefully sitting on the side of the highway? Not often, if ever, and that's because they are trustworthy workhorses that last a heck of a long time.
For example, the new Buick Encore GX easily gets 29 miles mpg in the city and 32 mpg on the highway, which is not bad at all for such a powerful SUV. Moreover, this is a perfect family mobile: it's not too big or weirdly shaped (like a lot of minivans and crossovers), and inside it has plenty of room and features to keep the entire family comfortable and happy.
Buying a Truck: First Thing's First
Before you go to buy a new GMC Sierra truck, it's important to think about how you will use it. The 1500, 2500, and 3500 all have unique components, which make them a perfect match for different types of truck drivers. Here are a few things to consider when deciding on your GMC Sierra:
• What sort of things will you be carrying and hauling? If you only need the truck for around the house (hauling mulch, pulling a small trailer, or even some fun off-roading), you might consider a light-duty truck with four-wheel-drive like the GMC Sierra 1500. On the other hand, if you need to carry heavy loads and pull big pieces of equipment, you might consider a heavy-duty truck, like the GMC Sierra 3500. And there's also the mid-duty truck, the GMC Sierra 2500, that isn't quite as extreme as the heavy-duty but can do more than a light-duty. This level of truck is nice for those who will mostly use it around the house but occasionally will need it for some big jobs.
• Just as important as choosing the right size of truck is finding the right engine. The advancements in the modern truck have made it a bit more powerful than that of the old days. Now, a 6-cylinder truck engine can outperform just about any older V-8. And the modern V-8? Well, these are nothing but raw power and can pull and carry just about anything. Heavy-duty, mid-duty, and small-duty trucks can differ in engine sizes. A small-duty truck usually comes with either a 4-cylinder or 6-cylinder engine, and a mid-and heavy-duty can be a 6 or an 8. Again, just depends on how you plan to use your truck.
• Another thing to think about is the cab size you will need. A regular cab offers a single row of seating and can create tight quarters for three passengers. A crew-cab, however, has two rows of seating, offering extra space and is more comfortable for longer trips. The size of the cab also affects the length of the bed. The less cab room, the more bed space. There are special cases when you can get an extended bed, which offers the best of both worlds, but this will add length to the truck as a whole, which can take some getting used to.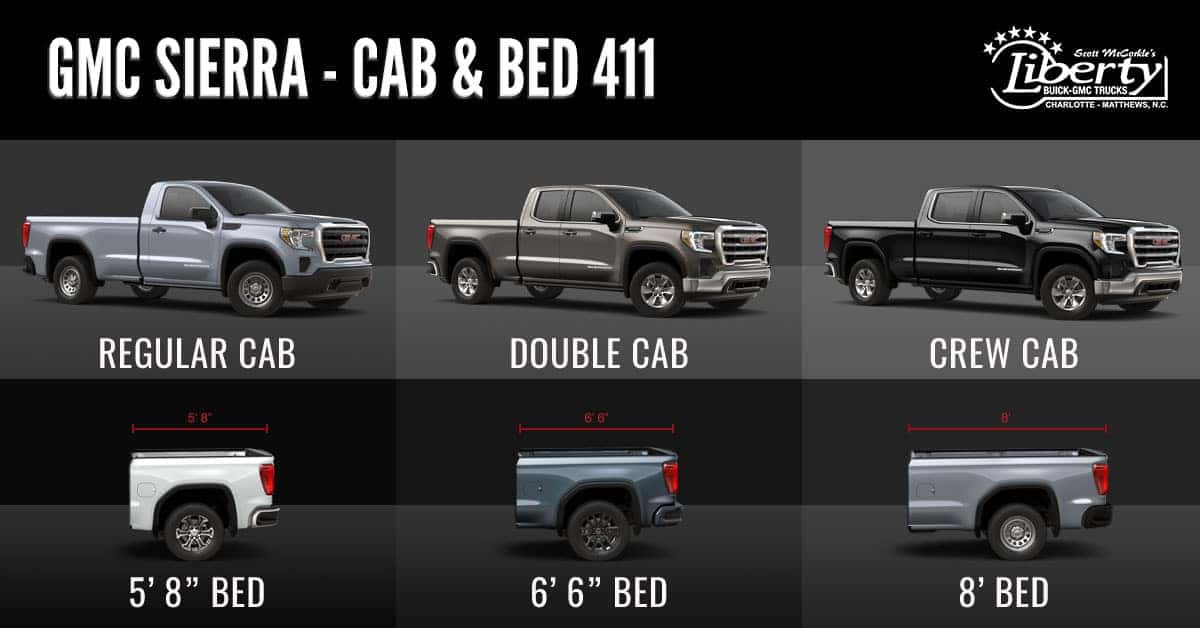 It can be a lot to think about, but there's no reason to stress—it's worth the time you take to make sure you are getting what you need and want. If you find yourself struggling to decide between the right truck, we can help.
With a new year upon us, and a fresh lineup of new Buick and GMC vehicles on the lot, now is the perfect time to get that vehicle you have been wanting, whether it's a truck, family car, or something special just for you. We have you covered at Liberty Buick GMC.