LIBERTY BUICK GMC: FOUR HOT NEW FEATURES TO THE 2017 GMC ACADIA
The 2017 GMC Acadia is a mid-size SUV ready to impress and perform at new levels. The sculpted curves and line work are just the beginning of new features added to the all-new Acadia.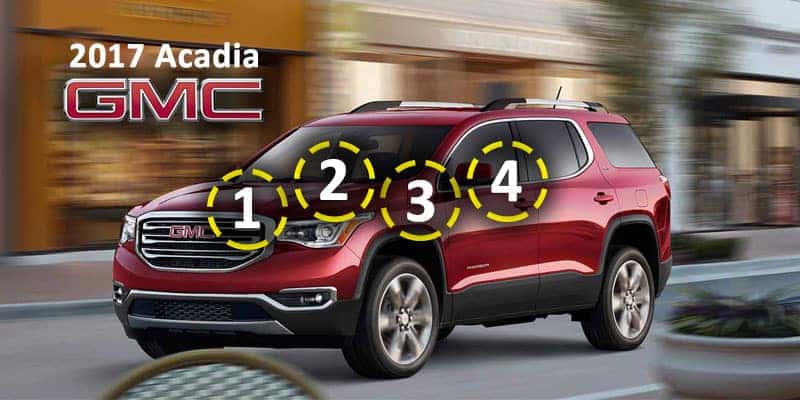 There are a striking amount of changes made to this year's GMC Acadia. And all are done in way of added safety and comfort features by using new technologies. And there are a multitude of other slight alterations done to make the Acadia even more enjoyable to drive.
For instance, the 2017 Acadia has reconfigured front and rear-ends. The front has a chrome oval trim piece framing its prominent grille. The curved edges of the entire front-end are more sophisticated and modern than previous models. The back-end includes a minimal use of chrome trim except for the shiny running board. The lack of intricate design here adds to the modern feel and overall purpose of the Acadia itself: nothing is overdone, everything has its designated purpose.
GMC even took away some unneeded size to the Acadia. The 2017 model is 193.6-inches long. This is 7.2-inches shorter than last year's outgoing model, and proof GMC is serious about making the Acadia exactly what you need. No added frills, no filler. Just the best driving midsize SUV on the road.
TOP FOUR NEW FEATURES TO THE 2017 GMC ACADIA
Though there are quite a few changes made to the 2017 GMC Acadia, these are four of the most impressive…
#1: NEW POWERTRAIN
The 2017 Acadia actually offers two new powertrain options. Coming standard for the first time with the base models is a 2.5-liter, four-cylinder engine with 194 horsepower and 190-lb-ft of torque. This surprisingly powerful engine also provides 21 miles-per-gallon in the city and 26 highway. But, if you need something just a little tougher, check out the new Acadia's 3.6-liter, six-cylinder engine with 310 horsepower (that's 29 more horsepower than last year's model).
With this larger engine, you get as much as 18 miles-per-gallon city, and 25 highway, which is pretty good considering the mass of muscle found under the hood. And for seasoned Acadia drivers, you might notice more punch and a smoother ride with the six-cylinder engine, which was previously the only engine option for the Acadia. This change is due to the added horsepower and a few extra tweaks to make new engine better than ever.
#2: SURROUND-VIEW CAMERA SYSTEM
Surround Vision is something GMC incorporated to a few vehicles in 2015. This was a sort of test run to see how useful it is, and to see how well it performs. Not surprisingly, it was found beneficial, and any kinks present were worked out before incorporating Surround Vision into the 2017 Acadia lineup.
Essentially, the surround-view camera allows a perfect bird's eye view of the scene around the vehicle. The camera is attached to a center-stack display, and provides a clear, live view. This high-tech safety feature will most likely be a hit, for any vehicle that has it in 2017, as it makes the job of driver so much more enjoyable. Just think, no more blind-spots! Finally, you can see everything that is happening in the back, sides, and front of your vehicle while you are driving.
#3: ADAPTIVE CRUISE CONTROL
The 2017 GMC Acadia's adaptive cruise control (ACC), also known as active cruise control, autonomous cruise control, intelligent cruise control, or radar cruise control, is an intelligent mechanism that speeds up and slows down your vehicle on its own accord.
How does it work? The driver sets the top speed as one normally would using cruise control. Then he decides how many seconds he wishes to pace behind the car in front (usually, 2, 3, or 4 second options). Then, ACC does the rest.
A high-tech radar set in the center of the grille performs the task of locking on to the vehicle directly in front and staying with it until you cancel the cruise control. If the car ahead of you speeds up, so does yours. All the while staying the same pace behind. What if the vehicle in front of you brakes? No problem. ACC slows down right along with it, and it sounds an alert making you aware of the change taking place.
The nice thing about the Acadia's adaptive cruise control is that it doesn't do too much. Again, GMC chooses the minimalist approach, and for good reason. The best part of the Acadia is driving it. We don't want a mechanism completely taking over our driving experience, but using a system such as ACC can actually make each journey easier and more enjoyable. We say bring it on.
A word to the wise: if it is your first time using GMC's adaptive cruise control, it does take some getting used to. We are, after all, trained to do all the driving, and having a system such as ACC help out seems awkward at first. But, using it in high traffic areas will get you comfortable with it quickly. Start with the maximum distance between you and the vehicle ahead of you (around four seconds), and let the radar do the rest.
#4: LANE-KEEP ASSIST
Lane-keep assist is yet another feature added to the Acadia that makes driving easier. Like adaptive cruise control, lane-keep assist does not fully take control over your vehicle;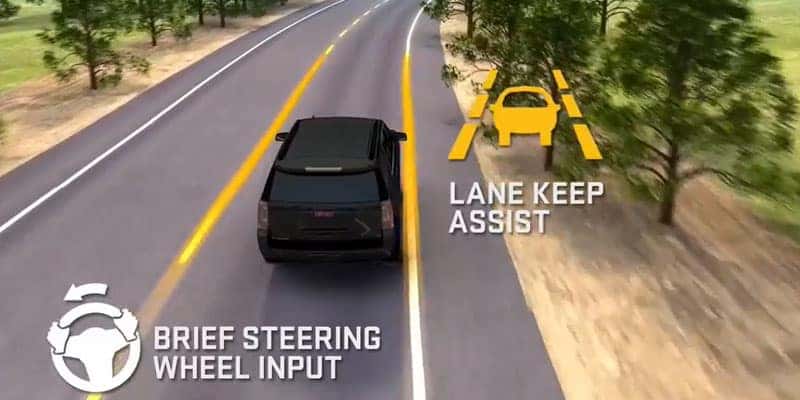 however, it does keep you safe by correcting an often occurring mistake: merging into another lane. Or worse, driving off the road.
So, how does it work? Lane-keep assist monitors the painted lines on the road and consistently lets you know when your Acadia deviates from between them. The strips of yellow, whether full or in sections, and the white line on the side of the road are the boundaries. Once the lane-keep assist software detects you are veering from these lines, a warning appears on your dash, an alert is sounded, and once you begin to turn the wheel, the alert stops.
Some versions of lane-keep assist actually help pull you back to between the painted lines. Just think of all those times you have bent down to turn on the radio and reached behind your seat to grab something and your car began to venture out of line. Well, no more. Not with the 2017 GMC Acadia.
EVEN MORE TO OFFER
Though these top four features to the all-new 2017 GMC Acadia are great, there's even more:
New in technology: the 2017 Acadia comes with automatic high beams, Apple Carplay, and Android Auto. The LED high beams keep you safe and stylish, while the Apple and Android connectivity allows you to operate your phone hands-free.
New in safety: The Acadia also incorporates forward-collision warning (a great system to pair with adaptive cruise control), automatic braking, and a system that reminds to you check the back seat every time you leave the driver's seat.
So, what are you waiting on?
At Liberty Buick GMC we are waiting to give you a test drive of the
2017 Acadia in order to show off its greatest features. Whether it is the new engine sizes and levels of performance, the surround-view camera system, adaptive cruise control, or the lane-keep assist, there are
plenty of reasons to drive a 2017 GMC Acadia.
Come let us show them all to you!
Liberty Buick GMC | clickliberty.com | Sales: 704) 321-4366
9028 East Independence Blvd., Matthews NC 28105
-Andrae Bergeron