It's Time to Schedule Your Fall Service!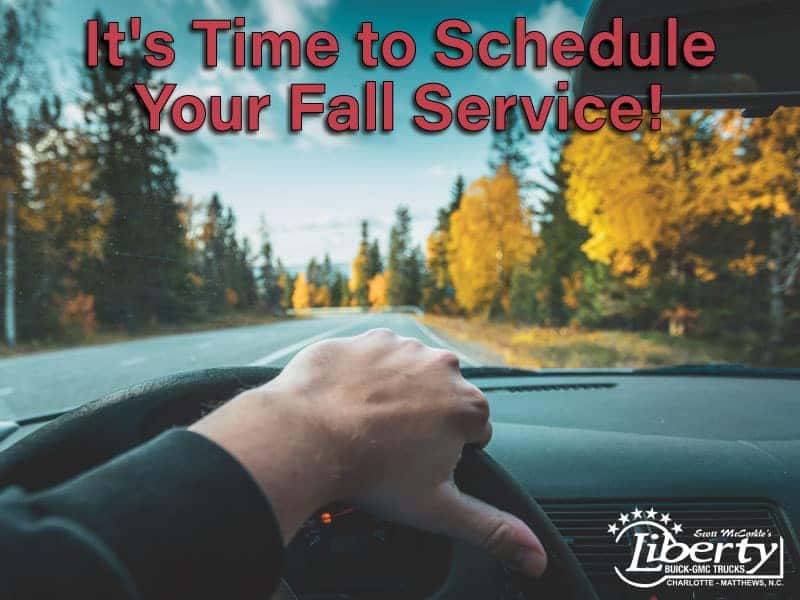 As we prepare for the onset of colder weather, and a wonderful break from the heat and humidity, we also need to make sure our vehicles are ready for the change. Don't get stuck in the cold, visit us at Liberty Buick GMC today to make sure your car is in the best shape possible.  
Engine oil is the lifeblood of your vehicle, which is why keeping a watchful eye on your car's oil level and pressure is so important, regardless of the season. But as seasons change, and the weather along with them, the oil in your car does as well. Hot oil has a thin viscosity and becomes thicker as the colder weather moves in. Car oil is meant to handle these temperature changes, but some liquid can get lost or sometimes burnt off along the way.
It's a good policy to check your oil level (popping the hood and pulling the dipstick) once a month or so. And, as you drive, check your oil pressure gauge to make sure it is resting at or around the 40 or 50 mark. Note: if you notice the gauge drops while your car idles (especially after you have been running the car for a while) it's most likely because the oil has become thin due to heat—this is normal! However, if the gauge remains low as you drive, it's worth having a technician look at it. 
What to Have Serviced this Fall
Seasonal changes affect vehicles in several different ways. As it is important to keep a watchful eye on your car's oil, there are a few other key areas to keep in mind also. When you bring your car into Liberty Buick GMC for service this fall, here are a few of the things we will be looking over:
Fluids
There are all kinds of fluids running through your car and it is our technician's job to make sure they are all running at the correct level. Some heat, some cool, others lubricate, and some even help you apply the brakes. If any of these are too low, problems can ensue: overheating engine, frozen lines, and faulty brakes to name a few. And with the changing temps, these fluids will be affected to a certain degree. 
Tire Tread and Tire Pressure
Nobody wants a blown tire, and keeping an eye on the pressure and tread will do wonders to keep it from happening. First, we check the tread—if there is a depth reading of 2/32" or less we recommend a new tire. Next, we check the pressure. It's so easy for tire pressure to drop, especially when the temperature drops, so if you happen to notice your tires looking a bit flat, chances are they need some air. 
Battery Check
Over the summer, heat and vibration can cause your battery to lose some of its fluids and wriggle free from its casing. This is dangerous, as the battery is the heart of your car. Luckily it only takes a quick minute to figure out whether or not your battery is operating at full capacity. We can also let you know if the battery present is the right voltage for your particular make and model. 
Coolant Flush
Even though the weather outside is becoming cooler, the temperature inside your engine gets hot every time you drive. Over the summer it gets even hotter so as fall approaches, we like to flush the coolant, replacing it with fresh, new liquid ready to keep your engine cool all fall and winter no matter how far or long your drive. 
Heat Check
Chances are you have not turned on the heat to your car in a while, and it's not uncommon for heating elements to go out due to changing temperatures. It's an easy check: simply turn on the heat and see what happens. Even if the heat seems to work fine, we will still give it a look to make sure everything is in working order and ready to withstand being used on a regular basis. Even 50 degrees can feel quite cold when driving at fast speeds with no heat, so make sure it can keep you nice and toasty all fall and winter. 
The process of swapping one season for another is exciting, especially from summer to fall in the Carolinas. That move from intense heat to pleasant cool makes us want to get outside and enjoy nature. But before skirting off to the mountains or beach or even to the local park, make sure your car is ready to enjoy the season as well.