Is the Market Ready for Electric Pickup Trucks? GM Thinks It Will Be Soon Enough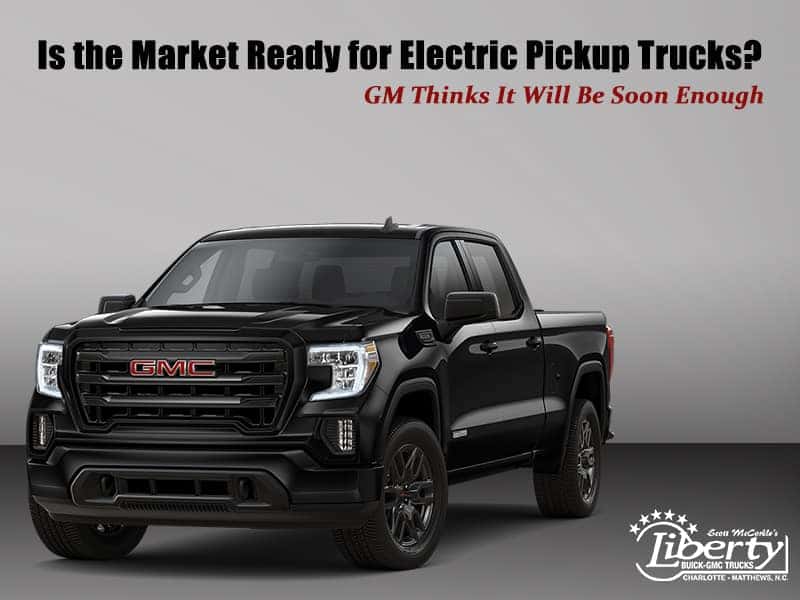 Until recently, the electric vehicle (EV) market has consisted primarily of compact/mid-size hatchbacks and expensive luxury sedans. These models have typically been sold to eco-conscious drivers who can afford to help the environment (and save on fuel) by paying the high price tag upfront. 
However, EVs are becoming more affordable, and now we are seeing electric sport-utility vehicles entering the EV market, including hybrids and some that are completely battery-powered. Isn't it only natural, then, that the pickup truck will be the next type of vehicle to be introduced to the EV market? Yes, and a few of America's leading automobile manufacturers are making their push to establish themselves early on in the game.
The General Motors Electric Pickup Truck 
While there is still limited information available about GM's future EV pickup, we do know that it's in the works. GM's chief executive Marry Barra said earlier this year that the company is developing a full-size electric pickup with Josh Tavel at the helm. Tavel was chief engineer for GM's full-size pickups, along with several of their EVs, including the Cadillac ELR and Chevrolet's Volt, Spark and Bolt models.
GM's plans for an electric pickup are part of an overarching plan to offer consumers a full range of EVs sometime in the future. According to her, GM won't be losing its place as an industry-leading truck and EV manufacturer.
The company has stated that the EV pickup will be built on GM's global EV platform (BEV3). This third-generation platform is expected to be the foundation of most GM EVs for many years to come.
It's not clear whether GM will electrify a current pickup model or design an all-new model. However, the company has suggested that their EV pickup will be released by early 2022, and many in the industry speculate that offering an electric version of the Chevrolet Silverado or GMC Sierra would make the most sense.
Other EV Trucks
In recent years, Elon Musk, CEO of Tesla, has expressed his intentions to create a Tesla electric pickup and surpass industry-leading automakers like GM and Ford. With the Ford F-Series and Chevrolet Silverado consistently being the top-selling vehicles in the U.S., Musk undoubtedly realizes this is a tall order. Nonetheless, his plan to develop a "cyberpunk" pickup that performs like a Porsche 911 has sparked a fire in the industry and has ultimately caused Ford and GM to accelerate their EV pickup development.
It appears that EV startup Rivian will be among the first to release an electric pickup on the market. The luxury R1T is due to release by the Fall of 2020. The pickup is being built on Rivian's skateboard chassis, which places the drive train, battery, and suspension under the vehicle. This significantly improves the vehicle's center of gravity and provides more space for storage in other parts of the vehicle. A similar chassis is expected to be used on all upcoming EV pickups.
The Future of the Pickup

While it may still be many years before it's a reality, developments by companies like Tesla and Rivian, as well as commitments by GM and Ford to step up to the plate, paint quite a vivid picture of an all-electric future.
It will likely take some time to convince most pickup aficionados to give up their trucks powered by internal combustion engines. Even if gas prices were to skyrocket, the practicality of charging
and holding a charge on an electric pickup has yet to be realized. And this is a critical factor, especially for pickup drivers in rural areas where driving an above-average number of miles each day is the norm, and where charging stations are seldom available.
Nonetheless, Rivian claims that the upcoming R1T—starting at $69,000—will have options for a 105 kWh, 135 kWh, and 180 kWh lithium-ion battery pack good for 230, 300 and 400 miles, respectively. Likewise, Musk has declared that Tesla's EV pickup ($49,000) will provide 400 to 500 miles of range per charge. If these promises come to fruition, it could be a game changer for the entire pickup truck industry.
It's never been easier to imagine an all-electric future. For fans of GM, you will likely get your first look at a GM electric pickup within the next few years. Developments by the likes of GM, Tesla, Rivian, and Ford appear to be turning the entire industry on its head. As of now, the question is not so much if an all-electric future is possible, but rather when it will become the reality.