Insider Buying Guide To Buick Encore & Buick Envision
This month we want to spotlight two great Buicks, the Envision and the Encore, and highlight some of their brilliant features, which you should consider. We will contrast the two to help you make an informed decision about which model of Buick's line of crossover SUVs is best for you.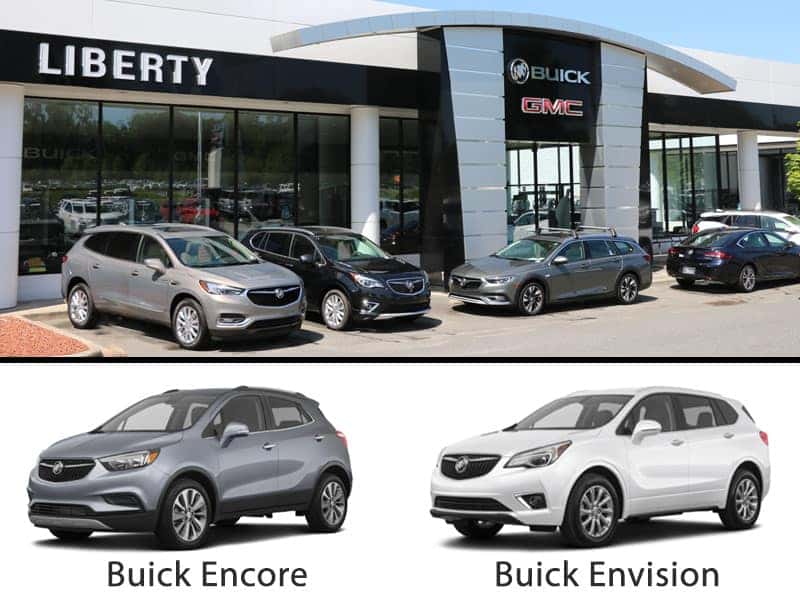 The Envision
Doesn't its name say it all? Envision is, of course, a pun to think about what you can envision for your family's ease of transportation. It draws out ideas of what's possible, what's likely, when owning the Envision. Buick wants you to think of this as a can-do vehicle, an SUV with a positive attitude. It's a supersized small luxury SUV, with bling and pizzazz.
The 2019 Buick Envision has been updated, in its design, and we think it's something worth taking a look at. For all models and trim levels, this SUV has had its rear valance reworked along with its exhaust tip. It has a sleek look to it, now more than ever, and it really gives the Envision a refined sense of spirit. What sort of changes did Buick make, specifically? Let's have a closer look:
First, there are two gasoline engine options for the Buick Envision, and the exhaust design depends on which engine you select. We are excited about the new look and style this renovated exhaust design carries.
Of the two engines offered, the first is the 2.5L I-4 LCV, naturally-aspirated, which is the base model engine for the Buick Envision. It features a single-outlet stainless steel exhaust, which is hidden from sight. Now tucked under the vehicle, the exhaust tip doesn't show. That means a more sporty, stylish look. Also take note: the Envision has a metal-look valance now that replaced the black fascia treatment of previous models. The metal valance gives the Envision a more integrated look. Cleaner design, trendier feel—that's what Buick has given us.
Its 2.5L inline four-cylinder engine gives you 197 horsepower with a torque of 192 pound-feet. That's a six-speed automatic transmission and is standard for the base, Preferred and Essence models. That's enough horsepower to climb hills and pull a trailer along. It's got the power and stamina you want for city driving or a cruise in the countryside.
The second option is the 2.0L 1-4 turbocharged LTG, the next level up. This model engine carries a dual exhaust treatment. With the 2019 model, the tips of the exhaust pipe are squared off, replacing the rounded tips seen on the 2017 and 2018 Envision models. If you opt for premium trim, then you get the metal-look lower valance as well, replacing the black version of it standard in previous models.
This option, the turbocharged 2.0L, is matched to the nine-speed automatic transmission (from GM) and comes with standard all-wheel drive. The turbocharged engine delivers 252 horsepower with 295 pound-feet of torque—a powertrain worth its salt. This engine comes standard for both the Premium 1 and Premium 2 models of the 2019 Buick Envision.
Both engines have excellent gas mileage, averaging 29MPG highway and 22MPG city. And for a crossover SUV, we know those are good numbers. Moreover, it was ranked by US News and World Report as #14 in the Luxury Compact SUVs category, putting it next to the 2019 Infiniti QX50 and 2019 Alfa Romeo Stelvio (both sit at #12) and the 2019 Lincoln MKC (#15). That ranking carries a score of 7.9 out of 10, based on thirty-two specifications for evaluation. Translation: the 2019 Buick Envision keeps good company and can roll with the best of them, and it is far more affordable than other Luxury Compact SUVs—without sacrificing the bells and whistles you want in a compact SUV.
What do the experts say about it? US News and World Report gave it high marks for the following: spacious, supportive seats; good gas mileage; and user-friendly tech features. Though it fell down in some categories (less than nimble handling; its rivals have more up-scale interiors), US News found noteworthy some of its new features for the 2019 model. Those include: the nine-speed automatic transmission with turbo engine; new headlights and taillights; updates to existing tech features; and more torque for a turbo engine. Those new features make certain that you need to give the 2019 Buick Envision a close, thorough look!
US News' conclusions are pretty positive as well: "The Buick Envision is a pretty good SUV. It certainly delivers on some fronts…[and] it has a lower starting price than most of its class rivals…" The 2019 Buick Envision's starting price is around $32,000 and with that pricing, it gets you into the luxury SUV class easily.
And what about Edmunds and its assessment of the 2019 Envision? They noted the quietness of the cabin at highway speeds, the comfortable seats and ride which the Envision sports, and they liked the four USB ports, as well as, Apple CarPlay/Android Auto as standard features. They gave it a ranking of 7.2 out of 10 and named it their #9 Small SUV pick, beating out the Ford Escape in its top-ten rankings.
A few features we like on the 2019 Encore:
It has intelligent all-wheel drive
It offers a powerful wireless charging in a vertical charging pocket
It comes with excellent safety features, like Surround Vision
Its look has a higher level of refinement, from its exquisite grille to the sculpted rear profile
What we really love on the 2019 Envision is its trimmer, new look for the exhaust system. It says, "city slicker." It says, "stylish and confident." It says, "smooth and refined." It cleans up the SUV's exterior look and it features the profile of the overall design (rather than having the tail pipe sticking out and looking less classy).
And when you are rolling around Charlotte, driving up Providence Road or cruising over to NoDa for some unique cuisine, you want your vehicle to say something about you. You want it to convey a sense of style and refinement—that's what the 2019 Buick Envision says about you, as you ride around Charlotte. So imagine rolling up to Southpark Mall for a shopping excursion in the 2019 Encore. See yourself riding in the sleek, modern design, as you pull into a parking spot and jump out for lunch and some browsing at Nordstrom. Come and test drive one today!
The Encore
US News and World Report ranks the 2019 Buick Encore as—wait for it—#7 in Subcompact SUVs. That beats out the 2019 Subaru Crosstrek, 2019 Ford EcoSport, and the 2019 Toyota C-HR. That ranking of #7 was arrived at by examining over 46 pieces of research and data, and evaluating the Subcompact SUV across many rigorous standards.
When evaluating the 2019 Buick Encore, US News found it scored highly in the following categories: nice interior with lots of standard features; user-friendly infotainment system; nimble handling; and outstanding predicted reliability rating. Though it scored less well in the categories of its base engine's powertrain or its pricing compared to its rivals, it did score for its reshuffled trim, which is new for 2019.
With drivetrains that can be either front-wheel drive or all-wheel drive and engine configurations sporting 138-153 horsepower, it's definitely worth your consideration. And, with 24-26MPG in the city, and 29-31MPG on the highway, its fuel efficiency is definitely a selling point. In fact, US News calls its fuel efficiency estimates "above-average." And one of US News' concluding thoughts about the Buick 2019 Encore? "The Encore is one of the best subcompact SUVs you can buy."
And Edmunds gave it good marks for the Encore's hushed cabin at highway speeds, the generous standard tech and safety features it has, and its maneuverable size. They ranked it #10 for their X-Small SUV category, ranking among the leading ten subcompact SUVs on the market today.
And we think it deserves a closer look at some of its specs and features, so let's see what Buick is up to with its 2019 Encore subcompact SUV. With ratings like 8.1/10 from US News and World Report or a 4.6/5 from Kelley Blue Book, its features deserve your attention.
Buick's tagline for this subcompact SUV is a fitting one: "Sized to fit the way your life moves." We agree, because if you want to get into the SUV vehicle category but don't want an enormous vehicle to cope with, then this 2019 Buick Encore is just the right size. You get the look and feel, along with the nimble driving, of an SUV without the typical bulk of an SUV.
The base model for the Encore starts at $23,200 MSRP and its standard features include: LED-accented taillamps, a 1.4L 4-cylinder Turbo Engine, an enhanced 4.2" Driver Information Center, and also the ease of the keyless open and start system. The Essence, its top model, starts at $29,300 and these features are standard: leather-appointed seats, rear cross traffic alert, heated driver and front-passenger seats, and heated leather-wrapped steering wheel (what a great feature for winter!).
Conclusion
For those new to the SUV game, the Encore is definitely a great start and will give you a fresh take on driving. It's nimble, affordable, and gives you a taste of luxury. It's a good pick and we recommend a test drive to see what it's all about.
But if you're of the more fashionable taste and want into the luxury SUV game, then the 2019 Buick Envision is hands-down the best choice. You get some sleek new features, with its redefined fascia trim, you get an excellent powertrain, some great luxury features on the interior, and most of the bells and whistles without the higher price tag of its rivals.
We believe the 2019 Buick Envision has staying power. Though a new entry into the SUV market, having been introduced in 2016, "it marked a milestone for the American auto industry" says Car and Driver, in a recent review. They note that it "currently stands as [Buick's] third-best selling model." And one thing that summed up their review was the following: "Best of all, the added refinements come with a price reduction. Depending on the trim, buyers can save between $1400 and $2400 over previous models." So you get a better, cleaner trim with more modern shaping, and it costs less than outdated styling on earlier models. That's a win-win for you, the car buyer! And Car and Driver also made a bold claim about the 2019 Encore: "In fact, it just might be the vehicle that best embodies the Buick brand, completely without pretension or too many compromises."
In Buick's words, "Versatility has found its style"—the tagline Buick has rolled out with its newly updated Encore for 2019. And we agree. The 2019 Encore has style and it gives you a lot more, both under the hood and in the cabin, at a lower price point. You get luxury and affordability. That is a winning combo.
Pop over to Liberty Buick GMC to test drive either the Encore or the sleek new Envision. We have experts ready to help.