How to Get Ready for Your Summer Road Trip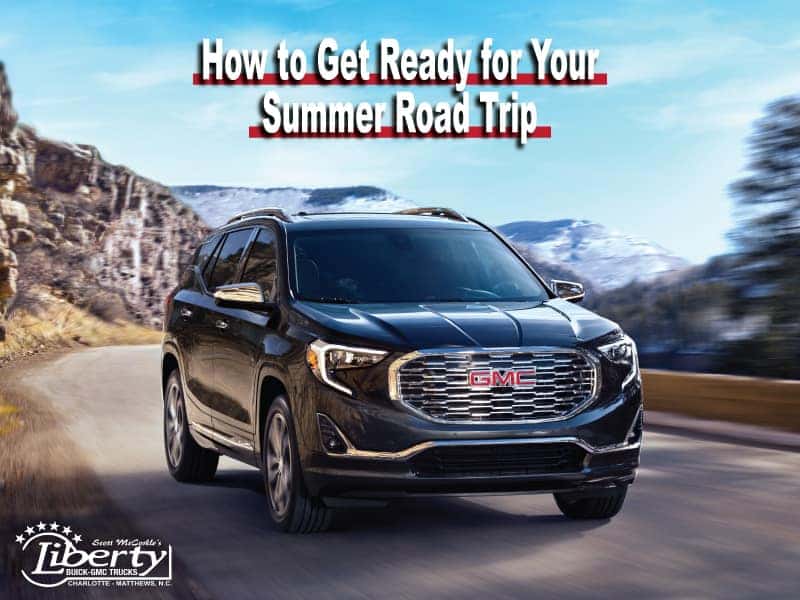 There are many benefits to taking a road trip during summer. For instance, it allows your family to go at their own pace and experience various natural wonders and communities. You have complete control of where you go and when, and if you decide it's time to move onto your next destination, you can do just that. It's also one of the most cost-effective ways to travel, and as long as you can fit it in your car, you can pack anything you want.
As great as road trips can be, however, they require planning and preparation if they are to be successful. Liberty Buick GMC is here with some practical advice on how to prepare your vehicle, determine what items to pack, and create the perfect summer road trip playlist:
Servicing Your Vehicle
Let's begin with your car. Here are some of the primary factors to consider when determining if your vehicle is ready for the open road:
The Brakes
Screeching, grinding, or excessive vibration from your brakes is a sign that work needs to be done. Have your brakes checked by a trusted mechanic to see if you need new brake pads or rotors.
The Tires
As with brakes, your tires are not something you want to be compromised when driving on a long trip. Put a quarter upside down into the tread grooves of each tire; if you can see Washington's head, then it means your tread is too low. Cracks, cuts, and sidewalk bulges are other signs that you need a tire replacement.
The Fluids
There are several fluids your car needs in order to operate safely, and it's essential to ensure each of them is filled to appropriate levels before you hit the road. First, check your engine oil, and change the oil and filter if necessary. Remember to consider the miles you will put in your vehicle throughout the trip. Brake fluid, transmission fluid, power steering fluid, coolant, and windshield wiper fluid are others you'll want to check.
The Battery
No one wants their car battery to give out on the open road. Get your battery capacity tested by a professional, make sure the hardware that constrains the battery is tight, and clean and tighten the battery connections.
The Belts and Hoses
Your vehicle's belts are responsible for the operation of your engine's water pump, alternator, and AC compressor. If they're damaged, cracked, or glazed, they should be replaced. Moreover, replace the hoses around your radiator if they are excessively soft, brittle, or bulging.
The AC
Air conditioning is key to a comfortable summer road trip. If you notice your AC capacity dropping at all, have it professionally diagnosed. While you're at it, get the cabin filter evaluated and replaced if necessary.
Best Summer Road Trip Songs
Entertainment is crucial when it comes to road trips, and preparing a killer playlist for your family will pay off big time as you're coasting down the highway. While there are millions of songs out there, here are some of our favorites to consider downloading on your phone or iPod:
· "Where the Streets Have No Name" by U2
· "Born to Run" by Bruce Springsteen
· "Little Red Corvette" by Prince
· "Truckin'" by Grateful Dead
· "Free Bird" by Lynyrd Skynyrd
· "Sweet Caroline" by Neil Diamond
· "Go Your Own Way" by Fleetwood Mac
· "Smile" by Katy Perry
· "Shake It Off" by Taylor Swift
· "The Middle" by Grey, Maren Morris, and Zedd
· "We Found Love" by Rihanna (feat. Calvin Harris)
· "Since U Been Gone" by Kelly Clarkson
· "Somebody That I Used to Know" by Gotye
· "A Sky Full of Stars" by Coldplay
· "Hey Ya!" by Outkast
· "Rolling in the Deep" by Adele
· "Holocene" by Bon Iver
What to Pack
Thankfully, traveling by car isn't quite as restrictive as flying when it comes to what you can pack. Be sure to include these essentials for your family:
· All necessary travel documents
· Clothes that can mix and match
· Casual shoes and flip-flops
· Blankets and travel pillows
· Bottled water
· Prescription and pain medications
· Healthy snacks
You'll also want to bring whatever accessories will help make the trip as comfortable and enjoyable as possible. Items to consider include tablets, tote bags, batteries, universal chargers, flashlights, sunblock, and handy wipes. And of course, if you have small children, bringing some entertainment options is crucial. Along with any electronic devices, pack some of their favorite toys and board games.
Conclusion
To get the most out of your family road trip this summer, be sure to plan and prepare. Along with following the tips above for servicing your car, putting together a playlist, and choosing what to pack, keep researching other ways that you can make for a safe and comfortable experience. And remember to bring your vehicle into Liberty Buick GMC for all of your servicing needs!