Golfing for a Cause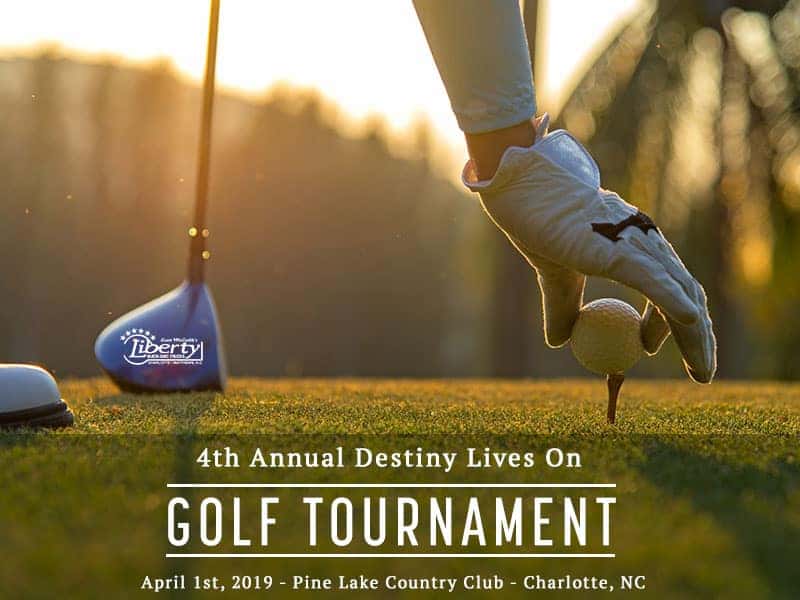 It's officially spring season in the Carolina's, and that means it's time to get back out on the green. Liberty Buick-GMC is proud to be a part of the 4th Annual Destiny Lives On Golf Tournament this season, because nothing feels better than spending time out in beautiful weather and driving some golf balls—especially when it's for such a great cause.
This year the Destiny Lives On Foundation is inviting golfers to participate in the annual golf tournament to, "support efforts in promoting and educating people about the importance of organ donation; as well as supporting families that have either given or received the invaluable gift of life." Participants will enjoy a fun-filled day of golf followed by an awards ceremony (including raffles and prizes). Lunch will also be provided.
Here are a few details on the 2019 Destiny Lives On Foundation Golf Tournament:
Cost is $520 per foursome—which includes Green Fees, Cart, Swag Bag, Breakfast, Lunch, Beverages, and 4 mulligan packets per team.
Registration opens April 10th
Liberty Buick-GMC is also participating in the Mint Hill Legion Baseball VFW Post 4059 Golf Tournament. According to this year's promotional flyer, "Mint Hill Legion Baseball is a continuation of the long time Newell Post 287 Legion program," and that the organization hopes to "continue the baseball tradition that was created in the 1950's of not only winning baseball games but giving local High School players an affordable place to play." Proceeds from this tournament will go to help teach high-level baseball to those players who are unable to showcase their talents due to lack of coaching, inaccessibility of needed materials, and etc. The ultimate goal of this tournament is to help get these players a chance to display their incredible talents for potential colleges and universities. Liberty Buick-GMC is proud to be a part of such an endeavor.
A few details on the Mint Hill Legion Baseball VFW Post 4059 Golf Tournament:
This year's tournament will be held at Pine Lake Country Club (5504 Lebanon Rd Charlotte).
Golfers will be playing Captain's Choice.
The date of the event is April 1st
Thee will be great prizes and raffles.
The tournament begins promptly 8:30am—sign in at 9:30 am, Shotgun Start Limited to the first 30 teams.
The cost is $125.00 a player.
At Liberty Buick-GMC we take pride in giving back to our community. And this year, we look forward to having a little fun while we're at it.