GMC's New Launch: 2023 GMC Denali Ultimate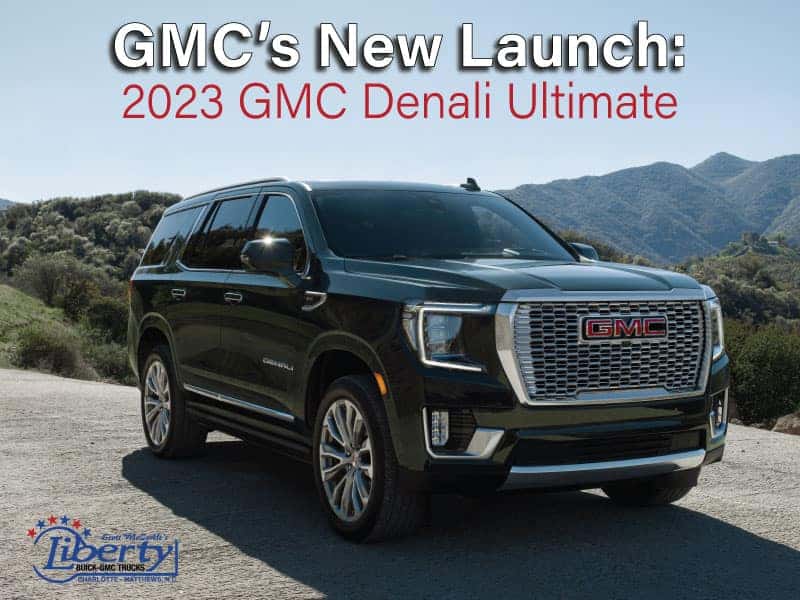 Every year countless trucks, cars, and SUV models are introduced to the market. This results in a saturation that may make potential car buyers feel overwhelmed. After all, that amount of vehicles also makes it harder for new vehicles to stand out. So, if you've been waiting for a sign to upgrade, consider this just that. 
The 2023 GMC Yukon Denali Ultimate is shaping up to be the fanciest, most comprehensive, and impressive trim GMC has ever offered. As an SUV it offers both luxury and performance and it has done so to a T.
All of these strides in innovation have left it standing head and shoulders above its competitors in the upcoming 2023 class. 
This model will be released this fall (fall 2022) and if you're looking for a dealership to place your order, Liberty Buick GMC has you covered. Years of service in the Matthews area has built a brand you can trust, much like the GMC and Buick models they have available. So, if you're already set on the Yukon, you can reach out to the professionals at Liberty Buick right now. 
Breakdown of The New Model
GMC's Yukon has long been a leader in the full-size SUV market. The Yukon was introduced in 1991 and since its very inception, the SUV has been combining elements of highway performance alongside the ability to offroad. And while the Yukon has always had a focus on driving capability it has also always had an eye for luxury. The 2023 Yukon Denali Ultimate is continuing that legacy and mission, through leaps and bounds in innovation, performance, and power, providing a luxury SUV that you can rely on. 
Leaps In Style:
Part of being a luxurious SUV is allowing the driver to ride in style. The new Yukon Denali Ultimate does just that through a combination of technology, comfort, and design choice. Leather is the main base of the interior, complemented by stitching accents. Those same seats are heated and well ventilated, meaning they'll not only look great but feel great. In that same vein of comfort, the front seats also come with massaging capabilities, which is a feature nearly unique to this trim of the GMC Yukon. 
On the dash you will find a Paldao wood décor, also found alongside the doors of the SUV. On the dash, you'll find the controls to the 18-speaker by Bose, which produces a robust and full surround sound. You'll even find speakers on the headrests of the front seats, which connect the entire audio system in a way that produces the best sound imaginable. 
Finally, the Yukon Denali Ultimate comes with unique 22-inch wheels. With seven spokes and a design meant to accent the overall look of the Yukon, it adds to the sense of luxury and style when on the road. 
Innovative Technology: 
While we've touched on some elements of new technology in the write-up on the Yukon's style, we've only just scratched the surface. The new Yukon comes chock full of new innovative features that make driving and traveling easier and much more pleasant. 
Take for example the new Super Cruise technology. It has a hands-free driver assistance technology that allows you to relax and allow the Yukon Denali Ultimate to do the work. You'll be able to ride hands-free on roads spanning Canada and the United States, enjoying the pinnacle of self-driving technology. Additionally, the Yukon can change lanes automatically, knows when to stop, and performs smoothly. Gone are the days of relying just on cruise control, now you have a vehicle that can do it all! 
This new technology is also committed to putting you in control. 13 different available camera views let you back, drive, and tow with an unmatched level of confidence and safety. Similarly, in the interior, you'll find a 12" Driver Information Center and a 15" Head-Up Display, which both provide a slew of information. Speed limit, lane departure, audio, and more are projected directly on your windshield, allowing you to focus on the road while knowing everything happening. 
Simply put, when you buy the Yukon Ultimate, you'll be given the best and newest technology on the automotive market, all of which is designed to make driving and traveling the ideal experience. 
The Power Of The Yukon:
The Yukon Denali Ultimate comes with two powertrain choices. The base engine is a 6.2-liter V8 that has 420 horsepower and 460 pound-feet of torque. The second choice is a 3.0-liter turbodiesel inline-6 that produces 277 hp and 460 pound-feet of torque. Both engines are equipped with a 10-speed automatic transmission with 4WD options. 
The two engine options are more than capable when it comes to everything you would expect when it comes to an SUV. The Yukon Ultimate is able to tow, handle tough roads, and has the ability to go the distance, and that's putting all of that lightly. Even more, according to GMC, the V8 is capable of reaching 60mph in just six seconds, which is unheard of for an SUV of its size.
Storage And Space:
When buying an SUV one of the biggest factors is size and function. The Yukon has three rows of seating, all wrapped in the leather and accents we touched on earlier. Additionally, the seats are adjustable, allowing for additional cargo space during long drives.
Getting Your Hands On The New Model
If reading those features has left you excited and ready to buy, you're not alone — so now you're probably asking yourself, "How do I get my hands on the new 2023 Yukon Denali Ultimate?" One of the best ways you can be updated on the new Yukon's release and be ready to make the purchase come fall of 2023, is to reach out to Liberty Buick GMC. 
One of the few drawbacks of a model that can do it all is that it can be hard to find. Shortages in supply and lack of close, accessible, and reputable dealers, can keep the vehicle of your dreams stuck on that webpage ad and out of your driveway. Liberty Buick GMC in Matthews North Carolina, however, is committed to getting you the newest and nicest models, at great deals. 
Liberty Buick is known for their huge inventory of new vehicles and with a model showroom you can find online, you'll be able to view every new vehicle digitally. Not to mention, they're among the top dealers when it comes to customer testimonials, showing that you'll receive the best treatment possible when choosing Liberty Buick. 
While the price has not yet been announced for the new 2023 Yukon Denali Ultimate, you can expect it to be a bit pricier than its less luxurious trims and competitors. And while that could be a deal-breaker for some, if you chose Liberty Buick GMC, they have a finance center built around helping you get the vehicle you want at great rates. Payment calculators, online tools to value your possible trade-in, and the ability to pre-qualify, are all ways Liberty Buick tries to make financing as easy as possible. 
So, if you're ready to take the first step towards your 2023 Yukon Denali Ultimate, reach out to Liberty Buick today.