GMC's 2022 Sierra HD: A Towing Machine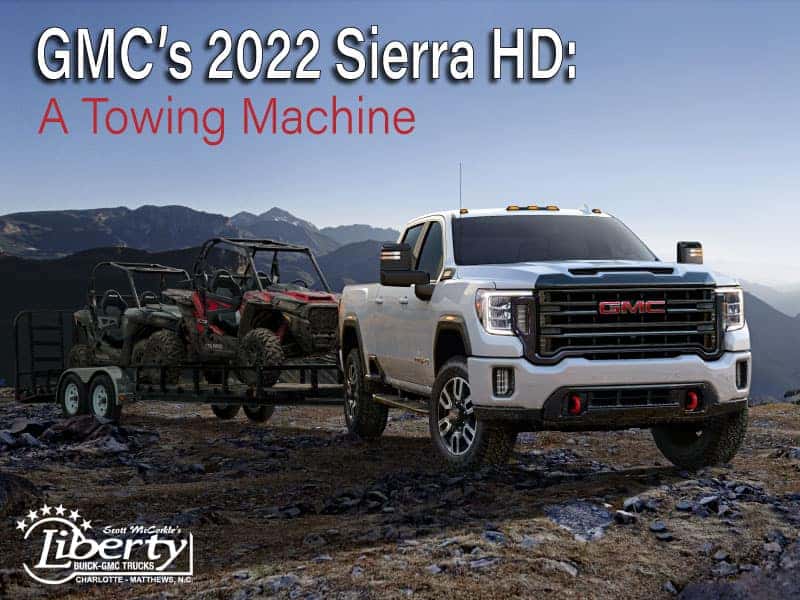 The 2022 Sierra HD welcomed a few changes from last year's model. The Sierra name has been around since 2008, and since then we've witnessed a few overhauls. The 2022 model is the peak of the Sierra line while still staying true to the 5th generation redesign the model saw in 2019.
A trait that has been consistent with the Sierra for much of its namesake's existence, but especially since the redesign, is the power it provides when you need to tow.
Anyone looking for a truck that can handle anything thrown its way should heavily consider what the Sierra HD has to offer.
Liberty Buick GMC has those exact models on their lot right this moment. So, if you're looking to see just what the truck can offer, it may be worth checking out for yourself soon. With good deals, excellent customer service, and a solid stock of inventory, the trip to Matthews to visit the professionals at Liberty Buick GMC would be well worth it.
Why Do I Need To Tow?
If you're one of those people who own a boat, RV, farm equipment, frequent contractor, etc. you likely understand just how important it is to have a vehicle that's capable of towing and towing correctly.
The most powerful model is able to handle up to 31,000 lbs of towing. To put that in perspective, the heaviest RV is the Jayco Eagle 334DROK. The Jayco has a dry weight of 11,375  pounds and a gross vehicle weight rating of 12,825 pounds. You could multiply the weight of the heaviest RV on the market and the Sierra HD would still be able to tow it, a truly mind-boggling figure!
That power also means you're going to be able to tow nearly any recreational boat on the market, most farm equipment, and any trailer with tools and materials you can imagine.
Simply put, the heaviest hauls are no problem for the 2022 Sierra HD.
For those that want a truck but are unsure just how much towing capability matters to them, you may be surprised at what a versatile towing vehicle means for not just you, but your friends and family.
Anyone who has experienced car troubles knows just how disheartening they can be. Brokedown on the side of the road, in need of a tire change, a trip to the mechanic, or in need of a tow, you'll likely be waiting for hours until Triple-A or a local tow can come and help.
The 2022 Sierra HD solves all of those problems. Those with the 2022 Sierra HD practically provide what any major towing service can. Imagine, your friend is in desperate need of a tow, someone's car is out of gas, or any of the above, this impressive modern truck prevents long waits and gets you, and those you love, the help they need with the confidence that you're covered.
What's In the 2022 Sierra HD
The 2022 Sierra HD improves on much of the previous year's models. With three major trim options, you've got some choices if the Sierra HD is the truck for your future. One thing is universal for the trim levels — No truck on the market is ready to handle towing quite like the 2022 Sierra HD.
The 2022 Sierra HD truck line has numerous perks that are present in most of the trims. While the more expensive trim provides the most power in towing and the best features for comfort and drive, even the most affordable base-line Sierra HD stands out as a clear competitor with modern trucks.
Here are some features, especially those that'll help with your tow or move, you can look for when shopping for your new Sierra —
Android Auto and Apple CarPlay compatibility
Best-In-Class Heavy-Duty Cargo Box Volume
MultiPro Tailgate
Trailering Package and Trailering Mirrors
LED Headlamp and Tail Lamps with Signature Daytime Running Lamps
There's one feature among those listed that requires a bit of an explanation: the MultiPro Tailgate. While mostly unknown, this is a big positive for the Sierra truck line.
Most tailgates have stayed the same while the realm of advancement has been left to the truck bed and truck itself. While that other advancement is welcomed, GMC wasn't about to sit idly by and let one piece of technology go without a bit of innovation.
The MultiPro Tailgate is basically two gates in one. A primary gate and a smaller interior gate. These two gates can be used to extend the bed of your truck, create a step up for your bed, and some other options.
Essentially, the 2022 Sierra HD isn't just locked to towing, it's ready to haul whatever you can dream of throwing in its truck bed while protecting it with innovation after innovation.
Why The Model Is Right For You
As we went over earlier, the Sierra HD can tow and move any piece of recreational equipment you could imagine. As spring turns into summer, you may have trips planned and booked.
The Sierra HD is the ideal vehicle for a family looking to get the most out of the summer season and one that has a lot of equipment to haul and wants to have fun while doing it. The comfort of the interior, alongside the equipment and hauling innovations, provides a necessary foundation for all types of travel.
Outside of family life, the Sierra HD serves as an excellent vehicle for a handyman or contractor looking to do it all. The power innate in the truck gives you the ability to tow anyone in your circle out of bad situations, so your friends can cut up their Triple-A cards! The innovation in truck bed and tailgate also ensures you'll be able to fit in all of your tools and equipment no matter where you go.
Why Liberty Buick GMC?
Trying to get your hands on a new vehicle in 2022 can prove challenging. Stock shortages, unresponsive financial departments, and slow dealerships can all get in the way between you and your new vehicle.
Liberty Buick GMC addresses all those problems so frequently found at modern dealerships. With over 50 new vehicles on their Matthews lot right now, you're sure to find the make, model, and design you're looking for.
And for those not capable of coming to the dealership, the online GMC model showroom provides the up-close look you're typically only going to get in person.
While knowing the model you want is there, sometimes finding a financial department that's ready to answer all your questions is the most important piece in securing your new investment. Liberty Buick GMC has a financial department dedicated to giving you competitive financing rates and terms, even more impressive – they can be reached 9:00 am – 9:00 pm Monday through Saturday. This level of dedication means the barriers between you and your new GMC are even smaller.
All of those dealer benefits are backed by a record of positive customer testimonials and reviews. So, if you're in the market for a new GMC, especially the 2022 Sierra HD, Liberty Buick GMC is the dealership for you. Reach out and touch base with a professional today to start your new car buying journey.