GMC Yukon End Of The Year Special
Liberty Buick GMC is preparing for the New Year with a huge End-Of-Year sales event. The end of the year is quickly approaching and that means it is time to grab a new GMC Yukon. You have been dreaming about getting a new vehicle all year and it is final that time where all vehicles are discounted to unbelievable prices. The GMC Yukon is on sale for up to $12,000 off the MSRP price.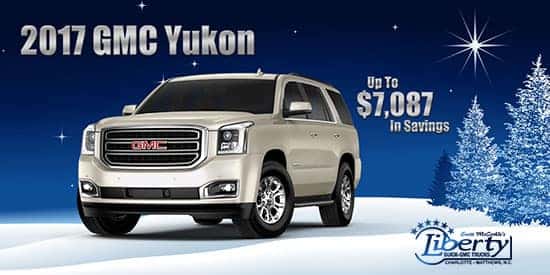 Before the clock strikes 12, you need to finally get your dream vehicle. The GMC Yukon is the perfect professional grade SUV. This SUV is perfect for someone trying to make a statement in the corporate world or for someone who needs a large space to transport the kids. Whatever your needs are, the GMC Yukon can handle it in style.
The GMC Yukon has a bold and attention-grabbing exterior look that stands out. With the signature front grille, advanced lights, and stunning wheel, you won't be missed. The interior is quite remarkable with a comfortable and luxurious feel. The spacious interior and quiet cabin make even the most stressful rides a breeze. During a long commute or even just a trip around the block, you can stay connected and keep passengers entertained with built-in Wi-Fi, Apple Carplay, Bluetooth, and more. The GMC Yukon also has excellent towing capabilities, whether you are hauling a trailer or towing a camper. The GMC Yukon has the ability to tow up to 8,500 pounds.
Take advantage of these awesome specials at Liberty Buick GMC. Through the end of 2017 you can purchase a 2017 or 2018 GMC Yukon for thousands of dollars off. You can also save with the best financing specials of the year. Qualifying customers can purchase a new Yukon with no money down. Swing by Liberty Buick GMC to test drive this family-friendly professional vehicle.