GMC: The Car Dealer For Customization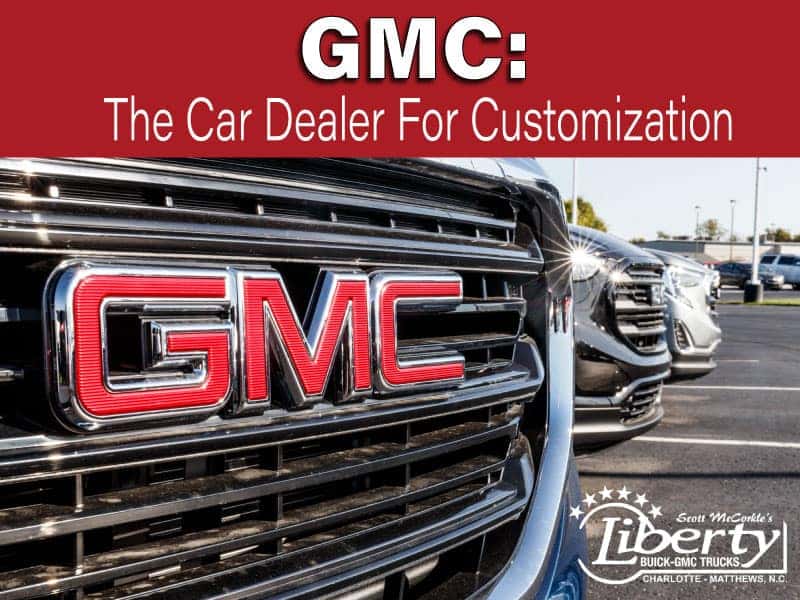 If you've ever bought a new car you drove off the lot feeling like it was made for you, sometimes that excitement can be dulled if you see that same car at every intersection. There's never anything wrong with wanting to stand out and Liberty Buick GMC offers your customization to do just that. 
Qualified dealerships, like Liberty Buick GMC, are providing more options than ever before when it comes to the purchase of your new vehicle.
Build And Price
GMC offers a build-and-price system that lets you create whatever vehicle you've ever dreamed of.
A robust selection of GMC's 2022 models lets you pick out the base of whatever piques your interest.
The 2022 Sierra has cab customization, with 4 options that impact bed size and cab size. Drive type, elevation from the ground, and trims are also completely under your control, allowing you to pick whatever you need, or want, in your new car. The most evident option, color, is also under your discretion. The options continue with packages, trims, interior options, and other bells and whistles that are sure to make your ride unique and perfect for you.
The 2022 Yukon offers everything the Sierra did, save for the cab customization. While being an SUV, it offers packages that help with groceries, travel and moving, like the cargo convenience package. Furthermore, options like folding seats and safety components are something worth checking out if you're designing a vehicle centered on family travel. 
As the last customization example, the 2022 Acadia. The Acadia offers packages based on technology and elevation. The Acadia's customization lets you create the perfect car for commutes to work, family travels, or pure untamed adventure. It also has three different premium coat options, which will fit anyone's preference. 
The Trims Available 
Trims impact every aspect of a vehicle. For those less car term savvy, a car's trim equates to the package associated with a model. These different versions of the same model can include a wide array of things. The more expensive the trim, the more bells-and-whistles you're likely to get. 
Some of this holds true for custom orders, while the trim options create models for vehicles with a variety of specialties that will leave anyone pleased.
Here's a breakdown of all the available build-and-price vehicles and their corresponding trim levels:
2022 Sierra (available trims are impacted by cab size)
Pro, SLE, SLT, AT4, and Denali
2022 Canyon (available trims are impacted by cab size)
LE, SLE, SLT, Denali, and All-Terrain
2022 Terrain 
SLE, SLT, Denali, and, AT4
2022 Acadia
SLE, SLT, AT4, and, Denali
2022 Savana
2500 LS, 2500 LT, 3500 LS, and 3500 LT
2022 Yukon
SLE, SLT, Denali, and, AT4
The trims above are listed from the most basic model to the model with the most additions and add-ons. Truck models are impacted by the size of their bed and cap, which have the potential to limit the amount of space to fit in entire trim packages.
A quick comparison to see the differences in trims is the 2022 Acadia SLE compared to the Acadia's Denali trim.
SLE:
-2.0L 4-Cylinder Turbo Engine with 9-speed Automatic Transmission
-18″ Aluminum Wheels
-8″ Diagonal GMC Infotainment System with Available Navigation
-LED Headlamps and Taillamps with Signature C-shape Design
-GMC Pro Safety Plus
Denali:
-3.6L V6 Engine with 9-speed Automatic Transmission
-20″ Ultra-bright Machined Aluminum Wheels
-8″ Diagonal GMC Infotainment System with Navigation
-Standard 6″ Diagonal Color Head-Up Display
-GMC Pro Safety Plus
As evident in the package details, you can imagine the wide array of combinations and possibilities of vehicles with GMC's build-and-price when you consider trims, colors, etc.
To read up more about trim levels on all the listed vehicles, check out Liberty Buick GMC's website, or reach out to a representative today.
How and Where To Place Your Order
For those that prefer hands-on experiences, you can go to participating dealerships and build your dream car in person. Liberty Buick GMC is not just any participating dealer but also a dealership committed to customer service. 
If you opt to go in person to build your new car, you'll likely get a five-star experience. 
For those less keen on going into the store, you can build your made-to-order GMC on GMC's official website. That website has options beyond those listed as examples earlier, with multiple options for 2022 vehicles. The build-to-order tool even creates an image of what your future custom order will look like, helping out the more visual learners among us.
Once you've created the vehicle tailored to your needs and style, the website will then link you to nearby participating dealers, streamlining the process. 
How Long Do Custom Orders Take?
Most custom orders take somewhere around 10-15 weeks to be complete. Delivery time and delays in supply chains have the ability to add some time but you can expect to have your custom vehicle somewhere close to that time frame.
While you're waiting on your custom order to become a reality, it's an excellent time to consult and work with Liberty Buick GMC's finance center. Getting approved for your car loan, valuing your trade-in, and figuring out other aspects of your car buying experience is important and the time custom orders take is an ideal time to work with the experienced financial team at Liberty Buick GMC. 
Why Not Be Different? 
For some, standing out can seem unnecessary. After all, the cost associated with custom orders is likely to be much more expensive than buying a regular car off the lot. 
One thing is true for cars and their resale values.
Unique and rare vehicles maintain value, resale for more, and generate more interest than their more common counterparts.
When investing in a vehicle tailored to you, you aren't just giving yourself a car to be proud of, you're making your big purchase that much more likely to be a worthwhile investment down the road. 
When skimming used car websites you'll see so much of the same, so if you're looking to protect your investment, aiming to stand out is a good way to do it.
Choosing Liberty Buick GMC For Customization 
Build-and-price is an option at participating GMC dealerships across the country, so some people may be wondering, "Why choose Liberty Buick GMC?"
Vehicle customization and build-and-price may be new but Liberty Buick GMC has years of experience in pleasing car buyers. Liberty Buick has been serving the Matthews area for years, with a full team ready to help you through your car buying journey
Liberty Buick GMC also offers one of the most flexible sales hours around. Sales hours begin at 9:00am and don't end until 9:00pm. Ideal for anyone with car customization questions.  
So when buying your new car, if you're someone who values standing out, having choices upon choices, and going with a reputable dealer who has a history of making buyers happy, reach out to Liberty Buick GMC today and ask about how you can participate in build and price.