GMC Terrain: New Luxury Feature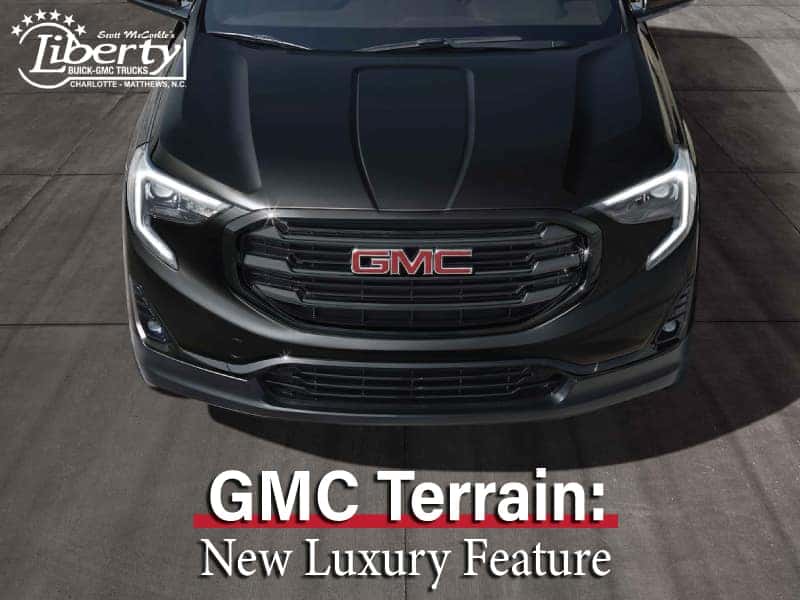 Though there has been a delay in the rollout of the all-new GMC Terrain crossovers, production on the 2022 models is currently underway. You can expect big upgrades and a brand new feature: All-Wheel-Drive. FWD to AWD is a big deal in the crossover/SUV world, one that solidifies the Terrain as more of a luxury ride than a middle-of-the-road vehicle. With new features and even better performance, 2022 might just be the year of the Terrain.
As modern crossovers and SUVs evolve, we are seeing a move from rugged mudslingers, towards tough luxury drivers. This push for comfort and aesthetic, while still maintaining that tough SUV persona, has driven the production of the GMC Terrain, slowly morphing it into a stoic family vehicle that can hold its own.
Adding all-wheel-drive to the Terrain is an important move for GMC because it further defines the venerated crossover as a step above. AWD offers more power than front-wheel-drive, but it doesn't guzzle as much gas as four-wheel-drive. It's a great in-between that still gives enough power for off-roading capabilities and can handle rough weather situations.
The only downside to the new Terrain is the fact that it was delayed due to the pandemic. There was meant to be a facelift and refresh for the Terrain in 2021, but that's all history. The upside is GMC has been able to spend a bit more time with the Terrain, and we have some pretty cool upgrades because of it. Here are a few:
· Wireless Apple CarPlay along with Android Auto
· Head-up Display
· New renderings of the front and rear fascias
· A new rendering of the entire interior styling
As mentioned earlier, the 2022 Terrain is currently under production with a special all-wheel-drive Denali trim that begins production in September and, without further delays—fingers crossed!—we should see a rollout of the all-new GMC Terrain next year.
Luxury Crossovers
What makes luxury crossovers enticing is the fact they usually come with energy-efficient engines and body designs drawn for maneuverability and roominess. In fact, the biggest issue had with crossovers/SUVs of today is deciding which one fits your lifestyle and family size best. And by "one" we mean which trim level of Terrain because there are tons of options to choose from.
2022 will bring a full update to the GMC Terrain, the first biggest upgrade in a while. The new exterior has been made to look tougher than ever with sharp, bold features in shape—squared front and rear-ends, C-shaped corners, and optional LED running lights in the front bumper. Inside the Terrain is cozy and comfortable. The center dash is compressed to house the audio and climate controls. Everything is easily accessible due to plenty of shelves and cubbies for holding cell phones and snacks. And with the tasteful chrome trim, you can't help but feel as though you are riding in a high-class luxury vehicle, rather than something cheap and plastic.
It's pretty easy to tell that the GMC has always been reaching for luxury. The Terrain has always fit the crossover bill, but there is also more to it. Sure there are the basics, such as air conditioning, cruise control, power windows, locks, and mirrors, fog lamps, a rearview camera, ambient lighting, and plenty of other standard modern features. But there's more. Depending on the level of trim chosen, Terrain drivers can include: automatic climate control, a premium pioneer sound system, heated front seats, a sunroof, and leather upholstery. And these are only a handful of the more luxury updates you can add to your new Terrain.
What to Look for in a Crossover
What should you look for in a crossover vehicle? Sure, it needs to be safe and roomy and quiet, etc. But, more specifically, what aspects should check the box?
The first thing you want to look for is a strong engine. No matter the reason for the purchase of such a vehicle, large family, hauling equipment, etc., it is important you are not driving something that is powered by an inadequate power source. This is why the new GMC Terrain comes optional with a 4 or 6-cylinder engine—and we highly recommend going for the 6. This particular engine is able to push 301 horsepower, as well as 272 feet of torque, which is more than enough power to ensure a longer lifespan for the vehicle and for it to pack enough punch to get the job done.
Next, you need to make sure your SUV has a quiet and comfortable ride. This is true with the purchase of any vehicle, but bigger cars tend to get a little louder and have a bit of a stiffer ride. Luckily, the Terrain has already been proven to counter these big-car issues. When starting up the Terrain, you will notice something wonderful: it's super quiet. The 2022 model has been engineered specifically for silence. And, with its tight construction and smooth suspension, the ride is as nice as you will find in any costly sports utility vehicle on the road today.
Lastly, you want a vehicle with a good warranty. Even with the new Terrain being a high-quality machine, it's always nice to prepare for the worst-case scenario. This is an area where the Terrain shines. With the 100,000-mile Powertrain Warranty, you are able to provide yourself with an extra ounce of security and peace of mind.
There are many reasons to place yourself inside the GMC Terrain, but its powerful engine and performance levels, comfy and smooth ride, and impressive warranty make the Terrain a hard one to pass up.
What GMC does extremely well, besides making the toughest trucks, crossovers, and SUVs around, is providing customers with a multitude of options, and people love options. It is a great feeling to have some say in what you buy, especially when the purchase is as large and important as that of a new vehicle. With GMC, you can peruse through numerous body styles, colors, and upgrade packages. And, we have tons of bright and shiny Terrains at Liberty Buick GMC.
Four Reasons to Buy a GMC
GMC creates trucks, SUVs, and vans, and of these vehicles, all are known for being built to last decades. So with this in mind, we have compiled four reasons to buy a GMC this year (though, to be honest, there are many more reasons to find yourself in a GMC).
Reason #1: Technologically Savvy
As vehicles become outfitted with technology to make them smarter, it can be both useful and frustrating—useful in the sense that the vehicle is more efficient but frustrating in the sense of having to learn the program from which your vehicle is linked. GMC offers, with all of its vehicles, its own infotainment system called IntelliLink. What's nice about this system is that it's easy to use. It comes voice activated with a seven-inch touch screen that is simply and cleanly designed. And although anyone can learn to use it, there is depth in what it can do: it connects, reacts, and navigates just as well as any other system out there today, and it teams with your GMC vehicle's safety features so you have one less thing to worry about whether on a family road trip or heading off to work.
Reason #2: Accessibility
GMC has devised a door unlock/remote start that now comes standard with its vehicles. This may not seem of consequence right away, but just wait until your arms are filled with groceries and you are unable to open the door. Or think about those cold mornings when you wish your vehicle could be running, warming itself without you having to walk out to it. GMC loves to make things easier for drivers—and this is one of those things.
Reason #3: Top-of-the-Line Fuel Economy
GMC has delivered a 6-cylinder engine that goes up to 24 mpg. This is a big deal—especially since they did this in the Sierra, a full-sized pickup. So the question is if GMC can create a large vehicle to have great gas mileage, what can they do with smaller vehicles? Regardless of what you end up buying from GMC, you will save at the pump.
Reason #4: Innovation
GMC has created a trailering app for your phone, and it's really useful. If you have a GMC truck, and use that truck to pull a trailer then you surely know the complications that can come when hitching the two together. However, with this new app, once you identify your specific vehicle, it gives you all the information you need to be sure you don't detach at some point down the road. The app provides tips, commonly asked questions, and useful information, and is dedicated to helping novices, as well as, veterans hitch a trailer easily, effectively, and safely.
At Liberty Buick GMC, we take pride in our stock of GMC vehicles—all of them! If you are in the market for something a little bigger than a sedan, but without the mass of a bulky SUV, come visit us at Liberty and we can show you both new and used versions of the Terrain that just might be the perfect fit for you.