GMC Sierra 1500: the Light-Duty Truck that Serves as a Mobile Office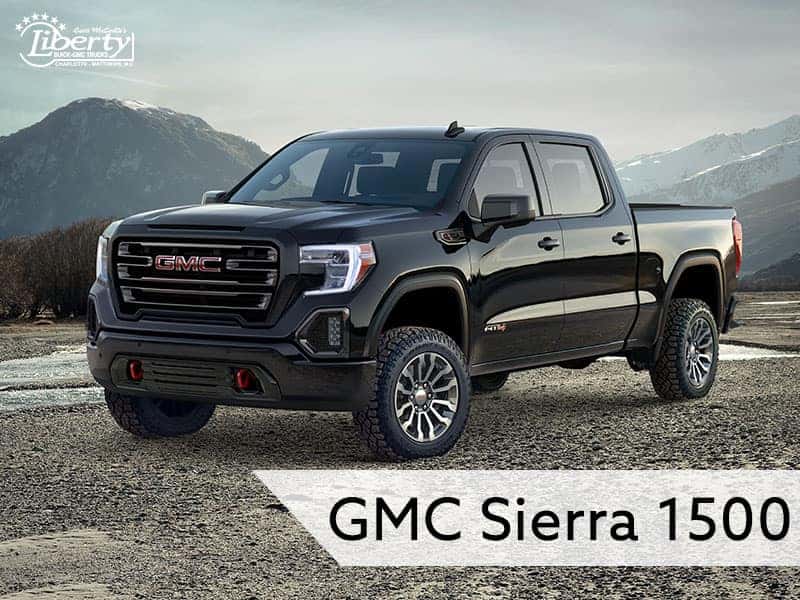 These days it seems the idea of what the modern truck is and should do is changing. What began as a vehicle designed primarily for the working individual, one meant mostly for hauling and towing, is now being used much differently. Sure, trucks still haul and tow, but in a time when vehicles are becoming more versatile, the modern truck has had to evolve. It's much more than just transportation. Now, a truck is just as much a mobile office as it is anything else, and the way GMC sees it, in order to keep up with the times, the Sierra needed some reimagining. This next step in evolution for the GMC truck has created one of the most innovative and functional vehicles ever created, the GMC Sierra 1500.
Since there is such variety in trucks currently, it can be difficult to decide which one is right for you. Should you focus on power, pull, strength, stamina? Full-size, medium-size, small? Then what about four-wheel-drive versus two-wheel? 8-cylinders versus 6? These questions are just the beginning!
One way to be sure you have the right truck in mind is to think about how you will use it. Today, most truck buyers are finding themselves using their vehicle as a method of transporting bulk and trudging through mud, as well as, a mobile office. That's right, we have become so busy that now we bring our offices with us wherever we go! This is why you need something that can easily perform all the typical duties of a truck, but one that also has a roomy and plush enough cabin that you can get your paperwork done on the job site, maybe even drive clients around.
With this in consideration, which truck can go back and forth between the rugged and the professional on a whim, and do it with finesse? Let's have a look at two top contenders: the GMC Sierra 1500 and the Chevy Silverado. Both trucks are selling better than ever because they do well at creating a luxurious and spacious interior, all the while maintaining a tough exterior.
A Quick Comparison: the GMC Sierra 1500 Versus the Chevy Silverado
Interior Comfort and Quality
After sitting inside both trucks one thing becomes clear, while the Silverado is considered the more value-oriented truck, the Sierra 1500 is pristine. Not to imply the cabin to the Silverado is not nice, because it is. It's just not as comfortable and sturdy. Inside the Sierra, there is thick leather seating, triple-sealed doors, and enough room to set up a computer, separate stacks of paper, even hold a meeting with a client! The expansive front seat is wide enough to hold three adult passengers comfortably, which allows enough room to spread out and even stretch quite a bit.
Winner: GMC Sierra 1500
There are three bed sizes to both the Sierra and the Silverado, but the most common is the 8-foot bed. This size is perfect for setting up an exterior office on a nice, sunny day. If the 8-foot is too big, there is a 6-foot-6-inch bed that might be more accessible. In the Sierra, there is also the option for a regular cab, which has a 126.5-inch wheelbase. There is also an extended-cab and crew-cab version that sit on a 147.4-inch wheelbase. According to GMC, the longest of the two options offers almost 3 extra inches of legroom throughout. Sure, 3 inches might not sound like much, but once inside and settled, this 3 inches goes an awfully long way.
Both beds are sturdy and move as one with the truck as it travels. The nice thing about luxury trucks is you don't have to worry about the creaking and popping sounds we are used to hearing as we travel down the road and around corners. Both the Sierra 1500 and the Silverado do exceptionally well at offering roomy vehicles that can also carry work materials in the back without sounding like a box full of bolts while you drive.
Winner: both the Sierra and the Silverado
The already-luxurious Sierra is available in the Denali trim, which sets it even more above the competition. Ventilated and heated leather seats, wireless device charging, navigation, Apple CarPlay, Andriod Auto, and the Bose premium stereo system can turn your Sierra into the nicest office you have ever had.
Conversely, the Silverado has the High Country trim, which is Chevy's attempt at luxury. This attempt does well with its 20-inch wheels, leather upholstery, heated steering wheel, and 8-inch touch screen, but, yet again, it does not hit the mark set by the Sierra. When it comes to quality interior features, the GMC's light-duty truck just can't be topped.
Winner: GMC Sierra 1500
·         Ride and Handling
With features such as direct steering and Magnetic Ride Control, both the GMC Sierra and Chevy Silverado have incredibly smooth rides. As a matter of fact, both offer drive handling at an entirely new level. The attention paid to making these trucks drive like luxury sedans has paid off well.
The ride and handling don't only impress on the smooth, open road either. Once you drop off a perspective client or you finish-up all that paperwork, it's a great idea to do a little off-roading. That's right, get your new truck a little dirty, see what it can do out on the open trail. You will be impressed!
Winner: both the Sierra and the Silverado
Both trucks come with a three-year/36,000-mile basic warranty, plus a five-year/60,000-mile powertrain warranty. However, if you were to look at the J.D. Power Reliability Scores throughout the years on both trucks you would notice they are pretty close. But "pretty close" and "the same" create a big enough difference to sway truck drivers in one direction, towards the GMC Sierra 1500.
Though both the GMC Sierra and the Chevy Silverado share close ties, as they are closely stacked, one does come out better than the other in the end. Sure, most of the features found in one can be found, in some similar degree, in the other, it's the GMC Sierra that just does it better. With better comfort, content, storage, features, and reliability, the Sierra 1500 is the perfect work truck/mobile office.
A Few More Reasons to Drive the Sierra 1500
The all-new GMC Sierra 1500 doesn't just do well when stacked against its biggest competitor, it stands strong on its own as well.
The time spent designing and detailing the Sierra is evident. A true sign a vehicle has been made with purpose and precision is not just seen in what is present, it also depends on what is absent. The new Sierra has taken the "less is more" approach in many aspects of its new design, and it has paid off tremendously. You will not find a bunch of extra buttons and components that tend to break and cost money. Everything in and on the Sierra 1500 has a purpose.
The base level of the Sierra 1500 has a 4.3-liter, 6-cylinder engine with 285 horsepower and 305 pound-feet of torque. It can tow up to 7,600 pounds and reach a speed of 60 miles an hour in around eight seconds. Pretty impressive for a base-level engine, huh? But, if you find the need for a little more power, GMC still has you covered with the 1500. Sierra drivers can opt for the 5.3-liter, V-8 engine, which offers 355 horsepower and 383 pound-feet of torque. And regardless of the engine size, all Sierra 1500s come with a tow/haul mode transmission and tap/shift controls. These controls make driving and distributing power much easier no matter the size of the load being carried.
As noted earlier, comfort and handling are exceptional in the Sierra 1500. There is the option for rear- or four-wheel drive, and the front strut and rear leaf-spring suspension offers an extra smooth ride no matter how many wheels are pushing you along. But, to truly understand the effect of the leaf-spring suspension you need to take the 1500 for a drive, preferably on a rough road or rigid path. You will be amazed at how well the suspension takes any pothole or bump and translates it as smooth, easy driving. In addition to an undisturbed ride, 1500 drivers will enjoy the crisp steering that allows the Sierra to easily make its way around sharp corners and fit into tight spaces.
Every aspect of the Sierra synthesizes together to create a powerful and luxurious driving experience. It's not only the drive components providing a comfortable ride either. Inside the roomy cabin, the Sierra 1500 is filled with soft materials and pleasing aesthetics. The aluminum and wood trim pieces throughout the inside give of a sense of luxury, while the plush seats and polished dash create a comfortable, happy environment.
The Sierra 1500 is surprisingly tough and pleasantly high-end. It offers superior comfort and power for being considered a light-duty truck. This is a perfect choice for the truck driver who needs something tough, but doesn't quite need a machine to pull super heavy loads on a daily basis.
Your New Office
An added bonus to the GMC Sierra 1500 is its WiFi hotspot that makes connecting to the internet as easy as in your (actual) office. Combine this powerful connectivity with the comfort and quality of the all-new Sierra and it immediately becomes apparent this truck is simply unmatched.
GMC has realized that comfort doesn't only mean plush seating and soft-touch materials. True comfort is also created when there is more space to move and reposition. Comfort is when we can enjoy the interior of a truck with others. It's almost as if GMC could see that the modern truck is moving towards the creation of a modern office: one that is completely mobile yet just as accessible as any other.
Our Favorite Aspects of the Sierra
At Liberty Buick GMC, we love the new Sierra. Its boxy frame is offset by subtle curves running the length of the long truck. The large, shiny grille seems to point from the sides to the crystal clear LED headlights. Plus, it comes in 11 different colors:
White Frost Tricoat
Deep Mahogany Metallic
Cardinal Red
Satin Steel Metallic
Pacific Blue Metallic
Quicksilver Metallic
Summit White
Onyx Black
Dark Sky Metallic
Red Quartz Tintcoat
Smokey Quartz Metallic
Inside the Sierra, we can't get enough of the jet black materials, aluminum and wood accents throughout, and the perforated leather seats. To keep you and your loved ones cozy and safe there are integrated storage bins set throughout, a Multi-color 3-inch by 7-inch Head-Up Display, USB ports, and plenty more surprises to keep everyone happy.
The choice is easy. If you need a truck, and you need a client transport/mobile office, the GMC Sierra 1500 is the absolute best option. Come in and see us today to test drive your new Sierra 1500.