GM Seeks Out New See-Through A-Pillar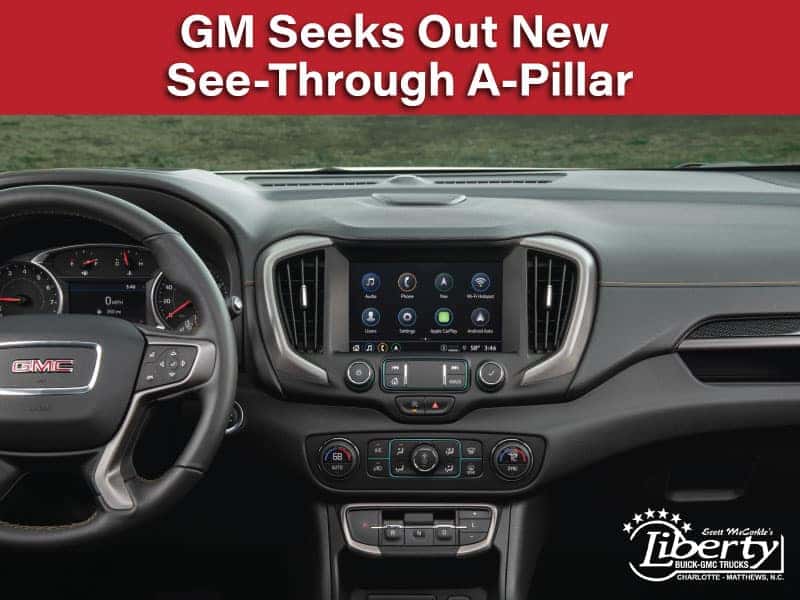 GMC has long been a leader in safety innovation and part of being a leader is continuing to push the standard. It's known that GMC has safety measures like rearview camera mirrors, advanced sensors, and adaptive cruise control, and while those features are necessary when improving the safety of a vehicle, they've become somewhat standard in most modern models. This leaves a lot of room for improvement and innovation.  
GM has delivered, with the filing of a patent for a transparent A-pillar.
Its implementation would result in more control, visibility, and overall a safer driving experience for GMC owners. And while that promise is exciting it may be necessary to discuss just what the A-pillar is and the problems it has historically posed for drivers.
Chances are if you're interested in the safety potential of reimagining the A-pillar, you likely want a vehicle that's built for safety. If that's the case — there is no other car manufacturer like GMC when it comes to a commitment to safety. Take a look at GMCs 2022 lineup at Liberty Buick GMC and see some of the market's safest models.
Understanding the A-Pillar
The A-pillar is the two structure bars that are upright and frame your windshield. Essentially the two pieces that vertically connect the windshield to the car's roof and dash. While that piece of engineering is absolutely vital when it comes to making sure your windshield is secure, it's been known to obscure a driver's view and create additional blind spots. 
The severity of the blind spot can vary from car to car, but oftentimes it increases the risk of not seeing a pedestrian, biker, or small car because they can often disappear behind these larger modern A-pillars. 
The blindspot the A-pillar creates is not often discussed, leaving drivers unaware of the importance of checking it, and many car manufacturers uninterested in solving the problem. The issue of the blind spot is further exacerbated when you realize that A-pillars have grown in recent years due to their ability to improve the structural safety of the car. 
That dynamic poses an interesting question — "How do you eliminate the risk A-pillars create while also maintaining a safe and structurally sound vehicle?" GMC's recently filed patent seems to be the first answer to that question. 
The Solution
GMC's solution is to keep the A-Pillar, but eliminate the blindspot, so they let drivers have their cake and eat it too. They're planning on doing this by making the pillar see-through, according to recently filed patents. Recent advancements in available materials seem to have made it possible to maintain structural integrity while eliminating visual barriers. 
While other car models and manufacturers have attempted to solve the problem through the placement of cameras and other indicators, nobody until this point had looked to reimagine the A-pillar as a whole.
Here are some of the details of the innovative design taken from GMC's patent which describe it as a — "novel fiber reinforced composite A-pillar that includes one or more designed openings impregnated with a transparent resin or composite…"
If you find yourself worried about potential overexposure to the sun because of this increase in transparency, GMC already has you covered. The patent goes on to explain that the — "transparent material is selected from materials having a transmission coefficient of at least 50 percent for light in the infrared (IR), visible, ultraviolet (UV) wavelengths and a refractive index between 1 and 2 for visible light, such as polymethylmethacrylate (PMMA) or an optically transparent polycarbonate."
As it stands now, no model has been tapped to play host to this innovation and it's likely that GMC will not engage in speculation. Still, it does exemplify why GMC continues to lead car manufacturers in safety innovation and further displays the brand's ability to think outside the box in order to bring the best driving experience possible to every member of the GMC family. 
Other Ways GMC Invests In Safety
If one thing is clear, it's that GMC is invested in the safety of its models. And while the A-pillar patent is a good example, it isn't the only one. One of GMC's most exciting new safety measures is its Pro Safety Package.
GMC's Pro Safety Package is a suite of features included across most of its modern models. Those features are designed to make driving easier, reduce the chances of accidents, and maintain safety for those in and around your vehicle. Below are the features that are becoming standard in every new GMC model —
Forward Collision Alert: Through the utilization of cameras and sensors, GMC cars will notify you when you're at risk of an accident. Using lights and sounds, you'll be sure to know when an accident is about to occur, giving you a chance to brake or move away from any potential risk.
Front Pedestrian Braking:  Tied to GMC's automatic emergency braking, front pedestrian braking is designed to stop your vehicle from hitting or injuring pedestrians that may be at risk.
Automatic Emergency Braking: As mentioned above, automatic emergency braking will apply brakes in potentially dangerous situations. Typically employed after the collision alert, automatic emergency braking prevents any collisions by braking for you or allowing you to brake harder than you would in a vehicle without the feature. 
Lane Assist With Departure Warning: Lane assist monitors your vehicle and where it's at on the road, keeping you in your lane and away from danger. Departure warnings let you know when your vehicle has drifted and lane assist will give you a light steering wheel movement to keep you on course.
Following Distance Indicator: Following distance indicators let you know when you're following a vehicle too closely, and likely putting yourself in a situation in which you couldn't stop in time. Which helps ensure you'll always be driving in a situation that allows for maximum control.
Intellibeam: Intellibeam systems allow your vehicle to switch between high beams and regular lights depending on what vehicles are around you. This helps improve your field of vision at night while also being considerate of other drivers.
As you can see, GMC's Pro Safety Package makes use of every aspect of modern safety technology, creating a slew of features that will make your driving easier and safer. If you're having trouble figuring out which GMC vehicle has this set of features, you can check out the digital model showroom or reach out to our qualified dealer with your question here. 
Liberty Buick GMC
If you're looking for safe GMC models, there's a dealership choice that's clear — Liberty Buick GMC. 
Finding the right vehicle to purchase can be nearly impossible, and if you're committed to finding one that you and your family will feel safe in the challenge is increased. 
The professionals at Liberty Buick have the expertise to show you a vehicle that has all the safety features you may want, and sometimes those with even more. And while the implementation of see-through A-pillars seems like a thing of the future, a dealership that will treat you right can be something that happens right now. 
Schedule a showing or appointment with Liberty Buick GMC today and get the top-of-the-line innovative safety measures you've always wanted.