Get Ready for the Hummer EV Supertruck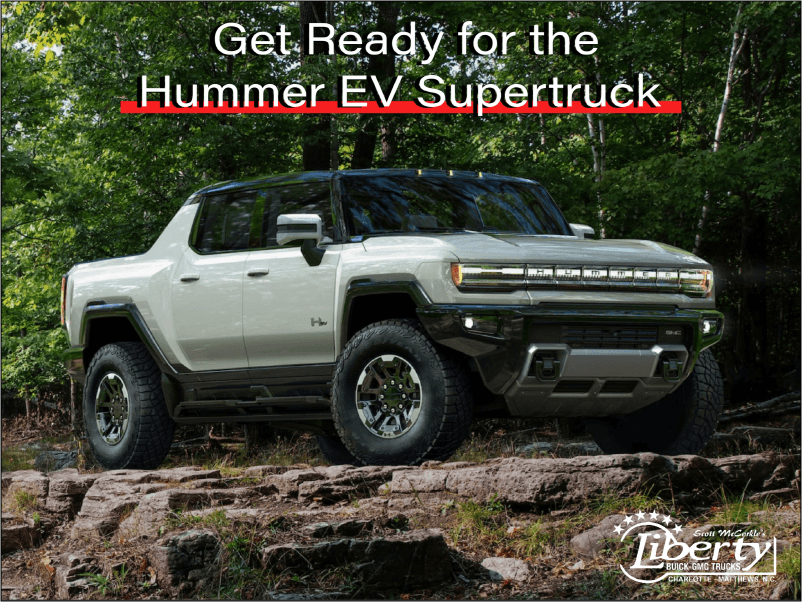 Ready or not, it's here: the 2022 Hummer EV Supertruck. The all-electric, futuristic combination of luxury trucks and a luxury SUV, with a strong focus on innovation and power, has arrived and it is quite impressive. With two new interiors with brilliant color blends, and plenty of upgrades and futuristic features, the Hummer EV is the talk of the town.
We finally have more information on the
2022 Hummer EV Supertruck
, such as the specially engineered tires, Ultravision for precise radar, and two spacious interior options. And, of course, the Hummer EV will be powered by GM's own Ultium batteries and Ultium Drive. These drive units give the vehicle off-road capabilities, in terms of power, which is a big part of the new Hummer's lure—it's tough and it is more than capable of getting dirty. Whether you are in either of the two driving modes, plan on driving over, under, through just about anything in front of you. And, with the 35" tires (specially designed for off-roading and withstanding punctures) keeping tracking is not an issue.
Tires Are the Foundation
Let's talk tires a minute. These are ground-breaking, 35-inch Goodyear Wrangler Territory tires and the rubber rules the road with these things. The premium rubber and expert design keep the entire vehicle balanced and smooth, even on those rough rides. Make no mistake, sure the Hummer EV is shiny, sleek, and cool but it is truly designed to tangle with the outdoors. It's not just the tires, every piece of material and metal and stitching throughout is durable, ready to interact. The foundation to any car ride is the ride itself. The 2022 Hummer EV Supertruck's foundation is smooth and balanced and built for the long haul.
Two Interiors 
When creating the Hummer EV, a strong focus was on the architecture of the machine. With the removable ceiling panels, to the expanded width of the frame, GM clearly had every intention of creating something that looked like the future. The vehicle has an "H" design distinctively placed inside and out, and it has a host of advanced technology such as hands-free driving and a variety of settings, such as one that allows the wheels to turn diagonally so the Hummer can quickly and easily get in and out of tight spaces.
Inside, you have two options: Lunar Shadow Interior—jet black and taupe color mixtures and bronze accents; or the Lunar Horizon Interior—jet black and light grey mixtures with bronze accents. Both options are futuristic and darker in color, and both are wonderful compliments to the high-definition lighting used throughout the interior and exterior of the vehicle. Seating from front to back is cushioned nicely so that the vehicle is naturally comfortable.
When the top is off, there is a great mix of the indoors with the outdoors and you might find yourself feeling those Jeep Wrangler vibes, but that feeling stops with the inside-outside aspect. Everything else is uniquely electric and clearly Hummer. Even amongst its kin, such as the Tesla models, the Hummer EV sticks out as less dystopian and more hopeful and cool. And really tough.
Exterior—the Future in Physical Form 
GM's new Supertruck has a wide stance so it easily takes on uneven, off-road conditions, but to make it more inviting, its build is rounded and smooth, and the light exterior shows its intent is for exhilaration and relaxation all at once. The elongated LED light running the width of the grill is where your eyes go first, then you see the fog lights below, on either side, peering at you: seemingly inviting and warning you both at once.
From the side to the back, the look is smooth as silk. The physique is not overly rounded, there are slight edges creating shadows and depth, but the curved nature of the design brings that warmth and sophistication. And even though it is big, the Hummer EV truck can move. Reports state it can go from 0-60 miles per hour in three seconds. It also has one of the fastest charging systems out so most of your time is spent on the road—or off the road.
Here are a few general features to the Hummer (though they may not be thought of as general for any other car brand):
• High-definition, full-color screens. There is a 12.3-inch diagonal "Driver Information Center" and a 13.4" center-mounted screen inside the vehicle, both reporting up-to-date information with ease.
• Power E-trunk. This "trunk" is actually located in the front of the car—remember, all-electric so no engine!—and is a perfect place to store the removable glass top (Infinity Roof) panels.
• Super Cruise capability and three years of service. Super Cruise is a system that allows you to drive completely hands-free. This is possible—and safe—due to high-definition maps and sensors that look out for you at all times. An important note: the driver does need to pay attention to the surroundings while driving hands-free, as the system will alert you when action needs to be taken.
• Ultra Vision with High Definition Surround Vision so you can see what is around you at all times.
• A Digital Key for easy access and remote start.
• Power rear drop glass.
• Six-function MultiPro Tailgate, much the same as the GMC Sierra, so you can use your Hummer truly as a truck when needed. (Honestly, the Supertruck would make a great work truck—think of the money saved on gas!).
Price and Availability 
Even though the 2022 Hummer EV's price is set at $112,595 (yes, you read that correctly), a bit pricy for the everyday driver, the cost does account for destination charges and GM has big plans for unleashing additional trim levels—with lower price tags—in the future.
There's plenty more to the Hummer EV Edition 1, but if you want one you're going to have to wait since they have already sold out. That's right, the 2022 Hummer truck sold out in just 10 minutes upon its presale. It's not clear how many models have sold, or how long it will take for the next batch of models to be ready for sale, but one thing is clear: they're a hit!
Reserving the New Hummer EV
Presently, the new Hummer EVs are being readied for the road and to be shipped to those lucky drivers who had a chance to
reserve one
. But, don't fret, you will have your chance too. Though current reservations for the Hummer Edition 1 are full, other trim levels are still available. Simply go to the GMC website, choose your preferred trim, provide the necessary information, and complete the reservation agreement. It's that easy. And for those of us too excited about driving an electric Hummer, our time will come. Stay in touch with Liberty Buick GMC for all the updates on the 2022 GMC Hummer EV.
At Liberty Buick GMC, we cannot wait to discuss the
all-new Hummer EV Supertruck
with our customers. There is plenty to talk about and, after a test drive or two, there will be even more. See you soon!