General Motors Doubles Down on All-Electric Future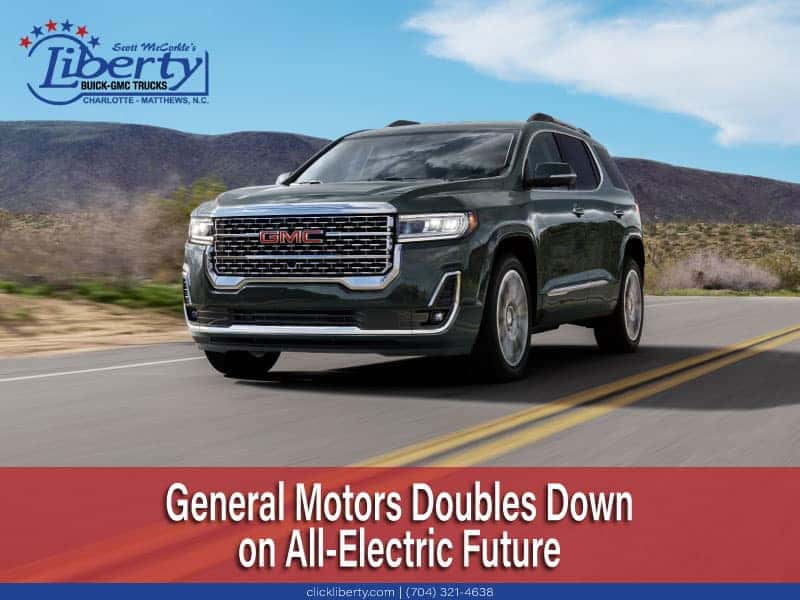 General Motors has made no secret about its plans for electric vehicles in the future. For several years, the auto manufacturer has released EV concepts and information for its four primary brands: GMC, Buick, Chevrolet, and Cadillac. 
Those plans have only strengthened in recent months. GM seems more convinced than ever that the future of the auto industry lies in all-electric vehicles that not only will benefit the environment but will ultimately cost less to drive. Part of the plan is to release 30 new EVs by the 2025 model year. Below, we'll look at GM's strategy.
GMC and Buick's upcoming EVs.
30 EVs by 2025 
If there were any doubts about GM's commitment to fighting climate change and raising the bar for the rest of the auto industry, those doubts were laid to rest in recent months. We now know that GM has big plans for electrification and is working hard to execute the plans within a relatively quick timeframe.
Before the COVID-19 pandemic hit, GM announced that it would invest $20 billion in electric and autonomous vehicles through 2025. That number has now changed to $27 billion. Not too long ago, the automaker had also said that it would be launching 20 new EVs by 2023, most of which would only be available for the China market, where there is a higher demand for EVs. However, GM recently announced a change of plans: It will release 30 EVs by 2025, and North Americans will have access to more than two-thirds of them. The GMC, Buick, Chevrolet, and Cadillac brands will all offer EVs. 
For GM, these plans stem from an overarching goal of becoming carbon-neutral by 2040. To accomplish this goal, the manufacturer will seek to cease production of all gasoline- and diesel-powered vehicles by 2035. GM also hopes to power all of its U.S. facilities with 100% renewable energy by 2030, along with its international facilities by 2035. 
Upcoming Buick/GMC EVs 
While there are many GM electric vehicles on the horizon, let's take a quick look at some of the upcoming EVs from the GMC and Buick brands:
GMC
For decades, the Hummer models were known as being mean, gas-guzzling machines. After being discontinued in 2010, GM is resurrecting Hummer as a GMC sub-brand for the 2022 model year. We'll see two forms of the all-new Hummer: a pickup truck (SUT) in 2022 and an SUV in 2023. Both models will be all-electric. And both models will be meaner than ever. 
Here's what we know so far about the Hummer EV SUT:
It will offer up to 1,000 horsepower.

The powertrain will include up to three electric motors. 

The truck will go about 350 miles on a charge.

It will get you to 60 mph in just three seconds. 
It appears that the Hummer EV SUT will be a dream for off-road enthusiasts. It will showcase the "Crab Walk" mode, a four-wheel-drive feature that allows you to drive diagonally. Drivers will also have the option of an adjustable air suspension and removable roof panels. The 2022 GMC Hummer EV SUT is set for release in late 2021. 
Buick 
According to public knowledge, there are at least two Buick electric vehicles in the works (though several other concepts are circulating). The Buick brand is making significant strides in China, where demand for EVs is much higher due to stricter emission standards. As of now, it's unclear whether Buick will release EVs in North America within the next couple of years or whether the EVs will debut in the China market and make their way to the States shortly after that. 
We do know that GM has unveiled the development of two electric SUVs. According to the automaker, one model will provide "more conventional crossover proportions." Expect this SUV to be geared toward families with an emphasis on interior space and cargo. The other Buick all-electric SUV is being developed with "a greater emphasis on form and athletic fashion." Along with more expressive proportions, this SUV is likely to cater more to single people and couples. 
Conclusion 
The future is electric. And no auto manufacturer is capitalizing on this prediction more than GM. By confidently setting ambitious goals for an all-electric lineup and carbon-neutral facilities, and by already taking actionable steps toward these goals, GM firmly establishes its place in the industry as a visionary automaker.
Only time will tell how the details of this master plan pan out. But it's safe to say that the future is bright.