End Of The Year Specials: 30% Off The 2017 Buick Encore and Buick Envision!
Liberty Buick GMC is preparing for the New Year with a huge end-of-year sales event. To ring in 2018, all vehicles are being reduced in price.  All month long, the 2017 Buick Encore and 2017 Buick Envision are 30 percent off. Wow, 30 percent off! Come visit Liberty Buick GMC this holiday season and test drive one of the Buick vehicles. This is the largest sales event of the entire year, thus the very best time to buy a new vehicle.
The End-Of-Year Sales Event really is all that. It is the very best sales event of the year because it is our last chance to sale vehicles and reach our goals before our slate is wiped clean. To make sure our lot is ready for 2018, we want to sell as many 2017 vehicles as possible. That's right, when you see dealerships advertising the classic, "Everything must go" and "All 2017's must go" it's because when 2018 rolls in, dealerships need to be prepared with new 2018 vehicles. To make sure our 2017 vehicles sell we are dropping prices as low as possible and making price the very best we can.
2017 Buick Envision
The Buick Envision is the perfect vehicle to help you kick off the start of the New Year. Whether your New Year's revolution is starting a family, creating a strong form of professionalism, or to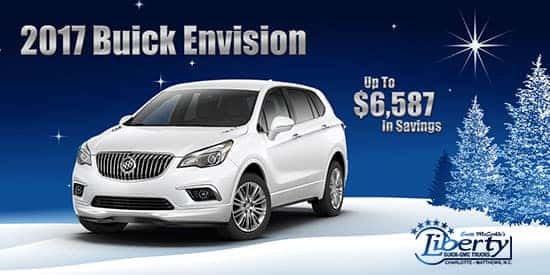 drive in style, the Buick Envision can help you. This spacious and safe vehicle is the perfect family vehicle. The large cabin and spacious second room, make it comfortable for a family and enjoy long rides. The vehicle also has heated front and rear seat to create a comfortable ride for everyone in the vehicle. The 2017 Buick Envision has been given a 5-star rating for overall safety. This is important for a vehicle transporting loved ones. The Buick Envision is also a luxurious and professional vehicle that is great for someone working in the business world or anyone trying to make a true fashion statement. The vehicle is equipped with a signature waterfall grille, chiseled front headlamps, and a premium leather interior.
This small SUV is stylish and fitting for most. The vehicle starts at around $34,065 but is currently 30 PERCENT OFF! The vehicle has a surprisingly good fuel economy with an estimated 29 miles per gallon, this is phenomenal for an SUV.  This cozy but spacious vehicle seats five people in the comfortable cabin. In addition, this vehicle has many outstanding qualities including:
Top Safety Pick+ – IIHS rated the Buick Envision super safe in 2016 because of the optional front crash prevention.
All-Wheel Drive– there is an optional package that includes All-Wheel Drive with an Active Twin Clutch.
High-Tech Interior Technology– The interior is equipped with technology to make every car ride a blast. This includes QuietTuning, High-Class seating, Available Wi-Fi, and digital touch screen.
2017 Buick Encore
The 2017 Buick Encore is a small luxurious SUV that is stylish. This vehicle is perfect for young professionals or anyone looking for a luxurious vehicle that is slightly bigger than a standard sedan vehicle. With the Buick Encore, you get the same classic luxury and feel as a sedan but a spacious interior and the bold exterior of an SUV.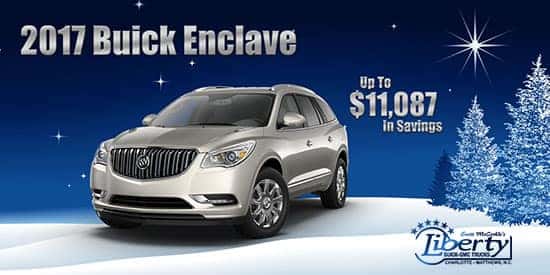 This sporty little SUV starts around $22,990 but at Liberty Buick GMC all Buick Encores are on sale for the end-of-year sales event. This means Encore vehicles are selling for as low as $20,238. That is a great deal and is only available through the end of December. This luxurious crossover seats five people and has an excellent fuel economy. The vehicle gets an average of 33 miles per gallon. That is well above average for an SUV styled car.
The Buick Encore has some awesome features that make this car very appealing. The interior of the 2017 Buick Envision is stunning and complete with luxurious style. To create this comfortable and elegant style the interior is built with premium materials including leather seats. For extra comfort and an even more enjoyable ride, the vehicle is equipped with a heated steering wheel and heated seats. One of the best parts about car rides are the conversations you have, whether you are using the Bluetooth calling system or having a conversation with your passenger, these conversations are valuable. In this busy world, having a few minutes to talk can be hard to find so conversations are made in the car. Buick engineers know how special these conversations are, so they have created a quiet tuning cabin. This blocks out, outside noise and keep your conversations thriving.
The exterior of the vehicle is professional and elegance. The vehicle has a very classy look and has a very dynamic shape. The vehicle is an SUV style while also being a small car that can make tight turns and fit easily into a compact parking space. The vehicle is equipped with sculpted LED lights and a power moonroof.
No matter, which Buick vehicle you are wishing for this year, Liberty Buick GMC has all vehicle on sale for this fantastic sales event. The Buick Envision and the Buick Encore are the two Buick vehicles with the greatest savings opportunity. For the entire month of December, these Buick vehicles are 30 percent off. Celebrate the season by stepping into a new vehicle. Come by Liberty Buick GMC and take a test drive in your favorite vehicle.