Employee Spotlight on Rocky Camilo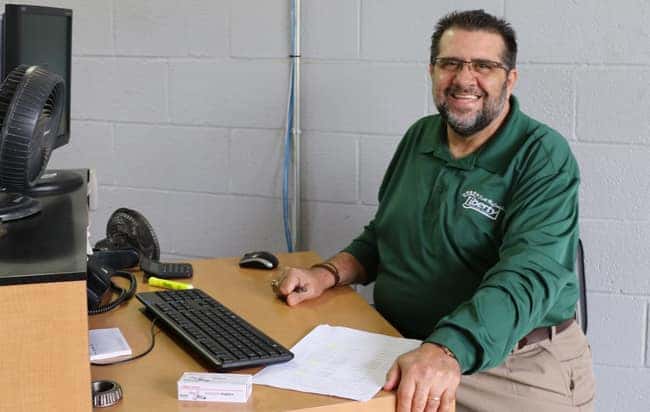 Rocky Camilo is the Service Director at Liberty Buick GMC. He has worked in the auto industry for over 30 years, where he started his journey in the sales department. After 13 years, he joined the service department where Rocky began working as an advisor and eventually became the Service Director. Rocky is a dedicated employee and has worked with the owner of Liberty Buick GMC, Scott McCorkle, for 18 years.
As Service Director, Rocky oversees the entire service department. With a total of four service advisors and twelve technicians to manage, Rocky's job is to ensure that all aspects of servicing vehicles is performed correctly and is compliant with ever-changing vehicle regulations. Most of his employees have been working with him for over ten years and Rocky takes pride in the fact that the service department has very little employee turnover.
In November 2016, Rocky was diagnosed with cancer. Unable to work for eight months, he only recently returned to Liberty Buick GMC. He is very thankful for his family at Liberty Buick GMC and the support they provided during his illness.
"I am just amazed at the support I have had from Mr. McCorkle and the whole Liberty family through my tough times," Rocky said. "I feel like I had Mr. McCorkle's support as both an employer and friend. "
"Mr. McCorkle never permanently replaced me even though I was out for eight months," Rocky explained. "He always assured me that my job at Liberty Buick GMC was secure."
It was certainly a challenge coming back to work after eight months of battling cancer, but Rocky said everyone is working with him to get him back into the flow of the department.
"Mentally, being back feels amazing. I feel like I haven't been able to intellectually participate and it's nice to use my brain again," said Rocky.
Anyone who knows Rocky, customers or staff, will tell you that Rocky truly has a gift for customer service. True to Liberty Buick GMC's ethics, Rocky loves being able to interact with his customers to guarantee that everyone is taken care of properly.  He has a gift for remembering names, family members and, of course, information about cars.
To do this, Rocky delivers equal care to all of his customers, and strives to establish a personal relationship with everyone that comes through the Liberty doors. Once a customer works with Rocky, they become one of his friends.
One of Rocky's returning customers had nothing but praise to share about Rocky. "Every time I visit the service department, Rocky always remembers me. He asks about my children and even remembers them by name. It's that extra effort and care from their employees that is the reason I will always go to Liberty Buick GMC."
Rocky, while still on the road to recovery, can be found cheerful and eager to take on the day in Liberty Buick GMC's Service Department. "Every day, I'm truly happy to be back at Liberty to see our amazing team and work with our amazing customers."