Conquering the Buick Stigma: The Redefinition of One of America's Oldest Automobile Brands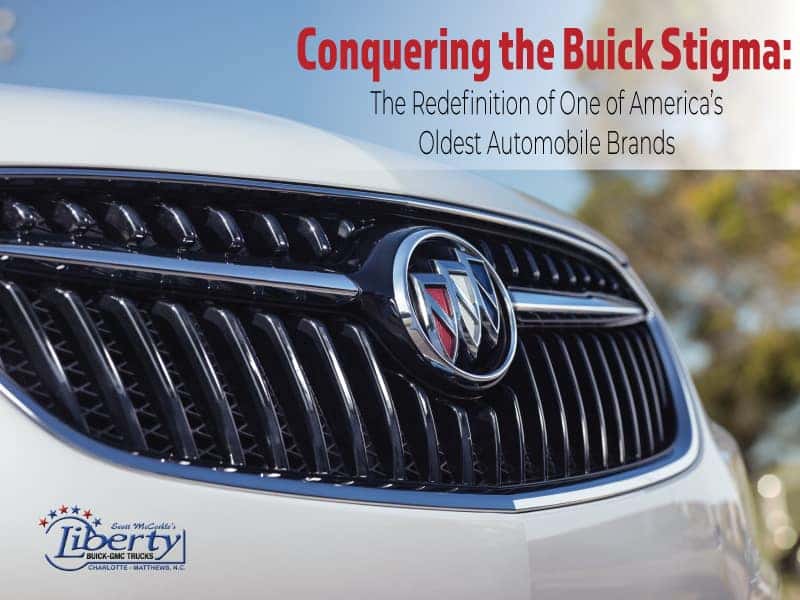 Not that long ago, "Buick" seemed synonymous with "old people's car." If you heard the word spoken in conversation, you might have thought of your grandparents driving a huge sedan to the Bingo center. Perhaps you would have pictured uber-cushioned seats that resembled more of a sofa than they did automobile seats.
In all fairness, the stigma was earned. For decades, Buick automobiles were among the most popular for Americans 65 and older. While this led to consistent sales, the stigma significantly harmed Buick's potential for reaching other demographics and expanding their offerings.
Now, we live in a new age. And GM has transformed the Buick brand in ways perhaps nobody could have predicted. By taking steps like redesigning vehicles, replacing certain models with new ones, and implementing brilliant re-branding tactics, GM has made Buick a staunch competitor in the younger demographic. Let's take a brief look at how this has unfolded:
Lineup and Design Overhauls
There's no more practical way to redefine an automobile brand than by transforming your vehicles. And that's precisely what Buick has done, and it's done it without compromising the "refined luxury" it is known for. Perhaps the most impactful change for Buick has been to taper off the production of sedans and beef up their offerings of SUVs and crossovers.
For example, it discontinued the full-size Lucerne in 2011 and made significant updates to the LaCrosse in that same year. Many SUVs and crossovers have been added to the Buick lineup since then, and the LaCrosse was discontinued after the 2019 model year. As of 2021, the manufacturer only produces SUVs and crossovers. And it seems to be working. The Buick Encore, Encore GX, Envision, and Enclave are attracting younger families and professionals through exceptional looks, performance, reliability, and pricing.
It's also worth mentioning that Buick ceased using its brand name on all its vehicles beginning in the 2019 model year, opting to rely solely on its tri-shield logo for brand recognition. This bold step was preceded by careful thought and research. In 2017, the manufacturer conducted surveys in which 73% of the respondents were able to identify the brand through the logo alone. Omitting the "Buick" badge has also helped to create consistency among the manufacturer's international offerings.
Finding the Right Spot
In the 2010s, Buick began to recognize the rising trend of SUVs over sedans. There was a shift happening, and the manufacturer wasn't going to miss out. Thus, it started developing hot new SUVs and crossovers to meet market demand and positioned itself as the best new thing. Buick also began to fill the gap between luxury and mainstream, which no other manufacturer had been able to fill with any kind of notable success.
Much of the success of Buick's transformation can be attributed to marketing tactics. By now, you've probably heard the "That's a Buick?!" catchphrase many times. It's hard to imagine a more perfect tag line for an automobile manufacturer who is trying to conquer the "old people's car" stigma. Perhaps the most impactful commercial put out by Buick was called "Mistaken Identity." Airing in 2019, this commercial showed a group of young people mistaking one Buick vehicle for another and featured the song "It's Alright" by indie-pop duo Matt & Kim. Another successful commercial ran in a Super Bowl slot in 2017; it too was aimed at the younger demographic and featured NFL MVP Cam Newton and supermodel Miranda Kerr.
Current and Future Outlook
In recent years, it seems that GM has succeeded in redefining the Buick brand. More and more young professionals are switching to Buick SUVs and crossovers. What's more, almost half of all new Buick converts express brand loyalty by trading in their used Buicks for newer models, and dealers have reported a rising trend of people trading in Infiniti, Lexus, and other luxury models for Buick's latest models.
The future looks bright for Buick. The manufacturer continues to produce safe, reliable, comfortable, and attractive models that pack all the performance and technology you could ask for in a vehicle. If Buick stays on top of its game (and we have no reason to doubt it will), then its "attainable luxury" will keep attracting buyers both young and old.
Conclusion
Buicks have always been known for their refined luxury. That quality remains in every Buick model produced today. However, times have drastically changed, and one of America's oldest and most respected automobile brands has risen to the challenge. Forget everything you used to think about Buick vehicles. Older adults may still choose to buy Buicks, but so are younger ones. The stigma is a thing of the past, and the redefined Buick is the future.
If you would like to see and experience more of what the Buick SUVs and crossovers have to offer, give Liberty Buick GMC a call. We would love to schedule a test drive on any or all of our new Encore, Encore GX, Envision, and Enclave models!