Coming Soon … New Canyon AT4X at Liberty Buick GMC
The GMC Canyon has been the high-performing off-roading truck for several years. The original Canyon hit the market in 2004 as a replacement for the Sonoma. While it was a bit larger, the Canyon was still committed to the compact power that the Sonoma offered.
It's been a long time since 2004, and the Canyon has had a number of models and trims hit the market since then. The announcement of the 2023 GMC Canyon AT4X promises to be the most impressive off-roading truck that the automotive industry has seen in quite some time. That promise to off-roading is what has led some to coin the 2023 Canyon the "Official Vehicle of Nowhere."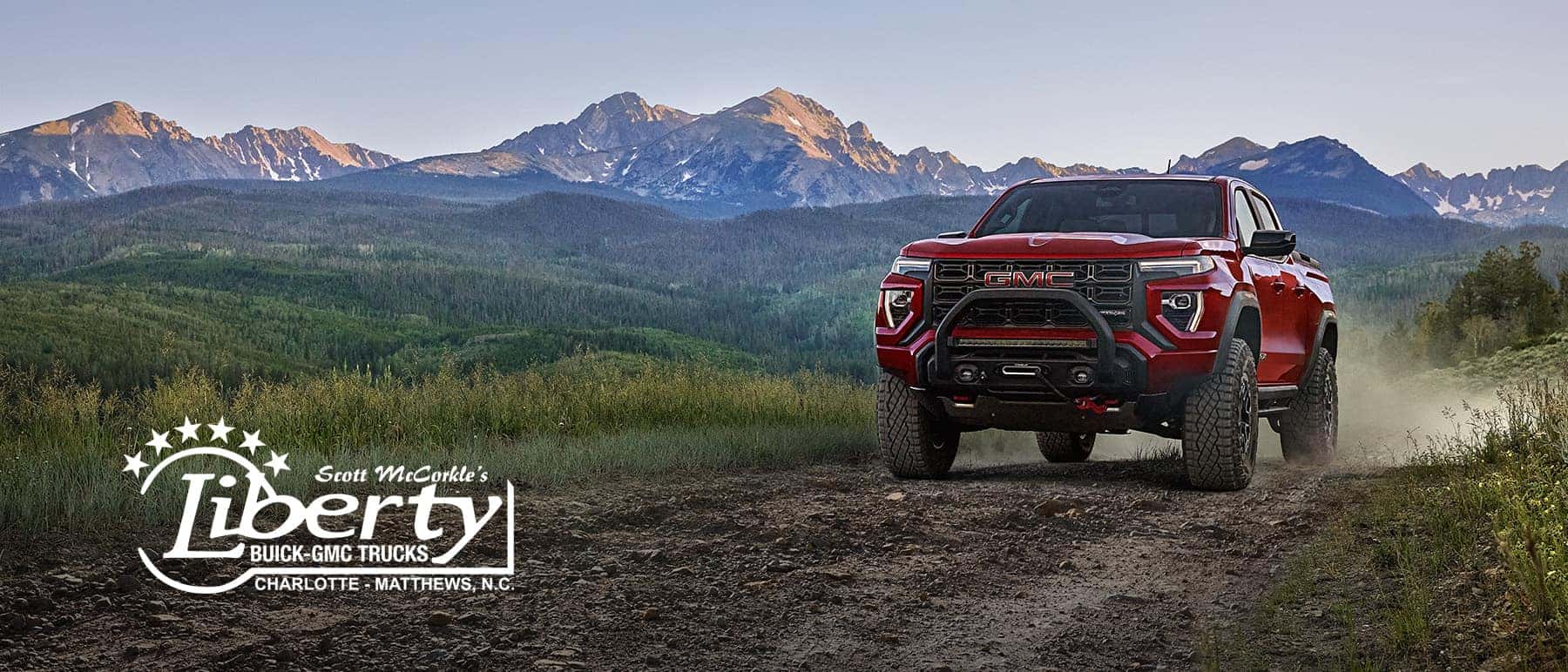 Much like how the GMC Canyon has been around as a staple truck, Liberty Buick GMC has continually delivered quality service and provided car buyers with the best car buying experience in Charlotte. If you've had your eye on the Canyon, or any other GMC 2023 models, it's the place to go. So, take a look at some of their options here and reserve your new truck early.
What's New in the Canyon AT4X
What's setting this year's Canyon AT4X apart from previous models and other trucks on the market? The answer is hard to capture in a sentence because the Canyon has implemented so many new design features. We'll highlight a few of the best features in this article.
A Build Made For Off-Roading
The Canyon is designed around adventure, making it prepared to take on the toughest off-roading trails. Most mid-size trucks aren't nearly as equipped as the new Canyon AT4X when it comes to rugged off-roading. GM introduced the Multimatic™ DSSV dampers, powered by AT4X feature dynamic spool valves for extended off-road applications. This is a first for the Canyon and is one of the many features that sets the truck apart.
The Canyon also comes with an amazing off-roading chassis package. It has a 2" factory lift and a 3.5" widened track. Both give the GMC Canyon increased clearance and expanded ability off-road.
And with any off-roading vehicle, it's important that it's protected from any obstacles on the trail. The Canyon protects its underside by utilizing a large front heavy-duty skid plating that employs a larger transfer case shield, and it also includes rocker protectors. So, you'll be sure that your Canyon is protected, letting you focus on your off-roading experience, and not wincing at every sound that would spell trouble for other trucks.
An Impressive Interior
GMC knows that the perfect truck needs a comfortable interior for its driver and features that make driving easy. The Canyon AT4X has introduced some innovative technologies to provide that level of comfort and ease, resulting in a very cozy interior. Take, for example, the Canyon AT4X's wide range of camera views, with over 10 available views the driver is in complete control.
The cameras aren't only for the view, they maximize the off-roading performance we touched on earlier. Front and rear body waterproof cameras also have a self-cleaning feature, allowing you to tackle any terrain with peak visibility. Other camera views offer a comprehensive view of your surroundings and underneath your truck, letting you examine the terrain while you adventure.
GMC Canyon utilizes enhanced technology to increase performance. A digital display panel features three options, Terrain, Overlanding, and Baja modes. All of which are fine-tuned for a variety of terrain types.
Canyon AT4X owners can expect a new level of luxury in the truck's interior. A stylish interior gives you a feeling of comfort that's hard to find in most modern trucks. And while the Canyon is a "mid-size" truck, it can easily fit five passengers. Sport-perforated leather seats span the entire cabin, and the backseat offers more leg and headroom than most modern full-size trucks.
If you want more information or brochures about the new GMC Canyon AT4X come back to the Liberty Buick GMC's website and check our research pages.  The updates on features and availability will be there first.
A Bold, New Look
The Canyon has taken a bold approach in every way and it's evident in the truck's exterior redesign. The Canyon AT4X is bigger and leans into a powerful design. The Canyon features a redesigned grille and new headlamps, 17″ wheels, and off-roading tires that are larger than previous models.
Power Under the Hood
All of the features listed above are only as effective as the underlying engine of the vehicle. In the Canyon, you'll find a high-torque, off-road optimized 2.7L engine that provides 310 horsepower. The truck also offers a best-in-class torque of 430 lb-ft.
An engine of that size and power offers greater towing ability at maximum weights.  The Canyon AT4X is capable of towing up to 7,700 lbs, a considerable load, especially when you consider that it falls into a "mid-size" truck classification.
 Release Date
After detailing a new vehicle with a huge list of impressive features, the natural next question is, when and where can I get it?
As for when you can get the Canyon — The Canyon AT4X will be available in the Spring of 2023, so consumers can anticipate seeing the model out on the roads, and the trails, from then on out. Though pre-orders on the model are all sold out, which means that getting your hands on a Canyon AT4X may be difficult. We recommend reaching out to Liberty Buick GMC's sales department to be put on a waiting list.
Other GMC News To Look Forward To
While the Canyon AT4X has a lot to be excited about, it isn't the only impactful news GMC has for 2023. The brand has continued to innovate, as evidenced in the overhaul brought to the Canyon, and they've brought that innovation to many of their other models.
Liberty Buick GMC offers a research page and a blog that keeps you up to date on all the GMC news that's continually changing the automotive industry. So, please continue to peek into the future with Liberty Buick GMC.