Celebrate the 4th of July in Style with the New Buick Cascada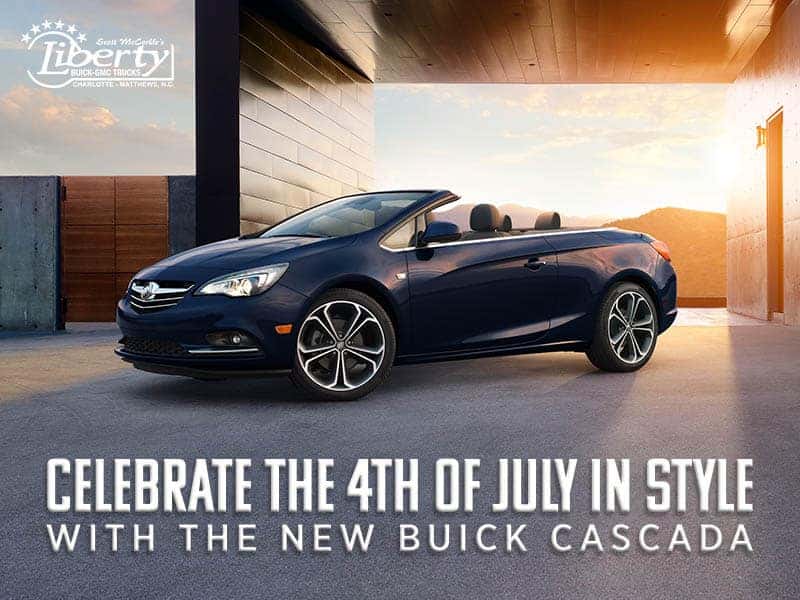 There's just something about riding in a convertible that spurs a feeling of freedom. Whether it's the wind whipping through your hair, or the presence of a beautifully open sky above, there is no better way to celebrate the 4th of July than driving in a brand-new Buick Cascada. What makes the Cascada your best pick for a classy car with a convertible top is that Buick manages to add an extra element of quality. The company's only version of a drop-top effortlessly provides a look and feel (mostly due to its roomy interior and high-powered engine) of stability and control. In the Cascada you are driving something that will last, not only in performance, but in looks as well. And this reassurance and reliability make the Buick Cascada your best choice for fun, summer drives.
A Brief History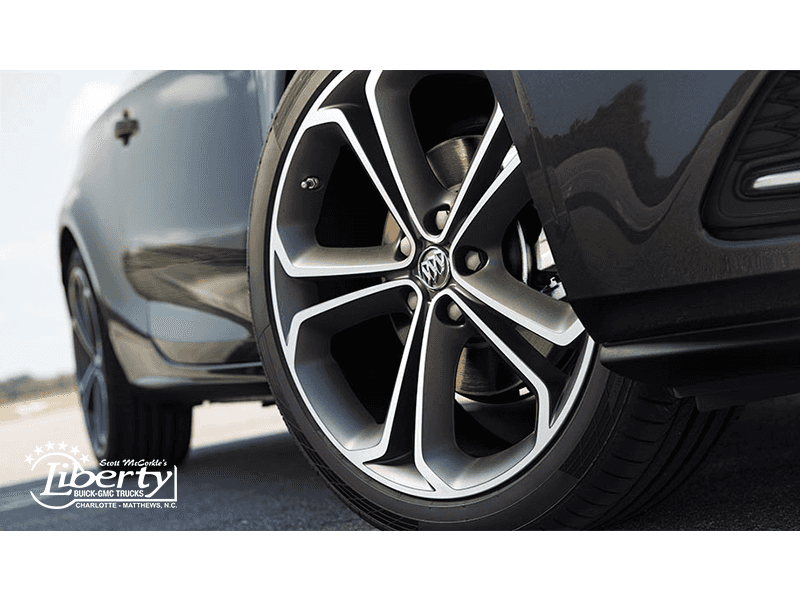 The Cascada was first produced in America in 2016. This is the first convertible made by the Buick Company since 1991, and focuses more on personal luxury and performance. The goal was to create a modern convertible capable of maneuvering and operating at much higher levels than most other similar models on the market. And because of its expert craftsmanship, the Buick Cascada has already, within the span of roughly two years, become a direct competitor to other top-end luxury convertibles, such as the BMW 4-Series and the Audi A-3 Cabriolet.
Take a Closer Look
The intricate interior design, plus Buick's signature line-work around the exterior, create one smooth-looking sedan. And due to its well-placed curves and edges, the Cascada looks smaller than what it really is. Its mass weighs in at something like 4,000 pounds, and once you get moving down the road this weightiness pays in. You feel secure, grounded to the surface yet at the same time zooming down the road. The sturdy frame also keeps the Cascada from any tire wiggling or body shaking when moving at high speeds. And that's a big deal in a convertible, because when you own a vehicle that has a drop-top, you end up punching it a bit.
Under the hood of the Buick Cascada is a 1.6-liter turbocharged inline-4 engine with 200-horsepower and 207 pound-feet of torque. That's quite a mouthful, and quite a hood full of power! And its 6-speed automatic transmission is perfect for summer night cruises to go watch fireworks or even a stroll down some old country roads.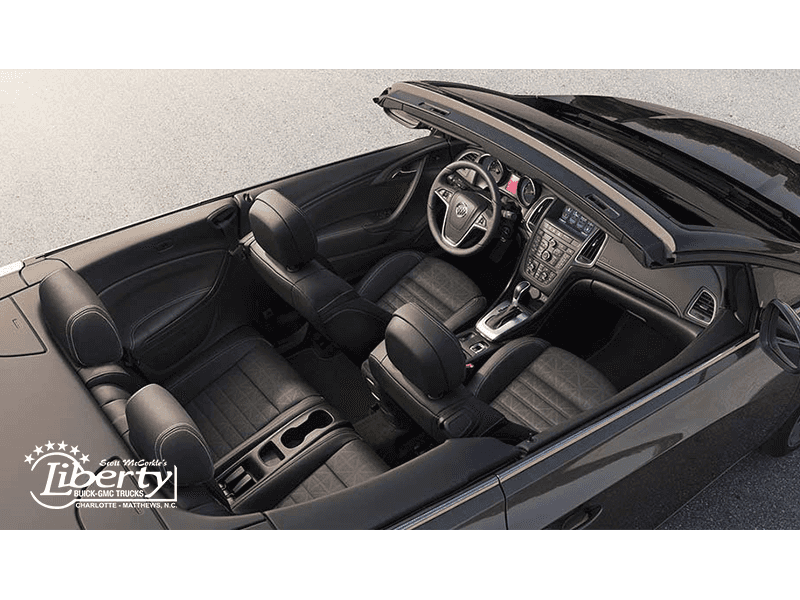 The interior of the Cascada is roomy, comfortable, and luxurious. The two front seats offer plenty of room and an elevated position. For long trips the plush cushions provide maximum support, and because the seats are positioned a bit higher than most other convertibles, you can see the road easier in front of you. The back seats are surprisingly comfy and roomy too, even if there isn't as much room back there as in the front. And operating the convertible top is quick and easy. Simply pull the lever on the console and the top will open or close within 17 seconds. And you can do this while driving at 31 miles-per-hour or less. There is also a single lever to roll up or down all four windows at once in case you get caught in a quick summer rain and need fast cover.
Some impressive features to the Buick Cascada include leather-bound trim, a heated steering wheel, remote start, rear-parking sensors, eight-way power front seats, and a rearview camera. Upgrade to the Premium trim level and there's even more to celebrate with power-collision warning, lane-departure warning, front and rear parking sensors, and automatic headlights. The Cascada's front panel includes a 7.0-inch display screen that holds, among many other impressive devices, Buick's famous Infotainment System. It also employs 4G LTE with a built-in Wi-Fi hotspot, text-message alerts, and Siri Eyes Free compatibility.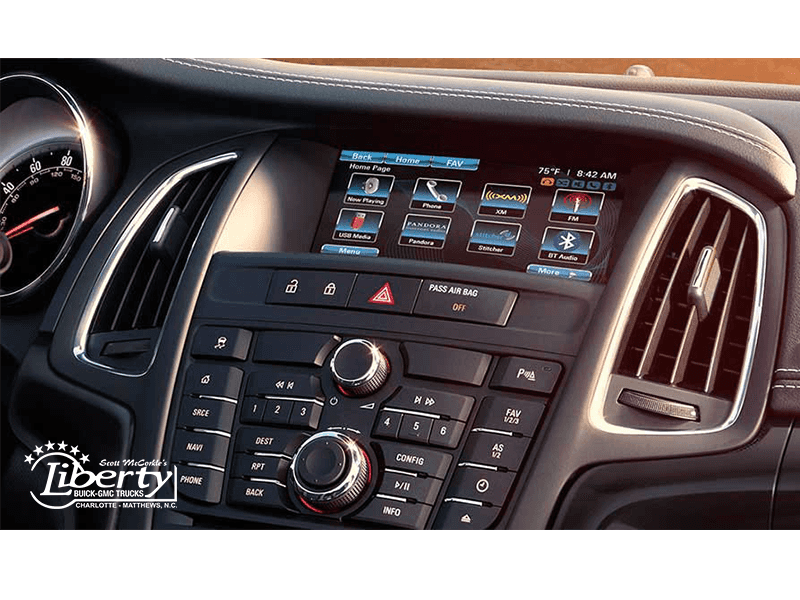 The newest color options for the Buick Cascada include Sport Red, Blue Metallic, Flip Chip Silver Metallic, Deep Sky Metallic, Toasted Coconut Metallic, Summit White, Ebony Twilight, and Smoke Pearl Metallic. Obviously plenty of options to choose from, and all showcase the excellent line-work and overall shape of the sporty sedan.
Top Reasons to Drive a Convertible
A fun 4th of July spin around town to find a cool parking spot to watch the fireworks is perfect in a convertible. But there are even more reasons to drive with the top down. Here are just a few:
It's easy. Especially in the Buick Cascada. It doesn't take much to drop the top or even pull it back up. As previously mentioned, in the Cascada it only takes a quick pull of one easy-to-find lever to move the top in either direction. And you don't have to be at a complete standstill, which is nice if you change moods or experience an abrupt weather shift.
You can see better. That's right, when the top is down in the Cascada you don't have to worry that pesky blind spot created from the roof support column in the back. This means easier parking, fast lane changes, and a more relaxed driving experience.
Extra room. For the passenger in the Cascada, once the top is down, it is encouraged to lean your seat back and stretch out. Go ahead, throw those hands in the air. And for the driver, enjoy the extra headroom. Not that the Cascada lacks at all in this area when the top is on, but now your free to sit as tall as you like.
It's an easy way to have fun. You can't deny it, there is just something about moving in a vehicle with the air coming at you and sweeping across and through the interior of the car. It is exhilarating, safe, and a quick way to place anyone in a good mood.
So, you are ready to enjoy the 4th of July in your new Buick Cascada. But, just before the big day arrives, here are a few safety tips to make sure your holiday is perfect.
Wear sunglasses. It may go without saying, but sunglasses are a must in a convertible. The glare, the wind…you get it.
Bring a hat. Always have a hat somewhere in the car, even if you don't plan on wearing it. You never know when the sun will break out of the clouds or the wind will pick up. Having some way to combat the effects of both makes driving easier.
Never leave your Cascada parked with the top down. Besides the possibility of it being robbed or vandalized, you don't want the sun beating down on your plush seats and dash for hours at a time while you are not moving. Plus, you never know when a bird will fly over and…well, you know.
Have a jacket and gloves at the ready. It might be sunny and hot this 4th of July when you take off, but the weather can change at any moment. It's nice to have layers and gloves available for you and your passengers just in case a sudden chill moves through the air.
Regardless of where you plan to go this Independence Day, make your journey in a brand-new Buick Cascada. You will be glad you did.
-Andrae Bergeron