Car Theft On The Rise: Protecting Your GMC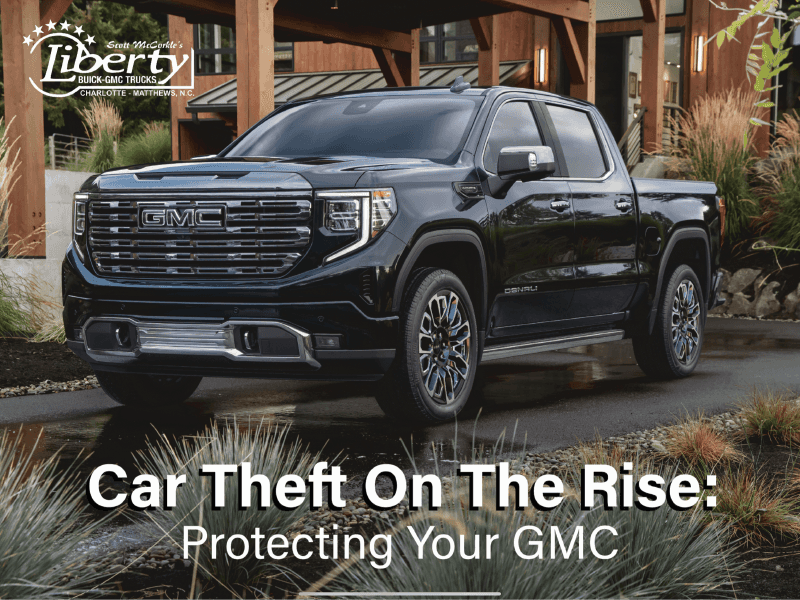 Car theft has seen a sharp increase over the past few years and more than ever people are looking for ways to keep their precious vehicles safe. 2020 marked a peak in car theft and early measurements from the 2022 calendar year have signaled that 2022 is poised to pass its predecessors in rates of car theft.  
Some counties across the country have reported upwards of an 80% increase in car theft compared to 2021.
Even more worrying, the trend shows no sign of stopping, with many analysts predicting a continuation in car thefts as time progresses.
There is, however, some good news. You don't have to wait for something terrible to happen to you or your car, you can take some steps to ensure that your vehicle is protected, giving you peace of mind and preventing your vehicle from being one of the many that are contributing to the car theft increase. 
Furthermore, car manufacturers are more cognizant than ever of the importance of vehicle protection. Manufacturers like GMC have worked hard to improve safety and security technology, designed to protect your investment. And dealerships like Liberty Buick GMC are ready to provide you with a secure vehicle, at a deal. So, as you read about our tips to keep your vehicle safe, consider buying a model with the technological suite that's built for just that.
Tips and Habits That Will Protect Your Car
When you're away from your car, you may feel a sense of anxiety. Few investments that cost as much as a vehicle are left outside for all to see, and for those unlucky, for anyone to tamper with. Here are some ways to limit theft when you're not around.
Lock Your Doors
While it may seem obvious, you'd be surprised at the sheer rate of car thefts that occur because the vehicle is unlocked. Very few car thefts involve the use of force, oftentimes they are a result of an individual simply walking around and checking door handles. As a rule of thumb, cars that are locked are much less likely to be stolen from than those that are unlocked. So, even if you feel like you're certain your vehicle is locked, it's a good idea to get into the habit of double-checking.
Keep Your Keys Out of An Unattended Car 
Leaving keys in the ignition, inside a locked vehicle, or a spare key inside your glovebox are all incentives to would-be car theft perpetrators. Whether the vehicle is running, or there's a small indicator that a spare may be in the glove box, you're much more likely to experience theft and even outright carjacking, given the ease of access.
Close Your Windows
Much like locking your doors, this tip may seem obvious, but open windows drive a large portion of cases of car theft. Any amount of opening in a window leaves an opportunity for theft. You may be surprised at just how little the window needs to be open for someone to take advantage of it. Making another habit of checking windows is a great way to improve car security. 
Don't Leave Valuable Belongings In Your Car 
If valuables are visible in your car, the chances of car theft are much more likely. It's important to remove anything of value, and, if you have nowhere to move the valuables, obscure them as much as possible from any potential passerby's sight.
Devices That Enhance Security
If you're already practicing the habits that increase vehicle security but still have concerns, there are additional devices and technology you can invest in that will further protect your ride. As technology advances and changes are made to existing key FOBS, customers may have some hesitations about potential hacks into their remote systems. Here are some devices to close those gaps that exist in some modern vehicles' digital locking systems.
Steering Wheel Brake Locks
While steering wheel brake locks are often considered a dated technology, there's been an increase in their utilization in recent years. The rapid digitization of modern vehicle locking systems has left many wanting a more tangible sense of security. Enter the steering wheel brake lock — a device that renders your car immobile for anyone without a key to the lock itself. The designs range from colorful and in your face, and sleek and unrecognizable. So, if you're looking for a display that deters or a lock that will surprise any potential vehicle theft, you have options. 
Wheel Locks 
Wheel locks have historically been deployed as punitive measures against parking violators, so this recommendation may come as a bit of a surprise. Still, there are some wheel locks designed for drivers, meant to deter any level of theft, and also give the owner an extra sense of security. Various models exist, so you'll be sure to find one that fits your vehicle. Though a commonly reported drawback is the need to get on the ground in between locking the wheel lock. Though if you have no qualms about getting down, it may be easier to operate than the steering wheel lock.
GPS Systems
The GPS system is one of the most iconic choices when it comes to car security. GPS systems have seen huge advancements in the past few years, with modern ones coming equipped with the ability to read vehicle diagnostics, calculate fuel efficiency, and provide real-time movements. If your car was ever stolen, you would know exactly where it was at every moment. Needless to say, a reliable GPS system ensures that you'll have the necessary knowledge about your ride, no matter what a bad day brings.
GMC's Security Systems
You can employ countless safety measures to protect your vehicle but one of the deciding factors in vehicle safety is the foundation you're building on. Being a member of the GMC family guarantees you have a strong base of vehicle security, with a number of features GMC uses to keep your vehicle safe.
Movement Based Systems are created to detect and alert you when a door is opened or a window is broken. Stopping a theft as it's occurring.
Ignition Systems shut off fuel supply if they detect an unknown key. Something that's made to stop hackers or those taking advantage of new technology.
OnStar Tracking Systems are designed to keep you updated on the location of any missing vehicle.
So, if your next choice of vehicle is in the GMC lineup, you'll have some added confidence when it comes to the security around your investment. 
Liberty Buick GMC – The Safe and Secure Choice 
And while we can write and discuss ways to increase the safety and security of your vehicle, the answer to which dealership is the safe and secure choice is much more simple — Liberty Buick GMC is well equipped to give you the best car buying experience possible. Understanding that joining the GMC family is much more than buying a new car. 
It's joining a brand that's employed every element of technology to maximize pleasure, safety, and style in modern vehicles. If you're interested in taking a look at what Liberty Buick GMC has to offer, consider scheduling an appointment or viewing their digital model showroom. Both are options that will let you see the GMC lineup up close and in considerable detail. 
 So, unlike double checking your doors locked or your windows or up, you can ride off the dealership without a second thought, knowing you went with the dealership with expertise and a track record to prove it.