Buying a Car at the End of the Year: Why the Pros Outweigh the Cons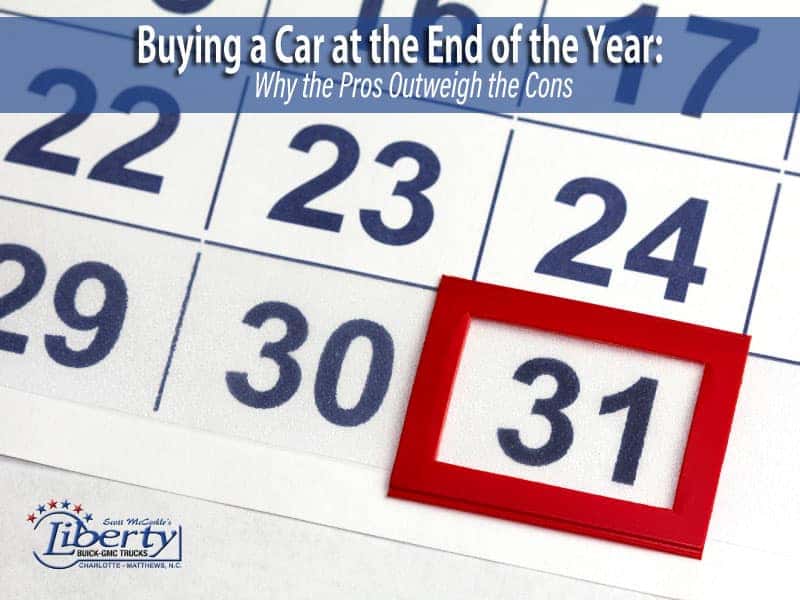 If you're in the market for a new car, chances are you've heard or read about how the end of the year is the optimal time to buy. And it's true. There are several times throughout the year that you'll be able to find some legitimate deals, discounts, and incentives at car dealerships across the country. But you probably won't find any that match the savings opportunities you'll see in late December. 
However, there are pros and cons to almost every decision in life, and buying a vehicle is no different. With great end-of-year savings often come a few drawbacks. 
Our dealership thrives on helping each of our customers find a vehicle that meets their wants, needs, and budget. That's why we've provided some information and advice about weighing the pros and cons of buying at the end of the year:
The Pros
A lot of things happen at car dealerships as the end of each year approaches. Typically, in late summer or fall, the first vehicles from the next model year start to become available to dealerships across the country. To dealers, selling next year's model is almost always easier than selling last year's model. This means that they are often more willing to cut deals on a wide range of vehicles from the previous model year. As you can imagine, the closer it gets to the end of the year, the deeper the savings opportunities grow for car buyers. 
October is when the discounts really start to bloom. Then, November comes, along with the Black Friday holiday, which brings significant sales and promotions in its own right. 
December? Well, you get the picture. At this point, dealers are quite eager to make room in their lots for next year's models, so the discounts can get deep. A lot of the time, even car manufacturers offer incentives (e.g., cashback offers, great lease deals, 0% interest, etc.) to help dealers clear out their lots for new inventory. 
Another factor to consider is that salespeople are required to meet monthly, quarterly, and yearly sales quotas. By the end of December, all of these quotas come together. If a salesperson has yet to satisfy their quota(s), they will be far more likely to offer you impressive discounts and incentives. 
The benefits of buying a 2020 model right now are quite clear. Simply put, you get a brand new vehicle at a significantly lower price. And if you don't care about certain upgrades that may come with next year's model, it very well might be the best decision you could make. 
The Cons 
There are some disadvantages to buying a vehicle from the previous model year worth considering before you make your decision. First, your vehicle will be a year old when you drive it off the lot. Yes, it will be brand new to you, but this could affect your resale value down the road. For example, if you are trying to choose between a discounted 2020 model and a 2021 model that isn't discounted, consider this: Even though both vehicles are brand new and sitting on the lot next to each other, years from now, buyers will think of your 2020 vehicle as a year older, which will impact the resale value. This depreciation could consume some of the savings you gained from purchasing the discounted 2020 model. 
Also, buying a vehicle at the end of the model year means that you might miss out on new technology and features that come with the newer model. Moreover, if the vehicle is undergoing a complete redesign for the new model year, the differences between the vehicles will be far more drastic, and you could be leaving the lot with a vehicle that's design is already outdated.
The Verdict 
The end of the year is a great time to buy a vehicle. If you choose a 2020 model, you'll likely get deep discounts and incentives thrown into the mix. As long as you don't care about missing out on any upgrades and features offered by the 2021 model, going with the 2020 model is your best bet. This is also the case if you plan to own the vehicle for many years to come because the depreciation probably won't make much of a difference to you. Furthermore, since it's the end of the year, you might not have quite as many vehicles to choose from, though that will likely only be a problem if you have a specific make and model in mind. 
If you typically buy or lease a new vehicle every two to three years, then you might consider buying the 2021 model to get all of the newest technology and features. And since it's the end of the year, you may still be able to get a deal, even on a new model.
Are you interested in seeing a wide selection of 2020 and 2021 models? Schedule an appointment or come by Liberty Buick GMC to see what we have and inquire about the top-notch deals going on here!