Buy the Car You Can Afford!
The 2022/2023 inflation woes have weighed heavily on the mind of the modern consumer, causing many to press pause on the act of buying a new car. But, what about those who don't have the luxury of 'waiting out the woes'? The truth is, when your old car won't make it any longer, there are options for buying—even in these turbulent times.
The last thing anyone wants to do when feeling a financial crunch or entering a period of financial uncertainty—whether on an individual, national, or even global scale—is to make a big-ticket purchase. Like buying a car. Luckily, there are plenty of ways to make such a purchase and keep that peace of mind; it simply takes a bit of know-how and maneuverability on the part of the purchaser.
The Know-How
Here are the most important things to consider before you venture into the car-buying market:
Buy from a dealer with low staff turnover. This will take a little research, but finding a place with high retention is crucial because a dealership that maintains its staff puts its people first. And if the staff feels trusted and comfortable, they want you to feel the same—and what is the easiest way to make a potential customer feel safe and comfortable? Operating with honesty and offering a reasonable price. The Liberty Buick GMC sales staff has been at the dealership for over two decades, and for good reason.
In this market, you need to search for a dealer that isn't adding "special fees" to their new cars. Kia, for example, is marking up all their new Sorento and Telluride models during this low-inventory crunch. It's legal but it might not win them customers for life. At Liberty Buick GMC, Scott McCorkle refuses to add special, "low-inventory" fees to any of his models. All pricing is capped at MSRP—always.
Read the reviews! Any dealership worth visiting has Google reviews. For example, Liberty Buick GMC has excellent reviews for its sales team and its service team. This is important because not only do you want to grasp a glance at how the sales team works, but the level of expertise in the service department is just as important. Think about it: If a dealership has a strong sales team yet its service department is lacking, it promotes the idea that they want to make quick money and forget about the customer once she walks off the sales floor.
At Liberty Buick GMC, we pride ourselves on both sales and service. Here are a few of our reviews (we have nearly 2,000):
Hayley Boyce writes: "If I could give them 6+ stars I would! From the very minute we met our salesman, Arte, to the second we drove away with our new truck, we had the best and smoothest experience! Brad and Arte were both so helpful and kind and we are already looking forward to purchasing our next vehicle with them in the future."
Angel Marie posted, "Easiest buying experience ever! I am thankful for the flexibility of management to communicate via text before I went in. It allowed me to focus on my other obligations I had during the day without missing out on the vehicle I wanted. My drive to the dealership was a little over 3 hours away and very worth it! Every staff member who assisted me was extremely kind and welcoming especially my salesman Rusty! Thank you, I look forward to doing business in the future."
Our service department got a nod from Stefen Cordova and his story: "I was traveling from FL and when arriving in Charlotte, my brakes gave out on me. I called multiple GM dealers and no one was helpful. Expect Liberty Buick GMC. The service dept was super helpful and did everything they could to make sure my brakes were fixed the same day. Not to mention, it's 4th of July weekend so they were already busy. The exceptional men, Jacob, Robert, and Kevin were not only professional but did everything to get my car fixed. They were a blessing and I will forever be grateful for them. Bring your car here if you need help. You won't regret it. Thanks again guys!"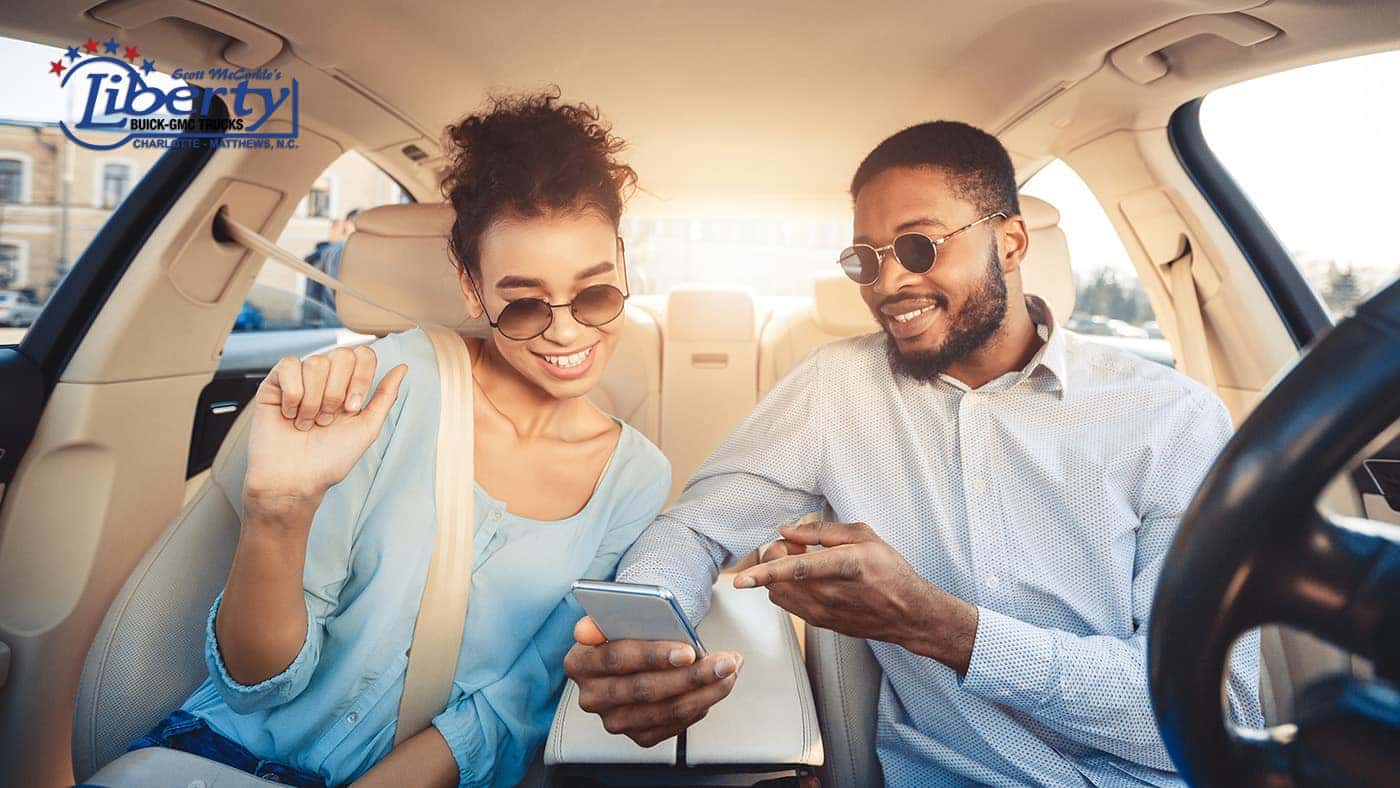 The Maneuverability: We'll Do the Work for You
Let our trained loan specialists advise you on exactly what can be done. And if we can't finance in-house, we will find the best car loan company for your specific needs.
What to bring with you when you come in?
A valid driver's license
Insurance information
Two most recent pay stubs
Proof of residency
Chances are if you have credit problems, you will end up with what is called a subprime loan, and most of the time it maintains high interest levels and can be incredibly confusing to obtain. But once we have your credit information, no matter how bad it may be, we will work on your behalf.
Here is what we do: We gather your information and decide which companies will offer the best rates. Then we work with the company that offers the best deal to get you a loan as fast as possible. But that's not all. We will also show you how to build that credit score back up (if needed). Then you can refinance as soon as possible and find yourself paying down your loan with an even lower interest rate.
The Next Move: Finance, Lease, or Cash?
Most people finance, a smaller percentage lease, and even fewer pay cash; but this is not indicative of which is best, as each option has its own set of advantages and disadvantages. Deciding on your method of purchase is highly dependent upon specific details, such as how long you wish to own the vehicle, your current credit score, and how much cash you have in the bank. Regardless of your financial situation, each option should be scrutinized before making such a significant purchase.
Paying cash: A positive to this method is a lack of worry over charges or finance fees; also, when using cash, you hold the title (rather than the bank), making for less hassle if you choose to sell the vehicle later down the road. And, you do not have to make monthly payments. A negative aspect to paying cash is that most often people don't have such a large sum stowed away.
Leasing: This option usually allows for a new model annually, and the vehicle is typically always under warranty, eliminating worry over engine or other performance problems. The monthly payments for leasing are often less than financing. Additionally, there are highly beneficial tax cuts when the leased vehicle is used primarily for business purposes. When leasing, you do not have to worry about making a down payment—assuming your credit is good enough.
Negative aspects to leasing include a requirement of more than simply having basic insurance: often dealerships will require a specific amount or type of insurance, resulting in a higher monthly fee. Also, although a leased vehicle is covered with warranty, it is not covered for scratches and dents, which will have to be paid out of pocket.
Financing: The most commonly used method of purchase for Americans, this option allows you to use the bank's money, freeing up your disposable income and the time it can take to save enough money to pay cash. Credit scores determine the type of financing available (the higher the score, the lower the interest rate), and there are usually nice warranty packages out there for financers. The downside to financing? Your monthly payments are usually a little higher than when leasing, and there is usually a hefty down payment required.
Don't get caught up in the worry and anxiety of spending big money on a car. Come to Liberty Buick GMC and we will help you do the math and buy the car you can afford.