Buick Envision: A Great SUV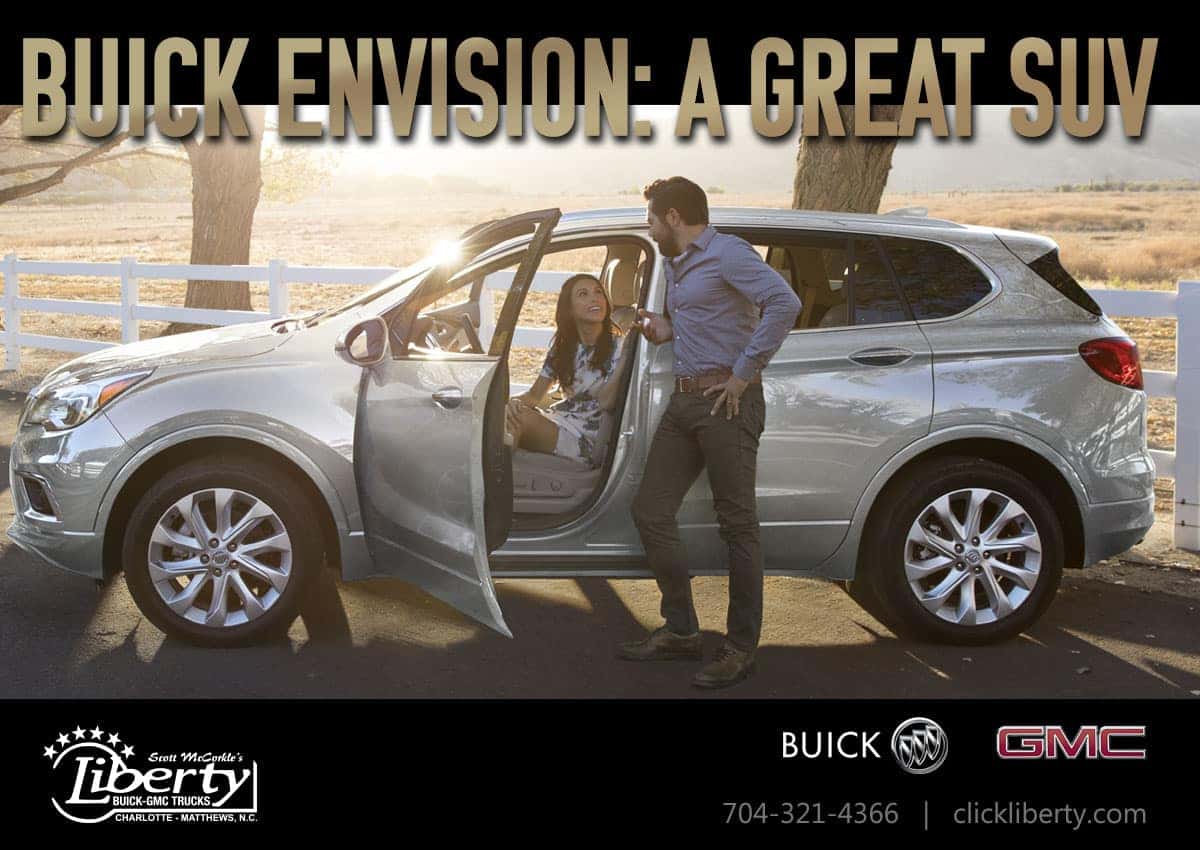 With all the many different types of SUVs available today, it is easy to get confused by the wide array of options. However, it's important to note that all SUVs are not built equally. So even though you have an overwhelming number of choices when it comes to choosing an SUV, you simply cannot go wrong with the all-new, 2018 Buick Envision.
Whether you are in the market for your first SUV or your next one, you've come to the right place. If you're looking for a luxury-compact SUV that's flexible enough for everyday use, yet still classy enough for a night on the town, the 2018 Buick Envision is ideal. With its roomy interior, upscale look and feel, and terrific fuel economy, the 2018 Buick Envision is a vehicle worthy of your attention. With one of the lowest sticker prices in the premium-compact SUV class, you get an excellent value for your money. Plus, the Envision has some of the highest safety ratings for an SUV. Read on to learn how the all-new, 2018 Buick Envision may be exactly what you're looking for in a compact SUV.
Exterior: Classy, yet Modern
First, the 2018 Buick Envision is not just an SUV. It's a work of art. The vehicle design exudes an air of refined elegance with its clean, sophisticated style. The Envision possesses bold, sculpted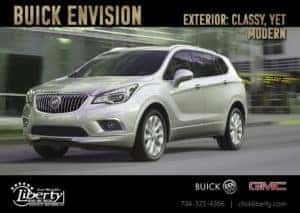 lines along with a waterfall grille to help give it a luxurious, classy look. But make no mistake: this is not your father's Buick. It has a distinctive appearance that is sure to keep heads turning whenever and wherever you drive it.
Although it embodies a timeless style, the 2018 Buick Envision also has modern amenities to maximize your experience. How many times have you been bogged down carrying packages to your vehicle, without a free hand to open the trunk? Buick's engineers have considered these situations. As such, all Envision models come with a Hands-Free Power Liftgate. All you have to do is simply wave your foot under the rear bumper. This action will engage the Liftgate, which has an adjustable lift height, to make it easier for you to load packages into the rear cargo area of the vehicle. Or if you have a free hand, you can also activate the Liftgate with a push of a button on the key fob.
Envision Engine and Performance
The 2018 Buick Envision comes in 5 different trim levels: Base, Preferred, Essence, Premium I, and Premium II. Models come with either a 2.5-liter four-cylinder engine, or a turbocharged 2.0-liter engine. The 2.5 liter, which is standard on the lower trim levels, puts out a healthy 197 horsepower. Premium models come with the 2.0-liter four-cylinder engine with a peppy 252 horsepower output. A 6-speed automatic transmission is standard with both engines. Front-wheel drive is also standard, and all-wheel drive is optional with the Preferred and Essence models.
The Envision has nimble, light steering and a smooth suspension that make it a joy to drive. This is a Buick, so its smooth handling makes driving a sheer joy. The suspension will have you easily navigating over rougher roads and the easy steering will allow you to park the vehicle effortlessly.
The Envision has tons of features that make it an attractive SUV. One of its best attributes is its fuel economy. Imagine getting almost 30 mpg in an SUV. Well, you don't have to imagine. You can expect up to 22 mpg in the city and 29 mpg on the highway with just the Base model. Even with the turbocharged engine, your estimated mpg is 20 mpg in the city and 26 mpg on the highway.
Interior Features: User-friendly Hi-tech Meets Refined Luxury
Inside the Envision, you're surrounded with the look and feel of upscale refinement.
No fussing between the driver and the passenger about the thermostat. Dual-zone climate control for the comfort of the driver and passengers comes standard. Also standard are heated front seats that are 8-way power-adjustable with lumbar support. Push-button engine start is also standard. The Base and Preferred models come with cloth or synthetic leather seating standard and all other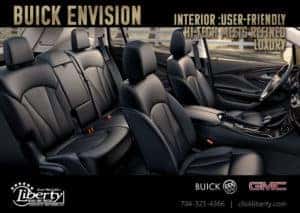 models come with leather seats.
Optional add-ons include heated rear seats and a heated steering wheel for those chilly winter months, as well as ventilated front seats when the weather is warm.
The 2018 Buick Envision provides plenty of room for driving with friends and family. This SUV seats up to 5 adults, offering spacious legroom and headroom for both the driver and front seat passenger with ample space for up to three additional adults in the back seat.
If you're looking for tech options, then look no further. The 2018 Buick Envision comes with many features that will help make even the most routine drive a truly memorable experience. The interior is outfitted with a state-of-the art noise cancellation system for quieter travel, which means you can travel in luxury without loud, ambient sounds from outside the cabin disturbing your drive. No need to be distracted by noise from the highway or the engine as you listen to music or have conversations with passengers. After all, would you expect anything less than a quiet ride from a Buick?
Enjoy listening to satellite radio through 6 speakers standard or upgrade with an optional 7-speaker Bose premium audio system. The IntelliLink infotainment system, which comes standard on all models, has all the technology you need for a premium driving experience in the 21st century. The package features an 8-inch touch screen, Bluetooth, two USB ports, and Wi-Fi. The system also includes Smartphone integration compatible with either your iPhone via Apple CarPlay, or with Android through Android Auto. Incredibly easy-to-use, IntelliLink integration allows some of your mobile phone apps to be accessed seamlessly through the vehicle's touch screen display. The 2018 Buick Envision enables you to call hands-free while driving or to stream music with ease.
The 2018 Buick Envision also boasts a roomy 26.9 cubic feet of space behind the rear seats. Fold the sliding rear seats, and voila: You instantly have even more than double the space with 57.3 cubic feet, giving you plenty of additional storage for your groceries, packages, or luggage.
Envision Safety Features: Because Safety Matters
Safety is important and Buick's engineers made sure to cover all the bases in providing a luxury SUV with this theme in mind. But don't take our word for it. In both independent and federal government crash testing, the Envision has excelled. The 2018 Buick Envision received the highest possible score—a perfect five-star overall rating—from the National Highway Traffic Safety Administration. Furthermore, the Insurance Institute for Highway Safety rated the Envision a "Top Safety Pick."
The 2018 Buick Envision comes standard with complimentary OnStar service for 6 months and 10 airbags located throughout the interior. All models also include a rearview camera, rear parking sensors, and Teen Driver Technology.
Higher trim models offer additional safety features including the following:
Automatic emergency braking
Lane keep assist
Lane departure warning
Rear cross traffic alert
Blind spot monitoring
Front parking sensor
Parallel and perpendicular park assist
A 360-degree camera
Safety alert seat (see below)
Safety Alert Seat: Helps Locate the Threat Before You Do
A standard feature on Envision Premium models is the Safety Alert Seat that causes the driver's seat to vibrate if a hazard is detected. What's more, the seat vibrates based on the direction of the possible danger. So if a hazard is detected on the right, the seat bottom vibrates to the right. If danger is on the left, the left side of the seat bottom vibrates. This lets drivers know which direction they should look to locate a possible hazard.
Teen Driver Technology: A Watchful Eye over Young Drivers
If you have a teenage driver, then to say you worry about them when they're out driving is probably a huge understatement. Now you can have more peace of mind with Buick's Teen Driver Technology. This system can monitor your young driver while you're not in the vehicle. The system will disengage the Envision's sound system until all the vehicle occupants have their seatbelts fastened. With this technology, you can also receive updates and alerts regarding your teen's driving habits. You can even receive an alert that monitors the driver's speed.
Warranty: Backed by Buick
When you're spending your hard-earned dollars on a luxury vehicle, you want to be sure you have a strong warranty in the unlikely event that something goes wrong. Take comfort in knowing that your investment is protected by the strength of Buick's warranty. The 2018 Buick Envision is covered by a four-year/50,000-mile limited warranty and a six-year/70,000-mile power train warranty.
The bottom line…
The all-new 2018 Buick Envision is a premium SUV that features refined, luxury interior features, a comfortable ride, and ample room for five. With great safety test scores and Teen Driver Technology, you can rest a bit easier should the kids need to drive without you riding alongside in the passenger seat. In short, the Envision is a great option if you are looking for a luxury compact SUV for you or your family. But don't just read about it here. To get a first-hand experience of the 2018 Buick Envision for yourself, visit Liberty Buick GMC today for a test drive. Our team will be more than happy to assist you and to answer any questions you may have.