Buick Encore VS. Audi Q3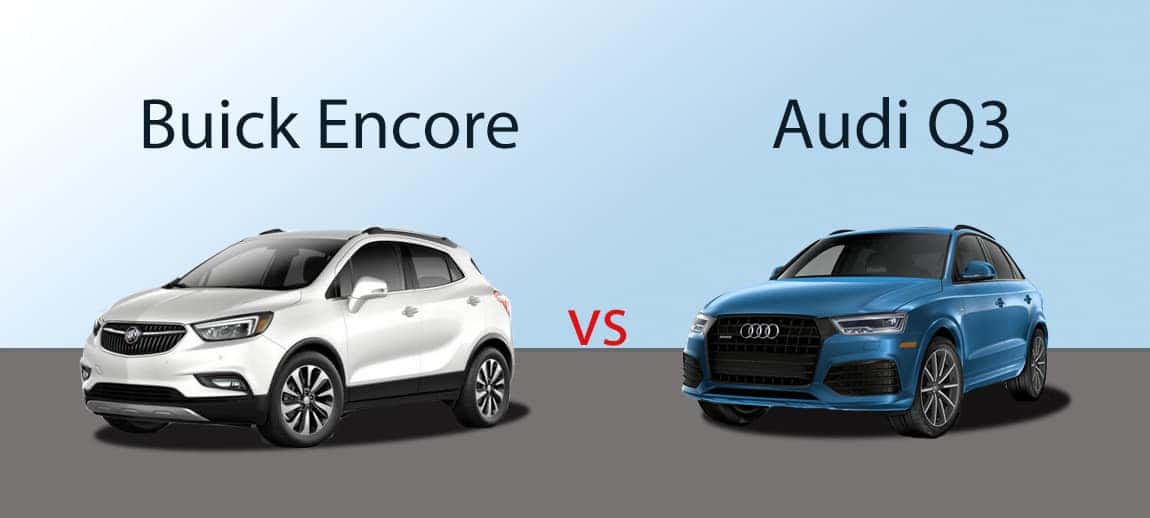 So you have finally decided to invest in a luxury compact SUV vehicle but don't know which car to choose? And the online car marketing is so confusing!
There dozens of cars in the compact and SUV market to choose from but once you narrow it down you will probably find that the Buick Encore and the Audi Q3 come to the top of the list.  They both have top-notch features including advanced technology, LED headlights, fold-flat second-row seats, moonroof, rearview backup cameras, and the list goes on with tons of luxury features. But starting with the price there are some major differences that you should take into consideration.
Buick Encore

Audi Q3

Starting at $22,990
Estimated MPG/Hwy 33
1.4 Liter Turbocharged Engine
18.8 ft Cargo Space, 48.4 ft with Seats Down
Stabilitrak- quick brakes, traction control, reduced wheel spin
5-Star NHTSA Safety Rating

Staring at $31,800
Estimated MPG/Hwy 28
2.0 Liter Turbocharged Engine
16.71 ft Cargo Space, 48.2 ft with Seats Down
The Car Connection Reports – "The 2016 Audi Q3 gives compact luxury SUVs a good name with cozy ride quality and accommodations—but it's not the most space- or fuel-efficient vehicle of its kind."
The Audi Q3 and the Buick Encore look very much alike and have similar features that draw attention. But the Buick Encore is priced at a more reasonable and affordable cost. The Buick Encore not only has a starting price that is over 8,000 dollars less than the Audi Q3, it also has the ability to save money over time with an outstanding gas mileage that wins over the Audi Q3.
We also felt that the safety standards for the Buick were set higher than Audi.  The Buick Encore has a 5-star safety rating from the NHTSA. This is outstanding and can give families a little peace of mind. Safety isn't just for children, it's for everyone. The Buick Engineers are proud to provide safety not only for the children that ride in the back seat but also for the adult that seat in the front. That's why the Buick Encore is safe for everyone and a great vehicle for families, new drivers, and retirees. No matter who you are you can feel safe in a Buick!
To take a test drive in this awesome Buick Encore go to Liberty Buick GMC in Matthews, North Carolina, serving Weddington, Ballantyne, and the greater Charlotte area. Call to schedule an appointment to get more information on the vehicle at (704)708-8000.