Buick! Buick! Buick! Coming Hot Off the Line at a Great Low Price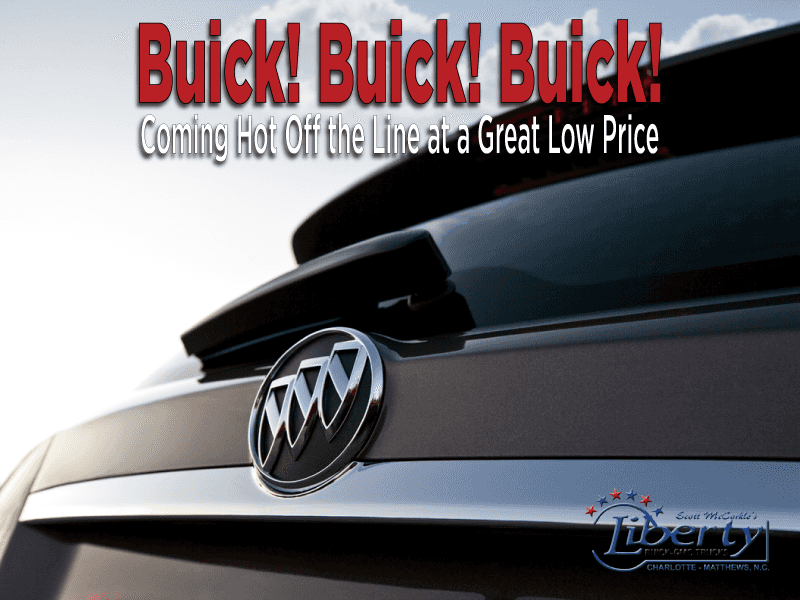 Buicks are one of America's most reliable brands, and now more than ever, Buick's dedication to building formidable, classic vehicles is paying off. Since American-made cars are coming off the line faster than ever, there are more Buick vehicles available, and as always, at a great price. At Liberty Buick GMC, we have everything you need to know about why this year is the best year to buy a Buick. 
Over the past seven years, Buick has managed to completely overhaul its entire lineup of vehicles. The veteran car company has taken a classic that has been around longer than most other sedans, the Regal, and successfully turned it into a luxurious, sturdy, and powerful machine—something many other American car companies are still struggling to produce in a sedan. Buick has also created something new and enticing in the Encore, a compact SUV. This sporty ride has helped provide a new face for Buick, something brighter and more vibrant, and this "new vibe" seems to be working for the car company. If Buick has lacked in distant years with marketing themselves as a competitive car company, it sure doesn't show now. Buick is not only in the game, they are upfront helping to lead the charge.
A Couple of Our Favorites
The Buick Encore and the Buick Enclave are excellent SUV choices. Each has its own unique characteristics and special features, but they both share in Buick's commitment to quality, and both have served as a perfect foil to overpriced, luxury SUVs. With the Encore and Enclave, you get the luxury, not the superfluous cost.  
Let's start with the Buick Encore. Slated as a "Premium Small SUV," this is slightly smaller of the two SUVs, and though it might not be considered as family-friendly as the Enclave, the Encore is perfect for the commuter. It comes with premium comfort, a quiet ride, and a number of impressive features. Under the hood, the all-new Buick Encore has a 1.4-liter turbocharged, four-cylinder engine with six-speed automatic transmission. It sits high, and even though it's not the biggest SUV on the lot, it still has plenty of room to stretch and store and relax. As anyone who lives in or near the city knows, traffic in Charlotte is fun. The standstill can be painful, but it doesn't have to be, especially with great fuel economy. 24 mpg city and 32 mpg highway keep dollars in your pocket—honestly, these numbers sound more like that of a small sedan than an SUV. But the Encore is not your normal SUV: Rather than a gas-guzzling six or eight-cylinder engine, the Encore incorporates a turbocharged four-cylinder engine that saves you at the pump but gets you moving when you need to. And, it comes with the Buick Infotainment System, and available Alexa Built-In, which keep your hands free and always connected.
Though the pollen is just a tad disagreeable at the moment, once everything is in bloom and the Allegra has kicked in, you remember that the nice thing about living in a city with winding roads, arching hills, and endless trees is the natural beauty they provide. This is where the comfort of the Buick Encore comes into play. The substantially plush front seats keep you comfortable for long periods of time. The surprisingly spacious back seats have plenty of room for stretching out and enjoying the seemingly always-green landscapes of the QC. And the mix of muted colors and line-work throughout the Encore's interior induce a calm, tranquil atmosphere, keeping you happy the entire ride home.
Enclave
Buick's truest family vehicle is the Enclave. Buick created the Enclave back in 2008 with the understanding that modern drivers needed something that had the look and sophistication of a luxury SUV, but the roominess and comfort of a minivan. The result was a high-selling crossover vehicle that continues to be praised for its classy look—chrome waterfall grille and curvy line work throughout the body—and its ability to haul up to seven passengers without feeling stuffed.
With its three rows of seating, it can hold up to seven passengers comfortably. Its ultra-smooth ride is due to the tough 3.6-liter, V-6 engine, which has noticeable punch and power. The "Three Row, Premium SUV" Enclave comes with 4-wheel antilock disc brakes, nine-speed automatic transmission, all-wheel drive, plus available WiFi hotspots and so much more.
Whether you are a single commuter or a small family driver looking for something smooth and stylish, or you need something roomy and powerful enough for fun trips with the entire crew, Buick has the vehicle for you.
What We Have on the Lot
Buick wins for having some of the best deals in pricing this November. Not only is the Buick company doing a bang-up job at reintroducing its lineup to the general public with innovative designs and superior performance, but it also knows the importance of offering a great deal. For instance, right now you can finance varying models for as low as zero percent and get incredible cash-back rebates (be sure to check out other small-print dealer rebates too).
Here are some examples of what you can save this year at Liberty Buick GMC:
2020 Buick Encore GX Preferred
MSRP: $27,780

Discounts: 

Dealer Discount ($3,333), Loaner Discount ($1,000), Purchase Allowance ($3,700)

Our Price: $19,747
2020 Buick Envision Essence Group
MSRP: $41,445

Discounts: 

Dealer Discount ($4,973), Purchase Allowance ($6,450)

Our Price: $30,022
MSRP: $30,495

Discounts: 

Dealer Discount ($3,659), Purchase Allowance ($3,700)

Our Price: $23,136
MSRP: $52,400

Discounts: 

Dealer Discount ($6,026), Purchase Allowance ($5,950)

Our Price: $40,424
Top 5 Reasons To Buy A Buick 
The Buick brand continues to accelerate as vehicle sales increase among an ever-growing customer base. The American car company's updated marketing plan and bold new colors and designs are keeping Buick relevant, innovative, and impressive—increasingly to younger drivers. Here are five reasons you should be driving a one:
A competitive lineup. Over the recent years, Buick has overhauled its complete lineup of vehicles. Paying more attention to details such as performance, up-to-date technology, design, and safety, Buick has been able to create a collection of cars and SUVs that hold high levels of luxury at a reasonable price.

Luxury at a low price. Buick is considered a luxury line of vehicles, and if you have driven any of the new models, you're likely to agree. The extra-smooth ride and handling. The plush seats and calm, cool interior lighting. It all makes you feel like you are in something elegant and expensive. But what makes this luxury car company unique is the level of quality you get for such a reasonable price. Buick has bridged the gap between reasonable pricing and high quality. And continuously high sales and vehicle ratings show this is paying off big.

No strings attached. When buying a Buick there are no gimmicks. What you see is what you get. All warranties, for used or new Buicks, are clear and honest, and you never have to worry about inflated costs for basic necessities like oil changes and tire replacements. The Buick brand works against the notion that all car companies and car sellers are trying to pull the wool over the consumer's eyes. A clear and honest approach to car building and selling is the only way Buick operates.

A bright future. Buick is the oldest running American car company. And it is thriving. Buicks sell all over the world—China is actually the company's biggest market. And the company has big plans for impressive new vehicles to come out. When you buy Buick you support quality craftsmanship, honest marketing, and good old American ingenuity.
No matter how you cut it, Buick is pretty impressive. It's not just the vehicles they make, it's the thought and care that goes into every detail of the entire process. They choose to be honest and forthright in what they do. There are no scandals, no pretending to be something they are not. And that's the same type of operation being run at Liberty Buick GMC. We are here to serve you, and that means honesty and expertise from start to finish. Come in and see us today at Liberty Buick GMC and let us get you into a brand new Buick or GMC—you will be glad you made the choice to car shop with us.