Black Friday Specials Are Almost Here!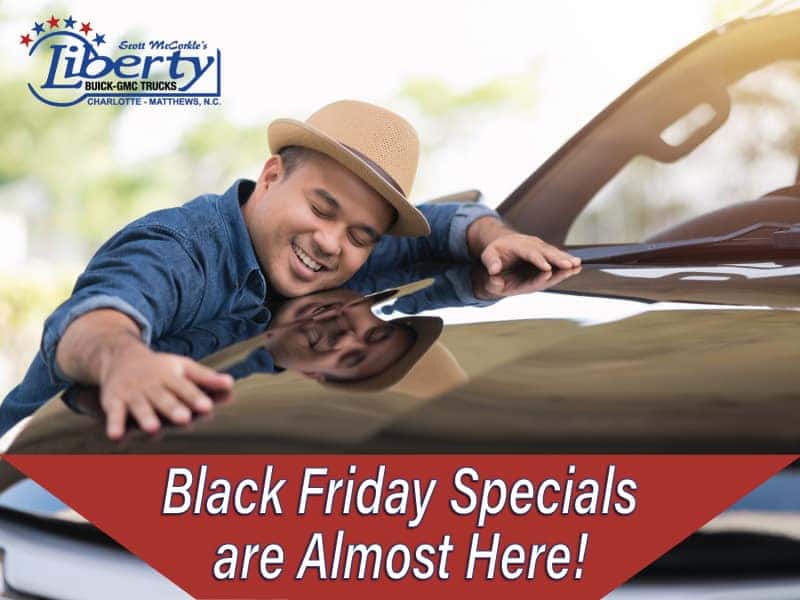 Are you old enough to remember when Black Friday was the Friday after Thanksgiving? Yep, the "big sale" used to only be one day a year. There is a lot of history behind this special shopping day that now, in its modern form, lasts for multiple weeks. At Liberty Buick GMC, our Black-Friday deals start November 15th and go until the New Year, because one day just isn't enough. But, don't procrastinate because even though we have a full stock of your favorite Buick and GMC vehicles, they will not last long.
Black Friday has become the last two months of the year due to its super-sized sales and a hungry consumer market looking for a great deal. Despite financial depressions and tightening pocketbooks, Black Friday has remained a day of deals for decades. For dealerships, Black Friday specials get earlier each year. Turn on the television and you will already see random shopping advertisements for "sales that cannot be beaten." Whether it's due to end of year sales quota demands or to make room for more of next year's models, come November and December, perks for purchasing a car are plenty—especially at Liberty Buick GMC, where you can find some of the best deals on Buick and GMC models anywhere.
The Sale of the Year
At Liberty Buick GMC, we have been gearing up for this sale all year—as we do each year—and we have some very special offers to show for it. The following are only a few of the quality vehicles we have on the lot—and, again, these vehicles will not last long.
• New 2021 Buick Envision Essence in Satin Steel Metallic. This beauty comes as a 2.0L Turbo ECOTEC 4-cylinder engine that saves you money at the pump and packs a punch on the road. The best part is, this Envision is usually priced at $39,015, but after all our special Black Friday discounts, it ends up at $35,595. That's over $4,000 in savings!
• New 2021 Buick Envision Essence in Cinnabar Metallic with the same engine as the Envision above, but this one also comes with ebony seats, perforated leather seat trim inside. This high-end, luxury Envision usually runs around $45,825, but not at Liberty! Come in now and get it for only $43,451. Nobody has prices this low!
• All-new 2022 GMC Yukon AT4 in Onyx Black with a 6.2-liter, V8 engine, all-wheel-drive, automatic. This premium SUV comes with all the bells and whistles. Usually listed at $79,820, we are offering it for $79,320.
Rest assured, there are PLENTY more vehicles for sale, with even bigger savings than these show above. As always, please email or call with questions you might have about any of our lineup, even those you don't see on our webpage. You can also stop over and test drive as many vehicles as you like. With the help of one of our experienced technicians, you are sure to find that perfect fit, and at a great price.
Buick & GMC: Top-of-the-Line Vehicles that Keep Getting Better
Over the past few years, Buick and GMC have managed to top sales and impress buyers in a pretty noticeable way. How have the venerated, American car companies done it, and what makes them so different from all the others? Let's take a minute and unpack answers to these important questions—after all, if you plan on purchasing a new, shiny car, you want to know why it's the best.
Recently, Buick completely overhauled its entire lineup of vehicles. The well-established car company took a classic that has been around longer than most other sedans, the Regal, and successfully turned it into a luxurious, sturdy, and powerful machine. Something many other car companies are still struggling to produce in a sedan. Buick also created something new and enticing in the Encore, a compact SUV. This sporty ride provides a new face for Buick, something brighter and more vibrant. If Buick has lacked in distant years with marketing themselves as a competitive car company, it sure doesn't show now. Buick is not only in the game, they are up in front leading the charge, and this is shown not only in the style and stature of their new rides but in their impressive performance as well.
GMC has done much of the same over the past few years. Only they have been able to play into their own hand a bit more with the Sierra truck. From its very creation (which reaches as far back as the early 1960s) the Sierra was a huge hit, for both veteran and new truck enthusiasts. What GMC has managed to do is capitalize on something good by constantly keeping it updated with the latest technology, comfort, and high performance capabilities. And it doesn't hurt that GMC's SUVs are fan favorites as well with their luxurious comfort and aesthetics paired with rugged power. The Yukon SUVs and Sierra trucks alone have managed to carry GMC far and continue to do so. If you just look at the number of trim levels and add-on features these two beasts carry it's mind-boggling.
Why Shop Black Friday with Us
It's safe to say there has been a shift in recent years for car dealerships to shake off the sales vibe and gravitate towards a more personal feel to the car buying process. But guess what, Buick and GMC dealers have already been doing this. Customer satisfaction has always been number one for us because we don't want your business for one time only. We want to form a trusting relationship where you feel comfortable bringing vehicles to have work done and you feel comfortable coming back for your next new or used vehicle.
Just come into Liberty Buick GMC and see for yourself. We pride ourselves on how much we can help the customer find what he or she wants and needs rather than how many people were convinced to buy something. If a customer has a pleasant experience at a dealership, and if the vehicle purchased performs at top levels for an extended period of time, that customer will always come back—and encourage others to do so as well. It's a way of thought that works and Buick/GMC do it best.
With the sale season on our heels, it can be difficult to justify car shopping in the midst of all the other soon-to-be-made purchases, especially as we navigate ourselves through a lasting pandemic. But, those who know how to shop, who know that sometimes the most money saved is when it is used at the most inopportune time, understand that these last two months of the year are critical. Dealerships are clearing out what they can and it's for the benefit of the buyer. And, even better, when you buy local you save on service, especially when you shop at Liberty Buick GMC where we "will make sure you get the best price when you purchase and the best service throughout the year."
See you soon and happy shopping!